Welcome to Memory Alpha!
Memory Alpha is a collaborative project to create the most definitive, accurate, and accessible encyclopedia and reference for everything related to Star Trek. The English-language Memory Alpha started in November 2003, and currently consists of 47,473 articles. If this is your first visit, please read an introduction to Memory Alpha.
---
Featured article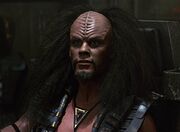 Klaa was a young upstart Klingon Bird-of-Prey captain on a personal mission to make a name for himself in the Klingon Empire in 2287.
Tired of shooting space garbage, Klaa thirsted for a target that would fight back.
After receiving a priority message from Qo'noS, Klaa learned of a situation on Nimbus III where the Klingon consul, General Korrd, had been taken hostage; along with the Terran and Romulan consuls. Klaa reasoned that the Federation would be sending a rescue ship of its own, so he set course for Nimbus III seeing this as an opportunity to engage a Federation ship.
Klaa soon discovered that the USS
Enterprise
-A, the ship commanded by James T. Kirk himself, a man he both respected and despised, was dispatched to Nimbus III. News of this further drove Klaa's thirst for battle, with Vixis, his second-in-command, telling the crew that if Klaa could defeat Kirk, he would be the greatest warrior in the galaxy.
Editing Memory Alpha
| | | | |
| --- | --- | --- | --- |
| Basic information | About the encyclopedia | Writing articles | Works in progress |
Community content is available under
CC-BY-NC
unless otherwise noted.