Featured episode or film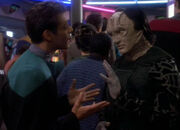 "The Wire" is the 22nd episode of the second season of Star Trek: Deep Space Nine.
As Garak and Julian Bashir wait in line at the Replimat on the Promenade, they discuss a book Garak loaned the doctor, The Never Ending Sacrifice. Garak describes it as the finest Cardassian novel ever written, though Bashir reluctantly admits he found it dull in parts. Bashir notes that the plot involves seven generations of a family, yet all of the characters spend their lives serving the state. Garak finds this to be a redeeming quality, as the repetitive epic is the most elegant form of Cardassian literature. When Bashir points out that there is more to life than duty to the state, Garak calls him a prisoner of "Federation dogma and Human prejudice."
Bashir seems hurt by Garak's harsh comment, and as he responds, Garak suffers a severe and sudden migraine. Although Garak insists he is fine, Bashir points out that his skin is clammy and his pupils have contracted. Garak claims to be in perfect health and attempts to return to the topic at hand but he is again interrupted by another bout of pain. Bashir rhetorically observes that Cardassian standards must be lower than his own and begins to lead Garak to the infirmary, but Garak refuses to go with him, believing there is nothing wrong that sleep will not cure. He claims to have lost his appetite and walks off, agitated. Major Kira observes Garak's sudden departure and curiously walks over to Bashir to ask what happened, but the doctor is just as confused as she is...
Recent and upcoming premieres
Episodes

Series

Films
Television series
Companion series
Films
Where to watch
Television
United States

All times ET

Australia

Brazil

Canada

Croatia

France

Germany

Hungary

Norway

Poland

Scifi Universal –

TNG

: Monday - Friday 2:20pm, 3:10pm (repeated Saturday and Sunday from 8:30am) - Season 4

Romania

AXN SCI-FI –

TNG

: Monday - Friday 8pm (repeated at 2am and 5am next day) - Currently on Season 6

Slovenia

Sweden

United Kingdom/Republic Of Ireland
---
Online
| | | |
| --- | --- | --- |
| United States | Canada | International |
Community content is available under
CC-BY-NC
unless otherwise noted.