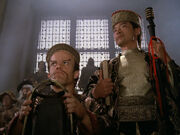 Events
The episode states that the flag had 52 stars from 2033 until 2079. It is unclear whether the number of stars increases or decreases however, although the state of world turmoil adds the possibility that the United States was altogether dissolved.
Notes
The idea of a post-atomic horror clashes with Star Trek: Enterprise's view of a Humanity embracing exploration and scientific development and also the portrayal of life on Earth in Star Trek: First Contact. It is possible that the horror only affected part of the planet - the presence of a Mandarin in Q's court suggests that the Eastern Coalition may have been the superpower affected by the event.
Community content is available under
CC-BY-NC
unless otherwise noted.