"40 Acres" was a large studio backlot, located in Culver City, California, which was used as filming location for several Star Trek: The Original Series episodes.
History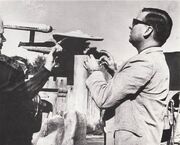 The backlot (actually measured appr. 29 acres) was first acquired by Cecil B. DeMille to use as a filming location for his 1927 production of King of Kings. In the late-1930s, producer David O. Selznick bought the land, and used it to build the Atlanta and Tara sets for Gone with the Wind (which was photographed by Ernest Haller). In the 1940s, the backlot was sold to RKO, who filmed several film and television productions there, including The Adventures of Superman.
Desilu owners Lucille Ball and Desi Arnaz purchased the property in 1957, to use it extensively for television productions. During these years, "40 Acres" was most famous for being the site of the Mayberry sets on The Andy Griffith Show. It also housed the POW camp for Hogan's Heroes and the barracks for Gomer Pyle, USMC. The backlot was dismantled in the 1970's.
Star Trek locations
"40 Acres" was first used during the filming of Star Trek's first pilot, "The Cage", where the so-called "Arab Village" section housed the surface of Rigel VII, filmed on Monday 14 December 1964 and Tuesday 15 December 1964. The castle exterior was later enhanced with a matte painting by Albert Whitlock.
On Wednesday 24 August 1966, the "Mayberry" sets were used in filming the desolated planet surface for "Miri". The same sets depicted the town on Beta III for "The Return of the Archons", filmed on Wednesday 7 December 1966 and Thursday 8 December 1966.
Filmed on Friday 27 January 1967, the "Arab Village" part (including the same castle archway seen in "The Cage") was used again for the exteriors of Organia in "Errand of Mercy".
The last time Star Trek utilized the backlot was for the filming of "The City on the Edge of Forever" on Friday 3 February 1967, where the "Mayberry" sets represented 1930 New York City. Several buildings and signs from The Andy Griffith Show can be seen in the episode, including Floyd's Barber Shop.
Star Trek productions
External links