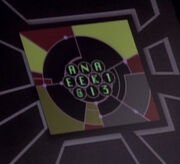 The ANA program was a computer subprogram created by the Bajoran engineer Neela in 2369. This subprogram was located in the security field subsystem.
Chief of operations Miles O'Brien found this program while checking several systems and tried to get access to this program. The computer denied him access to the program based on a personal security access code forged under O'Brien's name.
The program was protected by a series of encryption sequences, which Lt. Jadzia Dax attempted to decrypt with an adaptive program. According to O'Brien, they were lucky because they were working with a Cardassian computer, which limited the program to no more than seven encryption sequences.
After O'Brien and Dax decrypted the access code, 4-1-0-0-R-L-X, they discovered that the command protocols of this program included a system of sequential overrides for the security fields around runabout pad A – an escape route. (DS9: "In the Hands of the Prophets")
Community content is available under
CC-BY-NC
unless otherwise noted.