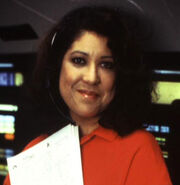 Adele G. Simmons is an assistant director who worked on Star Trek: The Next Generation and Star Trek: Voyager. She was also the first assistant director on the 1996 video game Star Trek: Borg.
She was the namesake of Jean-Luc Picard's Aunt Adele. Her name also appeared in okudagram reference through TNG and Voyager, where she was listed as a member of the Raymond family, a noted comedian, and on several directory signs, dedication plaques, working as a doctor, and several Starfleet officers, decreasing in rank each reference, beginning as an vice admiral, then captain before being a lieutenant, and finally an ensign.
Prior to her work on Star Trek, Simmons worked as DGA Trainee on the action comedy Beverly Hills Cop II in 1987 and on the drama No Way Out in 1987. She then worked as additional second second assistant director on the fantasy comedy Scrooged in 1987, with John Glover, Alfre Woodard, and Michael J. Pollard and as assistant director on the television film The Flamingo Kid (1989) and on the television series Middle Ages (1992).
Further credits include first assistant director on episodes of the television series Angel (1999), assistant director on David Livingston's short film Slice of Life (2000, with Robert Picardo, Patricia Tallman, cinematography by Joe Chess, editing by Peter Lefevre, makeup by Brad Look, and wardrobe by Damaris Cordelia), second unit first assistant director on the comedy 3 Strikes (2000), and first assistant director on the comedy Hair Show (2004).
Star Trek credits Edit
External link
Edit
Community content is available under
CC-BY-NC
unless otherwise noted.