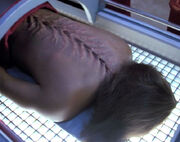 Al Foster is an actor who worked as photo double for Michael Dorn during the surgery scenes in the Star Trek: The Next Generation fifth season episode "Ethics". He filmed his scenes on Wednesday 18 December 1991, Thursday 19 December 1991, and Tuesday 4 February 1992 on Paramount Stage 16.
Beside his work on Star Trek, Foster also appeared in supporting roles in episodes of 3rd Rock from the Sun (1998, with Patrick Kerr), Diagnosis Murder (1998, with Susan Gibney, Greg Grunberg, and Karen Sheperd), The District (2002, with Roger Aaron Brown, Erick Avari, and Christopher Michael), Providence (2002, with Ethan Phillips, Jeffrey Nordling, and Mary Stein), Dragnet (2003, with Warren Munson and Iris Bahr), Smith (2007, with Virginia Madsen, Barbara Tarbuck, William Lucking, Billy Mayo, and John Dixon), and House M.D. (2010, with Jennifer Morrison).
Films he appeared in include the science fiction thriller Def-Con 4 (1985), the science fiction thriller Deep Sea Conspiracy (1987), the crime drama Sneakers (1991, with Bernie Pock, Time Winters, Amy Benedict, Jerry and Audrey Trent, Rick Seaman, and Terry James), the crime drama Rapid Fire (1992, with Tzi Ma, Basil Wallace, John Vickery, Jeff McCarthy, Phil Chong, John Meier, and Gene LeBell), the sport drama Tyson (1995, with Paul Winfield, James B. Sikking, Lilyan Chauvin, George Murdock, Reg E. Cathey, Michael Jace, David LeBell, and Richard Givens), the drama True Friends (1998, with Bertila Damas, Michelle Bonilla, and Kevin Grevioux), the drama The Truman Show (1998, with Ron Taylor, Tony Todd, and Jeanette Miller), the thriller Best of the Best: Without Warning (1998, with Jessica Collins, Monte Rex Perlin, and Mike Mukatis), the horror film Wishmaster 2: Evil Never Dies (1999, with Tommy "Tiny" Lister, Jr., Scott L. Treger, Vyto Ruginis, Randy Hall, and Scott Klace), and the sport drama Love & Basketball (2000, with Alfre Woodard and Gabrielle Union).
External links
Edit
Community content is available under
CC-BY-NC
unless otherwise noted.