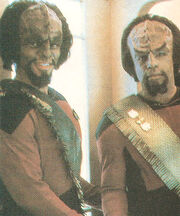 Al Simon is a former stuntman who served as stunt double for Michael Dorn in the Star Trek: The Next Generation first season episodes "Lonely Among Us" and "Datalore".
With a known career of about seven years, Simon started to work in the stunt industry in the 1980s and performed stunts in films such as the western Silverado (1985, with Eddie Hice and Ben Scott), the crime drama Band of the Hand (1986, with John Escobar and Spice Williams-Crosby), the science fiction film Cherry 2000 (1987, with Terry Jackson and Ben Scott), the comedy Leonard Part 6 (1987, with Janet Brady, Jim Halty, Tommy J. Huff, Irving E. Lewis, Bennie E. Moore, Jr., Manny Perry, Ronnie Rondell, Jr., Sharon Schaffer, and stunt coordinator Alan Oliney), the crime drama Colors (1988, with Ann Chatterton, Eugene Collier, Paula Crist, Vince Deadrick, Dana Dru Evenson, Spiro Razatos, Cherie Tash, and Kim Washington), the action drama The Mighty Quinn (1989), the drama Pink Cadillac (1989, with John Alden, Kerrie Cullen, Andy Gill, Steve Kelso, Matt McColm, Spike Silver, and stunt coordinator Diamond Farnsworth), and the war drama Glory (1989, stunt coordination by Bob Minor).
Further work includes the horror comedy Tremors (1990, with George Colucci, John Gillespie, and Jeff Imada), the fantasy comedy Ghost Dad (1990, with Gregory J. Barnett, Joy Hooper, Dennis Madalone, Rusty McClennon, Buck McDancer, and Lynn Salvatori), the drama Prayer of the Rollerboys (1990, with Sandy Berumen, Bobby Burns, Phil Culotta, Al Goto, Eddie Matthews, Jimmy Ortega, and Denney Pierce), the action film The Rookie (1990, with Bobby Aldridge, Gary Baxley, Simone Boisseree, Eddie Braun, Carey Loftin, Tom Morga, and Jim Wilkey), the horror thriller Servants of Twilight (1991, with Randy Hall, Chuck Hicks, Lynn Salvatroi, and stunt coordinator Bud Davis), the drama The Five Heartbeats (1991, with Ousaun Elam, Irving E. Lewis, and Rusty McClennon), and the In Living Color episode "Cousin Elsee" (1992).
Star Trek appearances Edit
External link
Edit
Community content is available under
CC-BY-NC
unless otherwise noted.