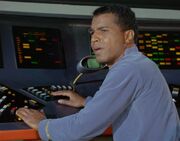 Lieutenant Alden was 23rd century Starfleet officer attached to the sciences division aboard the USS Enterprise, under Captain James T. Kirk.
In 2265, Alden's duties aboard the Enterprise included operation of the starship's sensors and deflectors, tasks he performed at what became the communications officer's console. In addition, he served as a relief helmsman when Lieutenant Commander Gary Mitchell was not on the bridge.
Alden was also a proficient technician, as evidenced by his assistance in the repairing of the helm following the ship's encounter with the galactic barrier. Alden was later a member of a landing party on planet Delta Vega, where he assisted in the refueling of the Enterprise's lithium supply. (TOS: "Where No Man Has Gone Before")
Alden was played by actor Lloyd Haynes.

It is unknown what became of Alden following these events or whether or not he was the ship's communication officer, since his responsibilities did not appear to entail those of a comm officer.

Nyota Uhura

's biography in

DC Comics

' non-canon

Who's Who in Star Trek 2

states that Uhura succeeded Lt. Richard Alden as chief of communications on stardate 1313.2.
Community content is available under
CC-BY-NC
unless otherwise noted.