Spider-Man: No Way Home Trailer Dropped - The Loop
Play Sound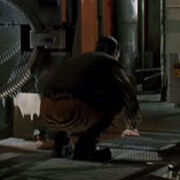 Andrew "Andy" R. Gill is a stuntman, stunt actor, stunt coordinator, and second unit director who was one of the stunt doubles for Brent Spiner in Star Trek: First Contact, where he doubled him in a high fall scene. His costume was sold off on the It's A Wrap! sale and auction on eBay. [1]
He is the brother of fellow stuntman Jack Gill. He was nominated for two Taurus World Stunt Award (2002 for best work with a vehicle in Showtime and 2007 for best specialty stunt in Last Holiday) and won three (2001 for best sequence stunt coordination for Pearl Harbor and 2004 for best work with a vehicle and best stunt coordination in Bad Boys II).
Among his stunt resume which includes more than 350 projects are films such as Cannonball Run II (1984), Timestalkers (1987, with Tracey Walter, James Avery, Tim Russ, Merritt Yohnka, and stunts by Robert Bralver and Hubie Kerns, Jr.), Who's That Girl? (1987), The Dead Pool (1988, with stunts by Patricia Tallman), Moonwalker (1988), The Ambulance (1990, with Megan Gallagher), Hot Shots (1991), Sleepwalkers (1992, with Alice Krige and Mädchen Amick), In the Line of Fire (1993), Species (1995, with Jordan Lund, Don Fischer, William Utay, David Selburg, Herta Ware, Anthony Guidera, Richard Fancy, Dendrie Taylor, Dana Hee, and stunts by Joni Avery and Denise Lynne Roberts), Independence Day (1996, with Brent Spiner), Batman & Robin (1997, with John Glover, Steve Blalock, Mark Chadwick, Paul Sklar, and stunts by Jay Caputo, Jennifer Caputo, Shawn Crowder, Tommy J. Huff, Dana Hee, Joel Kramer, Rita Minor, Johnny C. Meier, Faith Minton, Mic Rodgers, Todd Bryant, Spice Williams, and Scott Workman), Armageddon (1998), The Cell (2000, with Musetta Vander), Pearl Harbor (2001), Showtime (2002, with William Shatner), Minority Report (2002, with Neal McDonough), The Day After Tomorrow (2004), Miss Congeniality 2: Armed and Fabulous (2005, with William Shatner, Enrique Murciano, Diedrich Bader, L. Sidney, Marcelo Tubert, Faith Minton, and stunts by Chuck Hicks, Kim Robert Koscki, Erik Stabenau, and Darlene Williams), My Super Ex-Girlfriend (2006), and Norbit (2007).
Gill has also performed stunts in television series such as General Hospital, Cagney & Lacey, The Fall Guy, Knight Rider (starring Patricia McPherson), Hill Street Blues, MacGyver (stunt coordinated by Vince Deadrick, Jr.), Matlock, China Beach, Baywatch, Beverly Hills, 90210, The X-Files, seaQuest DSV (starring Stephanie Beacham), Party of Five, 7th Heaven (starring Catherine Hicks and Stephen Collins), Profiler, Charmed, Jonathan Frakes' Roswell, Sheena, The District, Monk, Birds of Prey (starring Dina Meyer and Ian Abercrombie), and Fastlane.
External links