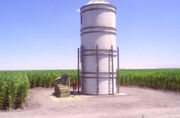 Bakersfield is a city in Kern County, California which was used as location for several scenes in the Star Trek: Enterprise pilot episode "Broken Bow" and the 2009 film, Star Trek.
In "Broken Bow", Bakersfield stood in for Broken Bow in Oklahoma, the place where the Klingon Klaang crash landed on Earth. The scenes in the cornfield, the showdown in the silo, and the shots of the house of farmer Moore were filmed on 12 June 2001 and 13 June 2001. The call sheets feature the comment "Dress for location; hot weather, dusty environment, bugs and unlevel terrain abound".
The production office during this location shooting was in the Doubletree Hotel, 3100 Camino Del Rio Court in Bakersfield, room #228. Lisa White served as location scout for this location. The shooting and the explosion of the constructed silo required ear plugs and hard hats for the crew. The shooting included actors Tommy "Tiny" Lister, Jr. and Ron King, stuntmen Steve Lambert, Mike Watson, Jeff Sanders, and John Duff, stunt coordinator Vince Deadrick, Jr., and stunt rigger Lane Leavitt.
In early-April 2008, the second unit of J.J. Abrams' Star Trek used Bakersfield for location shooting, where the roads outside town stood in for the roads at Riverside, Iowa. The car chase involving young James T. Kirk in his uncle's Corvette was filmed here. During filming on 8 April 2008, the crew caused a minor traffic accident, when the site manager crashed with another car. [1]
The filming conitnued in the next few days. On 10 April 2008 the TrekMovie website posted another location report from Bakersfield, where the shooting became "big news" for the local media. The crew moved to a local farm to film the scenes of young Kirk at his uncle's home, which ended up as a deleted scene. Paramount kept a high level of secrecy and didn't release any information to the locals about the production they were filming. [2]
External links
Community content is available under
CC-BY-NC
unless otherwise noted.