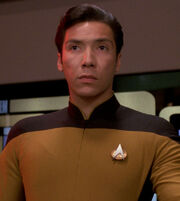 Benito Martinez (born 28 June 1971; age 48) is the actor who played transporter chief Salazar in the Star Trek: The Next Generation episode "Descent, Part II". He is most famously known for his role as Captain David Aceveda on the television series The Shield, which co-starred Michael Jace and Jay Karnes.
Martinez previously appeared in a 1990 episode of Zorro, starring Duncan Regehr, and in a 1992 episode of Reasonable Doubts, starring Jim Beaver. Later TV appearances include guest spots on The X-Files, NYPD Blue (starring Gordon Clapp), Touched by an Angel (with Michael Welch), Once and Again (starring Susanna Thompson, and Firefly (starring Ron Glass). He also appeared in an episode of For Our People (with Armin Shimerman), and in an episode of Monk (with Emilio Borelli, Van Epperson, Bonita Friedericy, Clyde Kusatsu, and Aaron Lustig).
He has made appearances in a number of feature films, with his first being 1993's Sunset Grill, starring Peter Weller and John Rhys-Davies. This was followed with roles in Outbreak (1995, with Tim Ransom), My Family (1995, with Scott Bakula, Bibi Besch, and Bruce Gray), Ballistic (1995, starring Marjean Holden and Charles Napier), New Suit (2002, with Charles Rocket). In 2004, he starred in two of the most popular and acclaimed films of the year: the horror movie Saw (co-starring Dina Meyer) and the Academy Award-winning drama Million Dollar Baby (with Jude Ciccolella, Lucia Rijker, Tom McCleister, Jamison Yang, Miguel Perez, Marco Rodriguez, Rosine "Ace" Hatem, Bridgett Riley, Boni Yanagisawa, and Spice Williams-Crosby).
External links