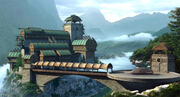 Black Pool Studios is a special effects company specialized in matte paintings and digital matte shots located in Washington who provided computer generated effects to several episodes of Star Trek: Enterprise. The company was founded in 1995 by former ILM matte artist Eric Chauvin who previously worked on Star Trek VI: The Undiscovered Country, Star Trek: The Next Generation, Star Trek: Deep Space Nine, and Star Trek: Voyager.
The company also provided special effects to the fantasy comedy Elf (2003), the comedy EuroTrip (2004), the short thriller In the Garden Growing (2004), the fantasy action Blade: Trinity (2004), and the television series Alias and Lost.
Star Trek credits Edit
External links
Edit
Community content is available under
CC-BY-NC
unless otherwise noted.