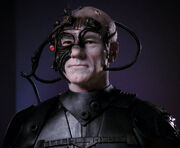 Members of the following species have been assimilated by the Borg Collective.
By the 2370s, the Borg had assimilated thousands of species. (Star Trek: First Contact) Some species, such as the Kazon, have been deemed unworthy of assimilation. (VOY: "Drone", "Mortal Coil", "Relativity")
By name
By designation
Gallery
See also
Community content is available under
CC-BY-NC
unless otherwise noted.