Star Trek Timeline [INTERACTIVE]
Play Sound
Earth launches its first starship of exploration, Enterprise, on a mission to return an injured Klingon to his homeworld. (Series premiere)
Summary
In San Francisco of the year 2121, a young boy named Jonathan Archer paints a model of his father's spacecraft. When he recites a famed quote from a speech by Zefram Cochrane, Henry Archer tells him the inventor of the warp drive would be proud of him. Jonathan curiously asks about his father's upcoming ship, wondering if it will be bigger than "Ambassador Pointy's" ship. Henry corrects his son, noting that the ambassador is actually named Soval, an extremely helpful Vulcan. Jonathan responds that – according to Billy Cook, an acquaintance of his – Humans would already be flying at warp five, if the Vulcans had not intervened. Although Henry Archer does not fully understand the reasons behind the Vulcans' constraint, he believes that there must be an explanation.
Thirty years later, the Broken Bow Incident takes place in Broken Bow, Oklahoma, on Earth. A pair of aliens pursue Klaang through a corn field, the Klingon pilot of a crash-landed K'toch-class scout ship, attracting the attention of a farmer named Moore. Although Klaang eventually manages to kill the aliens by blowing up a corn silo with them in it with his disruptor, he is shot with Moore's plasma rifle.
Act One
Aboard a inspection pod, Orbital 6, Jonathan Archer, now a captain in Starfleet, and Commander Charles Tucker inspect the prototype NX-class starship Enterprise NX-01 in the Orbital Drydock Facility, a spacedock orbiting Earth. After being urgently called back to Starfleet Medical, Archer attends a meeting where a group of high-ranking Starfleet officers, including Admiral Forrest, discuss Klaang with several Vulcan dignitaries: Ambassador Soval, Tos, and Sub-Commander T'Pol. Archer also meets an alien doctor who is providing Klaang with medical care. Eventually, it is decided that Enterprise will launch ahead of schedule on a mission to return Klaang to the Klingons' homeworld, Qo'noS. The Vulcans completely disagree with this; they had objected to Humans returning Klaang out of fears that a perceived provincial attitude and accompanying volatile nature of Humans would complicate Human contact with the Klingons so soon. However, Archer manages to convince Forrest to approve Enterprise delivering Klaang to Qo'nos over Soval's protests. After the Vulcans leave, Forrest reminds Archer to not "screw this up." Archer looks at the alien doctor treating Klaang and taps on the glass to get his attention.
Aboard Enterprise, Lieutenant Malcolm Reed and Ensign Travis Mayweather discuss the vessel's transporter, a brand-new piece of equipment first installed on their ship. As they walk through a corridor, Mayweather reminisces about his childhood aboard cargo ships, particularly about their artificial gravity. When they enter engineering, Reed introduces Mayweather to Commander Tucker. Meanwhile, Archer travels to Brazil to recruit linguist Hoshi Sato as his communications officer. Sato is reluctant at first, but Archer plays a Vulcan recording of Klingonese, and tells her to think that she would be the first Human to talk to these Klingons. "Do you really want somebody else to do it?" She smiles at him.
Another addition to Archer's crew is Sub-Commander T'Pol, whose assignment for the position of executive officer and science officer was obligatory in exchange for Enterprise's use of the Vulcan star charts. In the captain's ready room, T'Pol is introduced to Commander Tucker by Archer and she gives him a PADD confirming her new assignment. An embarrassing encounter with the captain's dog, Porthos, then follows, since Vulcan females have an heightened sense of smell. Along with T'Pol – whom Archer saw as a Vulcan "chaperone" – the doctor he met before, at Starfleet Medical, is also added to Enterprise's crew.
At Enterprise's launching ceremony, Admiral Forrest makes a speech and remarks there is no better person to captain the first warp 5 starship than the son of its inventor, Jonathan Archer. After this, a recording of a speech by Doctor Zefram Cochrane is played, from the dedication ceremony of the Warp Five Complex, 32 years ago.
"On this site, a powerful engine will be built. An engine that will some day help us to travel a hundred times faster than we can today. Imagine it. Thousands of inhabited planets, at our fingertips. And we'll be able to explore those strange new worlds and seek out new life, and new civilizations. This engine will let us go boldly, where no man has gone before."
As these historic words are spoken, Archer remembers his childhood, when he and his dad placed an anti-gravity controller into the model. Mayweather then asks for instructions. He responds, "Take her out, Mr. Mayweather. Straight and steady." And so, the NX-01 Enterprise leaves spacedock and jumps into warp.
Meanwhile, in a strange chamber aboard an alien complex, a Suliban officer confers with a mysterious silhouetted figure and promises to recover evidence that the figure requires. This evidence apparently was in the hands of Klaang when he was pursued by the Suliban.
Act Two
Aboard Enterprise, Archer observes a jar full of immunocytic gel worms in sickbay. The doctor he met earlier, a Denobulan in the Interspecies Medical Exchange program named Phlox, asks the captain to make sure that he doesn't shake the worms. Archer helps Phlox unpack medical equipment and an Altarian marsupial, an animal that makes the captain squirm because its droppings are used as medicine. Meanwhile, Travis Mayweather shows Commander Tucker the "sweet spot", an area of every ship where gravity is reversed. Mayweather is a well-traveled "space boomer" and has visited the planets Trillius Prime, Draylax, and both the Teneebian moons. Later, when Tucker enters the ship's mess hall, he is offered a seat by Crewman Fletcher but the engineer replies that he has already been asked to the captain's mess. There, the engineer eats with Archer and T'Pol while they discuss Human evolution.
However, all is not well – during a test of the ship's warp reactor, a verbal conflict between Hoshi Sato and T'Pol arises. When Ensign Sato insults T'Pol in the Vulcan language, the science officer retorts that she herself was instructed to speak English during her assignment aboard the ship and expects Sato to do the same. Later, the vessel loses main power while Archer, Sato, and Phlox are in sickbay, trying to interrogate Klaang. Alien soldiers board Enterprise and attack the Starfleet officers. Klaang recognizes the aliens as Suliban and, although Archer manages to shoot one of the aliens, the Klingon is abducted from the ship.
Act Three
On the bridge, an irritated Archer asks his crew why the Suliban were not detected by Enterprise's new state-of-the-art sensors. When Lieutenant Reed tells him that the starboard sensor logs did record a spatial disturbance, the captain orders the bridge crew to conduct a full investigation into the incident. T'Pol advises Archer to consult the astrometrics computer in San Francisco, believing that he himself has no hope of finding Klaang. However, the captain decides not to take her advice and forbids T'Pol from contacting Starfleet. In sickbay, Phlox shows Archer the corpse of the alien soldier that was left aboard Enterprise. The doctor has learned that the alien has Suliban DNA, but its anatomy has been radically altered by very sophisticated genetic modifications.
In engineering, T'Pol helps Tucker to review the sensor data. Archer and Sato soon enter. Using both Sato's translation of Klaang's words as well as T'Pol's reluctant assistance, Archer learns that Klaang visited Rigel X just before his scout ship crashed on Earth. The captain contacts the bridge and orders Mayweather to set course for the tenth planet in the Rigel system. Meanwhile, an alien officer aboard the Suliban complex interrogates Klaang in Klingonese. This Suliban officer asks Klaang where he left a particular unnamed item, but the Klingon claims ignorance. He tells the officer that he was sent to meet a Suliban woman named Sarin on Rigel X but that Sarin did not give him anything. As Enterprise approaches the planet, Archer and T'Pol brief an away team in the ship's launch bay. Archer informs the officers that Klaang was a courier and tells them to find the person who gave the Klingon whatever he was carrying, so they might find out why the Suliban have captured Klaang.
The team travel to Rigel X in Shuttlepod 1 and search in a trade complex on the planet's frozen surface. Reed and Mayweather are persuaded, by a man who claims that he saw Klaang, to watch a pair of alien females performing with butterflies. The pair of officers doubt the man's honesty and soon leave. While T'Pol investigates, Tucker finds difficulty with accepting several aliens that he encounters, including a Lorillian mother and son. Archer and Sato meanwhile catch a fleeting glimpse of a group of Klingons. Soon after, the entire away team is attacked and captured by Suliban.
Act Four
Sato, T'Pol, and Tucker are imprisoned by the alien soldiers in a section which is sealed by a force field. Archer is taken to a woman who looks Human but who changes her appearance after she kisses the captain. The woman's name is Sarin – the same Suliban female that Klaang met on Rigel X earlier. Sarin was once a member of the Cabal, the Suliban military. She informs Archer that the Cabal are following orders from a faction in the Temporal Cold War, a conflict which is being fought through time. The Suliban are promoting internal strife within the Klingon Empire, making it appear that one house is attacking another and Klaang was transporting evidence of this back to Qo'noS to prevent a civil war.
Sarin offers to help Archer find the Klingon, but agents of the Suliban Cabal discover them and open fire. Sarin frees the Starfleet officers but is killed in the fight between the Cabal and her small group of renegade Suliban. Archer, injured while on the run, manages to escape in the shuttlepod. With a damaged thruster, the shuttlecraft ascends into the atmosphere as T'Pol contacts Enterprise and announces that she is taking command of the ship. When Captain Archer starts to lose consciousness, he dreams about himself as a child flying his model spacecraft on a beach with his father. He is disappointed when the model crash-lands in the sand, and his father tells him that he can't be afraid of the wind as T'Pol watches from the shore.
Act Five
After Shuttlepod 1 has returned to Enterprise, T'Pol and Tucker use the decon chamber to rid themselves of a protocystian spore they picked up on Rigel X. Here, Tucker questions whether he should take command rather than T'Pol, because she was only assigned to the ship as an "observer". The engineer worries that T'Pol will not continue the search for Klaang if she takes command.
Six hours later, Archer regains consciousness in sickbay. Phlox removes, from Archer's leg, an osmotic eel that the doctor used to cauterize the captain's wound. T'Pol and Tucker visit and the Vulcan informs Archer that they have tracked a Suliban ship that left Rigel X just after the captain was injured. Archer is surprised that T'Pol didn't order a course back to Earth, but the Vulcan states that, as acting captain, she was obligated to anticipate Archer's wishes. Archer responds that, as acting captain, she could have done whatever she wanted.
As Enterprise continues to follow the Suliban ship, Archer, back in his quarters, is making a log entry, pausing the log several times to question himself about T'Pol's motives to continue the mission.
"Enterprise starlog, Captain Jonathan Archer – April 16, 2151. We've been tracking the Suliban ship for ten hours, thanks to our… science officer, who came up with a way to tweak the sensors. I have no reason to believe that Klaang is still alive, but if… what the Suliban woman told me is true, it's crucial that we try to find him. I still haven't decided whether to ask Sub-Commander T'Pol about this 'Temporal Cold War.' My instincts tell me not to trust her."
Archer hears the warp drive changing and looks out his window to see that the ship has dropped out of warp. He contacts T'Pol, who asks him to come to the bridge.
There, a class 7 gas giant is displayed on the viewscreen. T'Pol tells Archer that the Suliban craft entered the planet's radiation belt a few hours ago, scattering the vessel's warp trail. T'Pol instructs Reed to run a spectral analysis on fragments he has detected nearby. The bridge crew finds that the fragments were left from fourteen different ships. Realizing that Enterprise has found an area used frequently by the Suliban, Archer orders Reed to activate the ship's weapon systems and to polarize the hull plating. The captain then directs Mayweather to lay in a sixty degree vector that will take the ship into the planet's atmosphere.
Act Six
Aboard the alien complex, the Suliban officer talks with the mysterious figure. The officer is unsure whether Sarin gave the Enterprise crew anything, but he knows that Enterprise has followed a Suliban ship and is nearby. He promises the figure that he will destroy the Human vessel before it locates the helix, the complex that he is currently on. The figure says that he didn't intend for Humans or Vulcans to become involved yet, and demands that the officer must stop Sarin's message from reaching Qo'noS.
In the atmosphere of the gas giant, Enterprise almost loses the warp trail. T'Pol estimates that the ship's condition should improve, shortly before the bridge starts to shudder. She uses a viewer at her station to determine that the quakes are being caused by unexpected liquid phosphorus. When the ship's condition improves, the officers detect two Suliban cell ships and the helix. Sato reads more than three thousand bio-signs aboard the alien station, but is unable to find Klaang with the ship's sensors. When Suliban ships start attacking, Enterprise returns to the phosphorus layer, where the enemy vessels can't find the Starfleet craft. T'Pol reports that the helix seems to be comprised of hundreds of other vessels, locked together by magnetic seals. When Sato finally detects Klaang aboard the complex, Reed suggests using the transporter to get him out but Archer finds Reed's plan too risky. The captain decides to use Enterprise's grappler to retrieve one of the attacking cell ships and bring it aboard Enterprise.
In the situation room, aft of the bridge, Mayweather questions Archer and Tucker about the workings of the captured Suliban vessel. As the engineer seems to be slightly unsure of the craft, Mayweather believes that he would make a better pilot. Archer replies that the ensign is needed on board Enterprise and Tucker believes that piloting the Suliban vessel won't be as hard as it seems.
In the captain's ready room, T'Pol attempts to discourage Archer from leaving. She suggests that he appeal for support from a nearby Vulcan ship. The captain suspects the Vulcan is displaying emotional concern, but T'Pol claims that the Vulcan High Command will hold her responsible if anything happens to Tucker or the captain. Reed enters, carrying two cases into the room – one holds a magnetic device and the other holds two newly-designed weapons called phase-pistols. According to the lieutenant, the weapons have two settings – stun and kill. He advises Archer not to confuse the two.
Archer and Tucker leave Enterprise and use the captured cell ship to travel to the helix, where they eventually locate Klaang. Although the Klingon is initially hostile, Archer threatens the alien with his phase-pistol so he will cooperate with the captain's orders. Together, the three men move through the helix and attack any Suliban guard that approaches them. The captain instructs Tucker to return to the cell ship with Klaang while he stays behind and tries to separate the helix using the magnetic device. After doing so, Archer contacts Tucker and tells the engineer not to return for him, but to take Klaang to Enterprise. Tucker complies as several of the drifting enemy ships surrounding the commandeered cell ship collide.
Act Seven
Tucker ignites the cell ship's thruster exhaust, giving Sato, on board Enterprise, the opportunity to tell T'Pol what to look for. When T'Pol detects Tucker's position, she thanks Sato in the Vulcan language.
Aboard the helix, Archer fights with the alien officer. The alien nearly kills Archer with his own phase-pistol, but the captain moves out of the way just in time. The alien chases Archer into another room where a strobing, pulsating light throbs. Just as the alien shoots again, Archer is beamed aboard Enterprise. Tucker apologizes for using the transporter, but claims it was the only way to recover the captain. Enterprise immediately leaves the gas giant and jumps to warp speed.
After arriving on Qo'noS, Archer, Klaang, Sato, and T'Pol enter the Klingon High Council Chamber. As Klaang addresses the High Council in Klingonese, Sato tries her best to interpret his words. According to the linguist, Klaang says something about disgracing the Klingon Empire and mentions that he's ready to die. The Klingon Chancellor approaches Klaang and makes a small cut in his hand with a jagged dagger. The Klingons then pour some of Klaang's blood into a vial which they examine with a large scientific device. The extracted DNA from his blood contains a wealth of Suliban information. The Klingons shout in gruff approval, but soon quiet again. The chancellor approaches Captain Archer and, holding the dagger against the captain's throat, says something in Klingonese that Archer interprets as a thanks. Once the Chancellor leaves, Sato comments that the captain's interpretation was incorrect, and claims that Archer wouldn't want to know what the Klingon actually said.
Aboard Enterprise, Archer tells his crew that the starship's mission is to continue forward. Tucker begins work on repairing the starship as Archer orders Mayweather to set a course for an inhabited planet nearby. Although there is an ion storm between the starship and its destination, the captain tells Mayweather that they can't be afraid of the wind. He orders Enterprise to engage at warp four.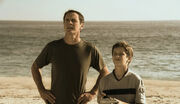 Archer remembers himself as a child, standing beside his father as his model spacecraft flew across the sunny morning sky.
Deleted scenes
Three deleted scenes from this episode were included in the DVD release of the first season. The attached numbers indicate where those scenes would have located in the finished episode.
Deleted scene 092
Archer and Sato are meeting with an alien dockmaster in a landing port control tower, asking questions about Klaang, and querying what business he had on Rigel X. Although the dockmaster is preoccupied monitoring the traffic to the planet's trade complex, including a craft he calls Elkan Nine, he is curious to learn that the officers are Human and, with some persuasion from Archer, researches Klaang in Rigel X's records. He informs the officers that the Klingon visited the planet in a K'toch-class vessel seven days earlier, but does not elaborate on what Klaang did, or whom he met, stating that visitors to Rigel X "value their privacy". When Archer mentions the Suliban, the dockmaster claims he has never heard of the word, and suggests that the officers' translator must be malfunctioning. Sato, holding the translator, confirms that the device is not at error, however.
Deleted scene 099
This scene features Reed and Mayweather, moments after having observed the butterfly dancers on Rigel X. The same alien who persuaded them to watch the dancers follows them through a crowded, narrow arcade and presents them with the opportunity to view an "inter-species performance". Seeing Reed consider this, Mayweather realizes that the alien knows nothing about Klaang and advises Reed that their "guide" is trying to take advantage of their interest in the new surroundings. Reed declines the offer and, as he and his companion walk away from the alien, Mayweather exclaims disbelief that they were almost fooled by the man. While the officers move past an entertainer demonstrating fire-breathing skills, Reed replies by reminding his companion that they are explorers.
This version of the scene slightly differs from the scene as it was written in the episode's script, which mentions a "topless fire-eater" of unspecified sex earlier than when the fire-breathing female, dressed in a bikini, appears in the filmed version of the sequence. Also, in the script, the alien reacts to Reed's dismissal of his offer by shaking his head in disappointment and disappearing into the crowd. The filmed version of the scene, however, shows none of this and the camera pans away from the alien while he is standing still in the position where the officers leave him.
Deleted scene 154-155
In this scene, Sato and Reed discuss the symptoms of frost bite (as Sato is convinced she has it) while Enterprise tracks the vessel they are following. When an alarm rings, and Mayweather alerts T'Pol (who we see, for a split second in her original look) to the fact they are losing sight of the ship, she orders an increase in speed. Mayweather reminds her that he cannot do so without authorization, which they subsequently receive from engineering.
Memorable quotes
"Where no man has gone before."
- Young Jonathan Archer, quoting Zefram Cochrane

This was the very first line of the series.

"How big will it be?"
"Pretty big."
- Jonathan Archer, asking his father Henry about the upcoming starship to have the first warp five engine

"Neptune and back in six minutes."
- Archer, marveling at Enterprise

"Great… you scratched the paint."
- Archer, after a small inspection pod piloted by Tucker bumps into the bottom of Enterprise

"Where'd he come from?"
"Oklahoma."
"Corn farmer named Moore shot him with a plasma rifle."
- Archer, asking about Klaang, a Klingon, with Williams and Forrest's response

"Volatile? You have no idea how much I'm restraining myself from knocking you on your ass."
- Archer's first words to T'Pol, in response to her claim that Humans are not ready to make their own decisions

"Don't screw this up."
- Forrest, after Archer declares he and the crew of Enterprise will return Klaang to Qo'noS

"It's a Klingot."
"A Klingon."
- Admiral Leonard and Tos, while observing Klaang

"Listen to me, you're making a mistake!"
"When your logic doesn't work, you raise your voice? You've been on Earth too long."
- Soval and Archer

"You're upside down, Ensign."
- Tucker, to Mayweather while in the sweet spot of Enterprise

"I heard this platform's been approved for bio-transport."
"I presume you mean fruits and vegetables."
"I mean armory officers and helmsmen."
"I don't think I'm quite ready to have my molecules compressed into a datastream."
- Mayweather and Reed, discussing the ship's brand new transporter

"Keep your shirt on, loo-tenant."
- Said twice, first by Malcolm Reed doing an impression of Trip Tucker, then by Tucker himself

"Four days and four days back. Then she's gone. In the meantime we are to extend her every courtesy."
"I don't know. I'd be more comfortable with Porthos on the bridge."
- Archer and Tucker, discussing T'Pol

"I took a shower this mornin', how about you, cap'n?"
- Commander Tucker, making fun of T'Pol's heightened sense of smell

"You ever slept in zero-G?"
"Slept?"
"It's just like being back in the womb."
- Mayweather and Tucker, while upside down in the "sweet spot"

"T'Pol tells me she's been living in the Vulcan compound in Sausalito."
"No kidding. I lived a few blocks nearby when I first joined Starfleet. Great parties in the Vulcan compound."
- Archer and Tucker

"Grandma taught me to never judge a species by their eating habits."
- Tucker, in response to T'Pol's criticism over Humans still eating the flesh of animals

"On this site, a powerful engine will be built. An engine that will someday help us to travel a hundred times faster than we can today. Imagine it – thousands of inhabited planets at our fingertips… and we'll be able to explore those strange new worlds, and seek out new life and new civilizations. This engine will let us go boldly… where no man has gone before."
- Zefram Cochrane's speech from the dedication ceremony for the Warp Five Complex, in 2119

"Take her out, Mr. Mayweather… straight and steady."
- Jonathan Archer, ordering Mayweather to leave space dock

"Let's go."
- Archer's order to engage warp and depart Earth

"Optimism, captain!"
- Phlox's advice to Captain Archer, before the Denobulan doctor smiles a massive grin

"Ponfo mirann!"
- Hoshi Sato's Vulcan insult

According to Rick Berman and Brannon Braga, this phrase can be translated as "Go to hell!" (Episode's audio commentary, ENT Season 1 DVD)

"I'm not interested in what you think about this mission, so take your Vulcan cynicism and bury it along with your repressed emotions."
- Archer, to T'Pol

"How complicated can it be? Up, down, forward, reverse… I'll figure it out."
- Tucker's response to learning the controls of the captured Suliban vessel

"He says, 'his wife has grown ugly'?"
- Hoshi Sato, translating Klingon spoken by Klaang

"I think the doctor's right, captain; unless "stinky boots" has something to do with all this?"
- Hoshi Sato, after Phlox explains that Klaang has no idea what he is saying

"Do you know how to tell him to shut up?"
"Shut up!"
- Archer, asking Sato to translate his request into Klingon, and Sato, not even bothering to do so

"Now get the hell out there and make yourself useful."
- Archer, to T'Pol

[Klaang says something in Klingon]
"I don't particularly like the way you smell either!"
- Trip Tucker, while flying back to Enterprise with Klaang

"Ensign Mayweather tells me that we'll be at Kronos in about eighty hours. Any chance he'll be conscious by then?"
"There's a chance he'll be conscious within the next ten minutes. Just not a very good one."
- Archer and Phlox, discussing Klaang's condition

"Your superiors don't think we can flush a toilet without one of you to assist us."

- Archer, to T'Pol

"A seven-foot Klingon doesn't go unnoticed."
- Archer, on Klaang

"That's… never happened before."
- Archer, to Sarin after she kisses him and transforms into a Suliban

"Bridge, we're taking damage down here! What's going on?"
"Just a little trouble with the bad guys."
- Tucker and Archer

"I'll take that as a thank you."
"I don't think they have a word for thank you."
"What did he say?"
"You don't want to know."
- Archer and Sato, in reference to the Klingon chancellor's response to Klaang's return

"I hope nobody is in a big hurry to get home. Starfleet seems to think that we're ready to begin our mission."
- Archer

"I'm reading an ion storm on that trajectory, sir. Should I go around it?"
"We can't be afraid of the wind, ensign. Take us to warp four."
- Travis Mayweather and Jonathan Archer, quoting Archer's father Henry
Log entries
Background information
This is the first episode of Star Trek: Enterprise, then called simply Enterprise, and the only feature-length episode of the entire series.
The name of this particular episode (pronounced "Broken Boh", like the weapon; rhymes with "low") was chosen around the same time as the identically named town featured herein received its moniker. The name was used as this episode's title partly because it – in episode co-writer Brannon Braga's opinion – worked "great" as a title, another reason being that it integrated well with the naming of both the town and the Broken Bow Incident. (Star Trek: Communicator issue 135, p. 22)
Story and script
At first, Rick Berman and Brannon Braga did not plan to write this episode together. Braga recalled, "I don't know why we decided to write the pilot of Enterprise together […] We were working out the story; beating out the story, scene by scene, and one of us just said, 'We're practically writing this together. Let's do it!'" [1] Braga clarified, "I think maybe Rick said, 'What if we wrote this together? And I was like, 'Sounds great. You know, I don't want to write a two-hour thing by myself.'" ("To Boldly Go: Launching Enterprise, Part I: Countdown", ENT Season 1 Blu-ray special features) Summing up the experience of writing this episode with Berman, Braga stated, "It went really well." ("In Conversation: Rick Berman and Brannon Braga", ENT Season 1 Blu-ray special features) The experience was an important milestone in their careers, as it was the first time they wrote together, and it obviously set a precedent for subsequent episodes of the same series.
The writing duo set out with a particular aim in mind, as admitted by Brannon Braga: "Our goal, as lofty and pretentious as it sounds, was to do the best pilot ever for Star Trek." (Star Trek: Communicator issue 139, p. 22) How they would try to achieve this underwent much consideration, while the plot formed. Braga commented, "We had to basically come up with a story that would give Enterprise a reason to go on its first mission, other than: 'let's just launch and go out and have our first adventure.' We wanted to give Archer a specific noble goal – a test; an incident that would test humanity's ability to prove themselves, and kinda piss off the Vulcans, too. I had an image of Klingons in small-town America. My first image was, 'What if we show Klingons attacking Iowa?' Then we pared it down to, 'What if a Klingon crash-landed in a cornfield?'" Braga also noted that the mission he and Rick Berman decided upon – returning Klaang to his people, in defiance of the Vulcans – additionally enabled the writers to bring T'Pol on board the ship. (Star Trek: Communicator issue 135, p. 22)
After conceiving of the contortion abilities exhibited by the Suliban, Rick Berman and Brannon Braga consulted Visual Effects Producer Dan Curry, ensuring that it would be possible to show such flexibilities on-screen. (Star Trek: The Magazine Volume 2, Issue 10, p. 27)
Several of the guest characters' names were invented as homages to Star Trek: The Original Series. These consist of Admiral Forrest (named after DeForest Kelley), Admiral Leonard (Leonard Nimoy), Commander Williams (William Shatner), and Tos (an abbreviation of The Original Series).
Farmer Moore was named after Ronald D. Moore, a former Star Trek staff writer and friend of Brannon Braga. ("Broken Bow" text commentary, ENT Season 1 DVD)
In the revised final draft script of this episode, an ultimately unused exchange of dialogue – involving Commander Tucker, whose nickname was "Charlie" at that point, and Captain Archer, when they are touring Enterprise in an inspection pod – went:
                                    CHARLIE
                        If I didn't know better, I'd think 
                        you were afraid of flying.

                                    ARCHER
                        If I'm afraid of anything, it's the 
                        scrambled eggs I had for breakfast.

                                    CHARLIE
                        Pretty soon you'll be dreaming 
                        about scrambled eggs. I hear the new 
                        resequenced protein isn't much of an 
                        improvement.

                                    ARCHER
                        My number one staffing priority was 
                        finding the right chef. I think 
                        you'll be impressed.

                                    CHARLIE
                        Your galley's more important to you 
                        than your warp core. That's a 
                        confidence-builder.

                                    ARCHER
                        A starship runs on its stomach, 
                        Charlie. [2]

The two Teneebian moons that Ensign Mayweather visited when he was young were originally scripted to be two Andorian moons.
References, in this episode, to Phlox having enjoyed Chinese food in San Francisco were inspired by the creators of Enterprise, Rick Berman and Brannon Braga, having originally written, in the development stages for the series, virtually contemporaneous scenes set in Chinatown. Also, San Francisco was used because it had been established as the primary location of Starfleet. ("In Conversation: Rick Berman and Brannon Braga", ENT Season 1 Blu-ray special features)
This episode's script was entirely written without any of the show's regular cast having yet been selected. (Star Trek: The Magazine Volume 2, Issue 9, p. 22)
Cast
Pre-production
Production
Sets
Visual effects
Music and sound
The episode's score, composed by Dennis McCarthy, was recorded on 10 September 2001 and 11 September 2001 at Paramount Stage M. Despite the events of the second day and the offer to postpone the recording session, McCarthy and the orchestra decided to continue with the schedule. McCarthy later described this, in the liner notes to the episode's soundtrack release, as "the hardest recording session of my entire career."
The score was released by Decca Records in 2002.
At one point, Dennis McCarthy cited this episode, which had an enormous impact on the style of music typically used for the series of Enterprise, as one of his favorites from all the Star Trek outings he ever worked on. "Rick [Berman] came in and I played the first cue, which was thunderous," remembered McCarthy, "and he just said, 'Great, that's our style down.'" (In Conversation: The Music of Star Trek: The Next Generation, TNG Season 5 Blu-ray special features)
During shots set on the NX-01 bridge, background sound effects from the TOS Enterprise bridge can be heard.
An instrumental version of the Enterprise theme song, "Where My Heart Will Take Me", plays over the closing credits of this episode.
Continuity
By Star Trek's fictional chronology, this is the earliest episode of all eleven TV series.
Like previous spin-off premieres, the new crew of Enterprise was sent off by a character who made a crossover from a previous role; in this case, Zefram Cochrane returned, having previously appeared in both

TOS

: "

Metamorphosis

" and Star Trek: First Contact (played by Glenn Corbett and James Cromwell respectively, the latter of whom reprised the role in an uncredited capacity for this installment). Unlike previous spin-off premieres, Cochrane was not a main character from a series that directly preceded the new series. In the previous cases, Doctor McCoy was seen briefly in the Star Trek: The Next Generation pilot, "

Encounter at Farpoint

"; Captain Jean-Luc Picard appeared in the Star Trek: Deep Space Nine pilot, "

Emissary

"; and Quark had a cameo appearance in the Star Trek: Voyager pilot, "

Caretaker

", in which Morn also appeared.
Sections of Zefram Cochrane's speech were taken from the opening narrations heard in the title sequences of The Original Series and The Next Generation.
Porthos is the only character, besides the regulars, to appear in both this episode and the finale of the series, "

These Are the Voyages...

" (although technically, all Enterprise-related characters in the last episode are holograms created by the USS Enterprise-D's holodeck).
Young Jonathan Archer's miniature starship that features herein reappears in the Season 3 episode "

Similitude

".
The series finale of Enterprise, "These Are the Voyages…", establishes that Rigel X was additionally the last place visited by Enterprise before its decommission in 2161.
This episode marked the first appearance of the Denobulans, in the form of Phlox, although the name of his species was not revealed until "

Terra Nova

".
This episode portrays the first contact between Earth and the Klingon Empire. In

TNG

: "

First Contact

", Jean-Luc Picard stated that "disastrous" first contact with Klingons led to "decades of war". The Klingon-Human first contact as depicted in this episode did not appear to be "disastrous" or lead to war. However, his comment could be a 24th century re-interpretation of those events or even refer to the Vulcan-Klingon first contact in 2016, which indeed ended in the destruction of a Vulcan ship and was followed by several violent encounters.
Both Vulcans and Klingons had been prominently featured in every Star Trek series prior to their appearance in "Broken Bow". Similarly, Benzites, Corvallens, Rotciv, and Markalians (in a deleted scene) all appear in "Broken Bow" after already appearing in an earlier Star Trek production.
This episode establishes that the facial appearance of the Klingons, prior to the 23rd century, was much as it was in the 24th century; the Klingons in this outing appear with distinctive forehead ridges, in common with how they were established in Star Trek productions created subsequently to the making of the original series, set in the 23rd century. An explanation for the differences between how they are depicted in this era and their appearance in TOS was finally provided in the ENT Season 4 episodes "

Affliction

" and "

Divergence

".
The events of this episode, including Klaang's rescue and Archer's encounter with the Klingon High Council, are subsequently referenced in "

Unexpected

", "

Silent Enemy

", "

Marauders

", "

The Communicator

", and "

Judgment

". Furthermore, the Broken Bow Incident is one of the items Grat discusses with Archer in "

Detained

".
The Temporal Cold War plot, which began in this episode, was continued in "

Cold Front

" and concluded in "

Storm Front, Part II

". The arc was intended to carry throughout the run of the series, but was mostly scrapped when the series took on a "new direction" in its third season.
The scene in which Archer inspects Enterprise in drydock with Tucker is reminiscent of the scene in Star Trek: The Motion Picture in which Kirk looks over the USS Enterprise with Montgomery Scott, or less notably, the scene in "

All Good Things...

" featuring Captain Picard and Lieutenant Yar.
Although Enterprise sets course for an inhabited planet at the end of the episode, the next episode, "

Fight or Flight

", establishes that no lifeforms were encountered after this episode except for Sluggo.
The feelings of hostility and distrust that many Humans, including Jonathan Archer, are shown to feel towards Vulcans is reminiscent of doctor Leonard McCoy's feelings about Vulcans. Additionally, as a child Archer used the derogatory nickname "Pointy" to refer to Soval. McCoy also references Spock's pointy ears when calling him names.
Reception
Rick Berman was extremely enthusiastic about this episode during its production. Seventeen days into the installment's shooting schedule, Berman gave an interview in which he said of the pilot, "It is everything I had hoped it would be," and remarked that the episode's revelation of the Vulcans having been "rather patronizing" to Humans historically is "learned by the audience in a very entertaining fashion." Berman also commented about the selection of James Conway as the director of this outing, saying, "He couldn't have been a better choice because […] the stuff we're getting from him is all pure gold." (Star Trek: Communicator issue 134, pp. 12, 13 & 76) Berman has repeatedly expressed, in hindsight, that he thinks this episode was "terrific." ([4]; "In Conversation: Rick Berman and Brannon Braga", ENT Season 1 Blu-ray special features) During production on the third season of Enterprise, he cited it as the episode he was "probably" most proud of, out of all the installments he wrote. "It's something I'm very proud of," he commented. (Star Trek Magazine issue 111, p. 18) In 2011, he named this episode as one of his favorites from all the outings he himself worked on. [5] In 2012, Berman revealed a fondness for how one of the antagonist Vulcans is assigned aboard Enterprise but he criticized the first uses of both the phase-pistol and, at least for beaming a lifeform, the transporter in this episode, saying these came too early in the run of the series. ("In Conversation: Rick Berman and Brannon Braga", ENT Season 1 Blu-ray special features)
Brannon Braga was generally happy with this installment too; he termed it "certainly the most ambitious" of Star Trek's pilot episodes and went on to say, "If you look at the sheer amount of action sequences and production value, it was pretty impressive." (Star Trek: Communicator issue 139, p. 22) Braga also expressed, "I don't wanna sound self-aggrandizing, but I think it's the best Star Trek pilot all around. Maybe in part because the people making it had been there a while and they'd worked on all of them and perfected what they were doing. I don't know […] One of the great things in the pilot I love is a really simple premise, that we have to take a Klingon back to his homeworld, and we lose him," said Braga with a chuckle, "like, in the first leg of the journey." Braga also agreed with Rick Berman's opinion that, once used in this episode, the novelty of the phase-pistol and biological transporting wore off. ("In Conversation: Rick Berman and Brannon Braga", ENT Season 1 Blu-ray special features)
James Conway was ecstatically pleased with how this pilot episode wound up, from a creative perspective. "I was very happy with the quality of what we were getting," he reflected. "When I saw the edited movie, I said, 'This is really good.'" ("To Boldly Go: Launching Enterprise, Part II: Boarding the NX-01", ENT Season 1 Blu-ray special features)
In a 2012 interview, David A. Goodman called this outing "the best pilot of any of the sequel series." [6]
After Ron Moore finished his work on this outing, Scott Bakula discussed the episode's visual effects with him. "[He] asked me what the hardest effect we did on the show was," recalled Moore. "He was surprised when I told him that it was a transporter shot where he was running toward the camera when he beamed out." ("Introduction", Flying Starships)
The first footage from this episode that was seen by Connor Trinneer was viewed by him after he had completed his work on seven episodes of the series; he glimpsed sections of the pilot while rerecording lines of dialogue in a "looping" session. In an interview with Star Trek Communicator later that day, Trinneer declared, "The graphics and effects are unbelievable. It all looks outstanding. And it's a real experience seeing yourself in it all." (Star Trek: Communicator issue 135, p. 56)
Prior to the show's telecast premiere, UPN ran a pre-recorded message in which Scott Bakula urged viewers to donate blood to the American Red Cross in the aftermath of the September 11, 2001 attacks. The episode premiered just two weeks after those attacks.
TV commercials promoting the series premiere incorporated the song "Wherever You Will Go" by The Calling.
A certain amount of controversy was sparked when it was decided to have the Klingons appear as they did after The Original Series – with their trademark forehead ridges. This at first caused much speculation and debate among fans as to how the race had evolved from having bony ridges on their foreheads, in this episode, to having smooth foreheads in Kirk's era. (Star Trek: Communicator issue 135, p. 74)
This pilot episode was given a special premiere at the Paramount Theater, at Paramount Studios. [7]

(X)

While the episode's end credits were being shown at the cast and crew screening, Fred Dekker began to suspect the forthcoming series might be received well by fans, despite the fact the debut broadcast was set for just a fortnight after the September 11 attacks. "It was terrific and exciting, watching that first episode," Dekker commented, "and I think we all felt like we were part of something very special." (Star Trek Magazine issue 180, p. 70)
On its network premiere, this episode achieved a Nielsen rating of 7.0 and was watched by a total average of 12.54 million viewers, gaining a 16% share among adults aged eighteen to forty-nine, the show's target audience. [8] Regarding the Nielsen figure, Brannon Braga rhetorically asked, "Do you know how big that is by today's standards?" ("To Boldly Go: Launching Enterprise, Part III: First Flight", ENT Season 1 Blu-ray special features) Consulting Producer David A. Goodman remarked that the episode received "great ratings." ("Part One: Call to Arms", ENT Season 3 Blu-ray special features) The fact that the episode was viewed by an average of 12.5 million viewers made it UPN's best Wednesday night rating, and its second highest-rate night of all time (after its launch night, when "

Caretaker

" premiered). (Star Trek Monthly issue 86) Furthermore, Mayweather actor Anthony Montgomery proclaimed, "We had the second-highest numbers for 'Broken Bow', our pilot episode, of any show in Star Trek history." ("Part Two: Front Lines", ENT Season 3 Blu-ray special features) The pilot was well received by not only fans but also critics, earning positive reviews. James Conway was thrilled with the reactions to the episode. "The reviews were fantastic, and then the sixteen share. Not only that; it went up every half-hour, which is what you wanna see," he elucidated, "so nobody tuned out at any point and the ratings went up. Every half-hour, it got higher and higher and higher. So, that was the icing on the cake. So, in all ways, critically, audience-wise, creatively for me […] it was just the best." ("To Boldly Go: Launching Enterprise, Part II: Boarding the NX-01", ENT Season 1 Blu-ray special features) Of the episode's success, Braga commented, "We pretty much accomplished what we set out to do […] And the icing on the cake was the overwhelming response of the audience and critics. That was something we hoped and prayed would happen, but it exceeded our wildest expectations." (Star Trek: Communicator issue 139, p. 22)
When this episode first aired, its audience included Garfield and Judith Reeves-Stevens. "We loved it, and there were, you know, two great things in there that I remember seeing at the time," Garfield Reeves-Stevens reminisced. "One is the scene where Captain Archer runs across the snow-covered rooftop…" Laughing, Judith Reeves-Stevens added, "Guns blazing!" Her partner continued, "…with two phaser guns going, which was great." Judith Reeves-Stevens recalled, "Gar said, 'This is my kind of world.'" He himself went on to say, "And then, what was particularly good, we thought fit into the history of Star Trek so well, is that in the pilot of Enterprise, the Vulcans were bad guys." By depicting the Vulcans as antagonists, this episode, in the opinion of the Reeves-Stevenses, meshed well with the rest of Star Trek often portraying how species initially hostile to Humans later became their friends, such as with the Klingons in the 23rd century of TOS compared with how they are depicted in the 24th century of TNG. ("Before Her Time: Decommissioning Enterprise, Part One: New Voices", ENT Season 4 Blu-ray special features)
This episode won the 2002 Emmy Award for Outstanding Special Visual Effects for a Series, beating out a later episode, "

Breaking the Ice

", in the same category. "Broken Bow" also received Emmy nominations for its prosthetic makeup designs and for its sound editing. Although many people at Paramount treated the news of the Emmy win as old hat because Star Trek's Emmys were most often won by the technical departments, Ron Moore liked coming to the set the next morning, as he had work there that day, and enjoyed talking to all his collaborators who were pleased for the visual effects artists. While Moore was on the set the same morning, one of the show's Assistant Directors let Moore know he had a phone call, a very rare event for him while on the set. The caller turned out to be Scott Bakula, who was calling to thank and congratulate the visual effects team, from New York. There, Bakula was holding up a show, which he was about to act in, just so he could make the call. Moore reminisced about the call, "It was the nicest thing, I'll never forget that." ("To Boldly Go: Launching Enterprise, Part III: First Flight", ENT Season 1 Blu-ray special features)
When this installment was released on VHS, Star Trek Magazine rated the episode 5 out of 5 arrowhead insignias. (Star Trek Monthly issue 90, p. 56) In the same publication's "Ultimate Guide", however, the episode was given only 4 out of 5 arrowhead insignias. (Star Trek Magazine issue 164, p. 77)
The book Star Trek 101 (p. 260), by Terry J. Erdmann and Paula M. Block, lists this episode as one of the "Ten Essential Episodes" from Star Trek: Enterprise.
The unofficial reference book Beyond the Final Frontier (p. 358) says about this pilot episode, "An excellent start, a clever bend of Star Trek traditions, like Klingons and alien dancing girls, and intriguing new elements like the time-traveling baddies and the spiky relationship with the Vulcans. An episode that introduces the new characters well, it has some nice variations in tone, from comedy to action. It's a shame the transporter is used as a deus ex machina – it's not so much that you see the solution coming, it's that after 700 previous episodes of Star Trek it's hard to get excited about seeing it."
Several items from this episode were sold off on the It's A Wrap! sale and auction on eBay, including a language lecture computer [9] and a Suliban interrogation device. [10] The disruptor rifle used by Klaang at the beginning of this episode was also auctioned off in It's A Wrap! (item #2890), along with a Denobulan medical chest used by Phlox (item #480).
Production history
Video and DVD releases
Links and references
Starring
Also Starring
Co-Stars
Uncredited Co-Stars
Stunt Doubles
Stand-ins
References
2119; 2121; ability; Altarian marsupial; alveoli; ambassador; analogy; anatomy; analysis; April; armory officer; astronaut; atmosphere; autonomic system; autosequencer; auxiliary power; beach: bearing; bio-mimetic garment; bio-transport; Big Sur Aquarium; boomer; boot; bow plate; Brazil; breadstick; breathing; Broken Bow; Broken Bow Incident; bronchial lobe; butterfly; Cabal; California Clipper; cannibal; cargo ship; carnivore; case; cauterization; Central Security; century; chaperone; Chef; Chinese food; clock; Cook, Billy; color; communications officer; corn; cornfield; corpse; Corvallen; courier; crash landing; cyclohexane; data stream; decay rate; decontamination chamber; dedication ceremony; deflector; density; dialect; distant future; DNA; doctor; Draylax; Draylaxian; droppings; dust; Earth; Earth sea level; egg drop soup; endocrine system; ethical beliefs; espionage; exam; farmer (corn farmer); fifth grade; fire; First Contact; flattery; flush; foot; fourth grade; fruit; gas giant; generation; genetic engineering; geothermal energy; Grand Canyon; grav generator; hay; heart; helmsman; hologram; honor; hull; immunocytic gel worm; inspection pod; Interspecies Medical Exchange; intimate contact; ion storm; Jelik; Jupiter; Klingon; Klingon disruptor; Klingon Empire; Klingon High Council; Klingon language; Klingon warbird; lateral sensor array; lead; lead ship; leave of absence; lightning; life span; linguistic database; liquid; logic; long range sensor; Lorillian; mag-lock; McIntyre; medical officer; metaphor; meter; methane; methyl oxide; military installation; Milky Way Galaxy; model; molecule; nacelle housing; natural selection; Neptune; neural function; newcomer; nitrogen sulfide; non-humanoid; noun; Oklahoma; Orbital 6; Orbital Drydock Facility; osmotic eel; paint; paint brush; phase-pistol; phonetic processor; phosphorus; Plan B; plasma coil; plasma rifle; plating team; pointy; polarity; postcard; prefrontal cortex; primitive species; protocystian spore; Qo'noS; radiation; ranking officer; regenerative enzyme; remote control; remote controlled model spaceship; reprimand; retina; Rigel X; Rigel X shuttles; Rigel system; Rigelian; San Francisco; sarcasm; Sausalito; science officer; scope; scout ship; Sector 3641; sense of smell; sensor log; shower; Shuttlepod 1; Shuttlepod 2; silo; sixth grade; snowstorm; spatial disturbance; speech; spectral analysis; spy; squadron; starbase; Starfleet Medical; stealth; stethoscope; storm; subcutaneous pigment sac; suffocation; Suliban; Suliban cell ship; Suliban cell ship; Suliban helix; Suliban homeworld; Suliban pistol; sweet spot; syntax; teeth; Teneebian moons; thermosphere; Tholia; tick; toilet; tongue; transporter (transporting device); tricyclic plasma drive; Trillius Prime; Tucker's grandma; valve sealant; vegetable; vegetarian; Vulcan; Vulcan Compound; Vulcan High Command; Vulcan ship; Vulcan star charts; Vulcan transport; warp; Warp Five Complex; warp five engine; warp trail; warrior; weaning; womb
Dedication plaque
Agalsoff, G.; Agalsoff, Jr., J.; Albiez, P.; Arp, T.; Berman, R.; Betts, B.; Binkley, C.; Blackman, R.; Bookout, T.; Bormanis, A.; Braga, B.; Bro, A.; Burgess, R.; Burman, S.; Castro, L.; Chambers, M.; Clark, C.; Codron, A.; Conway, J.; Cooper, E.; Curry, D.; D'Errico, S.; Decker, F.; DeMeritt, M.; Djanrelian, J.; Dorton, L.; Drapanas, W.; Eaves, J.; Edelman, G.; Eyslee, R.; Farrell, J.P.; Fleck, J.; Flight Software; Flight Test Crew; Fredrickson, A.; Fukai, A.; Heidemann, B.; Howard, M.; Jacque-Metton, A.; Jacque-Metton, M.; Jefferies, W.M.; Kay, A.; Keating, M.; Knapp, D.; Kunz, C.; Laughlin, B.; Lauritson, P.; Leisure, F.; Mandel, G.; Martin, J.; Medina, G.; Mees, J.; Mertz, T.; Middleton, S.; Mission Operations; Moore, M.; Moore, R.B.; Nesterowicz, J.; O'Hea, F.; Okuda, D.; Okuda, M.; Orbital Ergonomics; Overdiek, D.; Packard, A.; Peets, B.; Propulsion Systems; Purser, T.; Ratliff, R.; Rich, L.; Rockler, A.; Roddenberry, G.; Rossi, D.; Rudolph, J.; Rush, M.; Russo, C.; Satterfield, S.; Sepulveda, F.; Shimizu, S.; Slechta, K.; Spaceframe Engineering; Starfleet Charter; Starfleet Command; Stella, A.; Strong, P.; Suskin, M.; Sussman, M.; Tachell, G.; Thoms, W.; United Earth Space Probe Agency; Van Over, J.; Vehicle Development; Velazquez, D.; Ward, L.; Welke, S.; Westmore, M.; White, L.; Yacobian, B.; Zimmerman, F.; Zimmerman, H.
Opening credits
1889 V; 1892 III Holmes; 1892 V; Air Materiel Command; Aldrin, Buzz; Apollo Lunar Module; Arabian Sea; Arctic Circle; Armstrong, Neil; Asia; Atlantis; atmosphere; Australia; balloon; Barnard; Bay of Bengal; Biela's Komet; blackboard; Brooks; Ceylon; Deep Flight 1; d'Arrest; De Vico's Komet; Discovery; Dutch language; Earhart, Amelia; Emmette, SS; Emmette-type; Enke's Komet; Enterprise; Enterprize, HMS; equator; Faye's Komet; Finley; Flatey; Flight Test Division; g; German language; Glamorous Glennis; Glenn, John; Goddard, Robert H.; Huallfiord; Human explorers; Iceland; Indian Ocean; International Space Station; Italian language; Kara Sea; Long Island; Luna; Lunar colonies; Lundey; Mercury capsule; Mercury-Redstone Launch Vehicle; New Guinea; OV-165; Phoenix; Qo'noS capital; Rolsker; Saturn V; Shepard, Alan; Sojourner; Solomons; space shuttle orbiter; Spacehab; Spirit of St. Louis; Tiornes; Winnecke's Komet; Wright Field; Wright Flyer; Yeager, Chuck; "Yogi"
Meta references
Deleted material
amputation; appendage; approach vector; blister; biohazard clearance; dockmaster; Elkan Nine; explorer; frostbite; gangrene; K'toch-class; privacy; pronominal base; radian; syntax
Unreferenced material
breakfast; Charlie; scrambled eggs; transport; stomach; warp core
External links