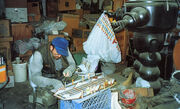 Bruce MacRae is a modelmaker living in the Los Angeles area, specialized in building props and miniatures for motion pictures and television since 1974. In 1979 he was employed by Brick Price's Movie Miniatures as a freelancer for the duration of five weeks to help out with the construction and painting of the handheld props for Star Trek: The Motion Picture while also helping out with the painting of some of the studio models.
From 1988 to 1993 he was employed by Grergory Jein, Inc., and as far as Star Trek went had the following credits to his name:
Beside his work on Star Trek, MacRae also worked as model maker on the science fiction film Lifepod (1981), the action thriller Die Hard (1988), the thriller The Hunt for Red October (1990), the science fiction thriller Solar Crisis (1991), the horror sequel Freddy's Dead: The Final Nightmare (1991), the science fiction film Timescape (1992), the thriller Turbulence (1997), the action film Air Force One (1997), the science fiction blockbuster Starship Troopers (1997), the thriller Desperate Measures (1998), the science fiction remake Godzilla (1998), and the action sequel Live Free or Die Hard (2007).
External links
Community content is available under
CC-BY-NC
unless otherwise noted.