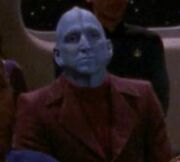 Buddy Daniels Friedman is an actor who appeared twice as a Bolian on Star Trek: The Next Generation. He first portrayed the Bolian archaeologist in the fourth season episode "Qpid" and later the Bolian barber in the episode "The Host". Daniels Friedman received no credit for these appearances and was identified by the call sheets of the episodes. He filmed his scenes for "Qpid" on 8 February 1991 on Paramount Stage 8 and was listed as "Blue Alien" on the call sheet. For "The Host" he filmed his scenes on Friday 15 March 1991 on Paramount Stage 9 and was listed as "Blue Barber" on the call sheet.
Beside his work on Star Trek Daniels Friedman appeared in featured and supporting roles in several other television series including The Golden Girls (1986, with Craig Richard Nelson and Sam Anderson), The Young and the Restless, Gabriel's Fire (1990, with Madge Sinclair and Tim de Zarn), Hard Copy, Passions, Sliders (1998, with Ted Barba, Marnie McPhail, and Armin Shimerman), Ally McBeal, and Tim and Eric Awesome Show, Great Job! (2008).
Among his feature film work are the action thriller Terminal Entry (1988, with Kavi Raz and Edward Laurence Albert), the thriller Freeway Maniac (1989, with Donald Hotton, Michael Rivkin, Gary Wayton, and Linda Fetters), the comedy Far Out Man (1990), the comedy Taking Care of Business (1990, with Gates McFadden and John de Lancie), the movie Shadow of the Dragon (1992), the television thriller Psychic Detectives (1992), the comedy Round Trip to Heaven (1992, with Brioni Farrell, Zach Galligan, Steve Susskind, Steve Vinovich, Lilyan Chauvin, and Cyndi Pass), the science fiction film Total Reality (1997, with Geof Prysirr, Ken Olandt, and Bob Morrisey), the science fiction film Starforce (2000, with Nicholas Worth), the fantasy comedy Monkeybone (2001, with Whoopi Goldberg, Mary Stein, Randall Bosley, Scott Workman, and Pam Blackwell), the comedy Vampires Anonymous (2003, with Paul Popowich and Nicole Forester), the drama Paradise (2004, with Lilyan Chauvin and Max Freeman), and the drama Shifted (2006, with Robert Rusler).
Furthermore he appeared in the comedy Ninja Cheerleaders (2008, with George Takei) and the short comedy Jesus Comes to Town (2010). More recent projects include the television science fiction film Galaxy West (2011), the television series Legends of Atoll (2011) on which he also worked as executive producer, the drama Man Without a Head (2011), the documentary Baby Let Your Hair Hang Down (2011), and the thriller Road to Red (2012).
External links
Edit
Community content is available under
CC-BY-NC
unless otherwise noted.