m

m (Bot: Automated text replacement (-\[\[[Ww]ikipedia:(.+?)\|(.+?)]] +{{w|\1|\2}}) !!wikia-credits fix!!)

Line 3:
Line 3:
 

'''Carl Byrd''' is the actor who played [[Lieutenant]] [[Shea]] in the ''[[Star Trek: The Original Series|original series]]'' episode {{e|By Any Other Name}}.

 

'''Carl Byrd''' is the actor who played [[Lieutenant]] [[Shea]] in the ''[[Star Trek: The Original Series|original series]]'' episode {{e|By Any Other Name}}.

 
 
−

He also appeared with fellow TOS guest star [[Christopher Held]] in episodes of ''{{w|Mission: Impossible}}'' (also with [[Joseph Bernard]]), ''[[wikipedia:Taxi (TV series)|Taxi]]'', ''[[wikipedia:The Jeffersons|The Jeffersons]]'', and ''[[wikipedia:St. Elsewhere|St. Elsewhere]]'' (with [[Ed Begley, Jr.]], [[Ellen Bry]], and [[Norman Lloyd]]). Other television series on which he has appeared include ''[[wikipedia:I Dream of Jeannie|I Dream of Jeannie]]'' (with [[David Soul]]), ''[[wikipedia:Barnaby Jones|Barnaby Jones]]'' (with [[Lee Meriwether]]), ''[[wikipedia:Cannon (TV series)|Cannon]]'' (with [[Sharon Acker]], [[Michael Bell]], and [[George D. Wallace]]), and ''[[wikipedia:Quincy, M.E.|Quincy]]'' (with [[Robert Ito]] and [[Garry Walberg]]). He also appeared in the film {{IMDb-name|id=tt0068280|name=Black Girl}}, starring [[Brock Peters]], in 1972 and had small roles in {{IMDb-name|id=tt0076804|name=Telefon}} (1977, with [[Roy Jenson]] and [[Robert Phillips]]) and {{IMDb-name|id=tt0087482|name=Irreconcilable Differences}} (1984, with [[David Graf]]).

+

He also appeared with fellow TOS guest star [[Christopher Held]] in episodes of ''{{w|Mission: Impossible}}'' (also with [[Joseph Bernard]]), ''Taxi (TV series)|Taxi'', ''The Jeffersons|The Jeffersons'', and ''St. Elsewhere|St. Elsewhere'' (with [[Ed Begley, Jr.]], [[Ellen Bry]], and [[Norman Lloyd]]). Other television series on which he has appeared include ''I Dream of Jeannie|I Dream of Jeannie'' (with [[David Soul]]), ''Barnaby Jones|Barnaby Jones'' (with [[Lee Meriwether]]), ''Cannon (TV series)|Cannon'' (with [[Sharon Acker]], [[Michael Bell]], and [[George D. Wallace]]), and ''Quincy, M.E.|Quincy'' (with [[Robert Ito]] and [[Garry Walberg]]). He also appeared in the film {{IMDb-name|id=tt0068280|name=Black Girl}}, starring [[Brock Peters]], in 1972 and had small roles in {{IMDb-name|id=tt0076804|name=Telefon}} (1977, with [[Roy Jenson]] and [[Robert Phillips]]) and {{IMDb-name|id=tt0087482|name=Irreconcilable Differences}} (1984, with [[David Graf]]).

 
 
 

== External link==

 

== External link==
---
Revision as of 15:21, 26 November 2010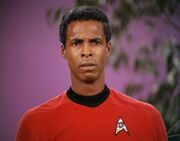 Carl Byrd is the actor who played Lieutenant Shea in the original series episode "By Any Other Name".
He also appeared with fellow TOS guest star Christopher Held in episodes of Mission: Impossible (also with Joseph Bernard), Taxi, The Jeffersons, and St. Elsewhere (with Ed Begley, Jr., Ellen Bry, and Norman Lloyd). Other television series on which he has appeared include I Dream of Jeannie (with David Soul), Barnaby Jones (with Lee Meriwether), Cannon (with Sharon Acker, Michael Bell, and George D. Wallace), and Quincy (with Robert Ito and Garry Walberg). He also appeared in the film Template:IMDb-name, starring Brock Peters, in 1972 and had small roles in Template:IMDb-name (1977, with Roy Jenson and Robert Phillips) and Template:IMDb-name (1984, with David Graf).
External link
Community content is available under
CC-BY-NC
unless otherwise noted.