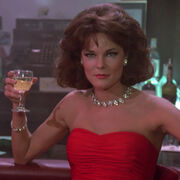 Carolyn McCormick (born 19 September 1959; age 60) is a Texan actress who played the roles of Minuet in the Star Trek: The Next Generation episode "11001001" in 1987 and Min Riker in the episode "Future Imperfect" in 1990. Archive footage from her first appearance was reused in the second season episode "Shades of Gray".
Born as Carolyn Inez McCormick in Midland, Texas, she is best known for her recurring role as Dr. Elizabeth Olivet on the crime series Law & Order in which she appeared in 89 episodes between 1990 and 2009. Paul Sorvino worked with McCormick during the series first season. McCormick also portrayed Dr. Olivet in several spin-off series including New York Undercover (1998), Law & Order: Special Victims Unit (1999-2001, with Bebe Neuwirth, Todd Stashwick, Peter Marx, and Josh Pais), Law & Order: Trial by Jury (2005, with Bebe Neuwirth, Caroline Kava, and Allan Miller), and Criminal Intent (2007, with Whoopi Goldberg).
McCormick previously had leading roles as Assistant District Attorney Rita Fiore in the action series Spenser: For Hire (1986-1987, starring Avery Brooks) and as Judith Fitzgerald in the crime series Cracker (1997-1999). Her first film was the 1985 Wolfgang Petersen science fiction film Enemy Mine which also featured Bumper Robinson.
More recent projects include the romance Downtown Express (2010, with Michael Cumpsty), the thriller True Nature (2010), and a recurring role as Judge Burdett in three episodes of the soap opera One Life to Live (2010, with Terrell Tilford).
External links