---
Revision as of 13:05, 19 February 2011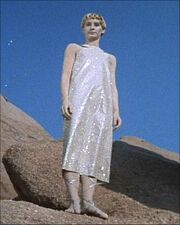 Carolyne Barry is an actress, acting coach, casting director, and former singer who worked under the name Carole Shelyne as a Metron on the 1967 Star Trek: The Original Series episode "Arena". Twenty-one years later she portrayed a female engineer in the Star Trek: The Next Generation episode "Home Soil".
She was a former regular on the popular TV variety show Shindig! as the girl with the horn-rimmed glasses. Some rock and roll performers to appear on the show were Roy Orbison and Michelle Phillips, as well as dancer and actress Teri Garr. In 1965 she also released a song, titled "Boys Do Make Passes at Girls Who Wear Glasses". [1]
She had a recurring character role as Franny in the television western comedy Here Come the Brides starring Mark Lenard, David Soul, and Robert Brown with Majel Barrett, Michael Bell, Alan Oppenheimer, and Bill Zuckert.
She did guest spots on TV shows like Mr. Novak (1965, with Stephen Mines, Vince Howard and Bill Zuckert), Julia (1970, with Paul Winfield, Fred Williamson and Denise Crosby's brother Gary Crosby), and The Bob Newhart Show (1978, with John Fiedler). She also appeared in the secret agent spoof Out of Sight (1966, with Star Trek: Enterprise guest Robert Pine and original series guest Maggie Thrett).
In 1976, she co-wrote and starred in the horror film Dark August. She also appeared in an episode of J.J. Starbuck (with Katherine Moffat, David Huddleston, Jay Underwood, Douglas Alan Shanklin, Eric Server and Patrick Cronin.
External links
Community content is available under
CC-BY-NC
unless otherwise noted.