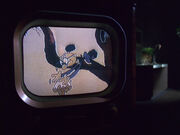 You may be looking for Star Trek: The Animated Series.
Cartoons were an early type of animated art form originating from Earth. They could take the form of movies or artwork.
When Malcolm Reed and Trip Tucker were waiting for rescue in their disabled shuttlepod, Tucker remembered a cartoon he saw once with two garden snails on the back of a turtle, one turning to the other to say "Hold on, Fred. Here we go". (ENT: "Shuttlepod One")
The mascot for Tribbles cereal was a cartoon tribble riding on a skateboard. In a commercial for that product, the tribble skated on the rim of the cereal bowl in the mess hall of the USS Ravenous. He then multiplied into three after saying "We're pregnant...with flavor!" (ST: "The Trouble with Edward")
Tom Paris enjoyed watching cartoons such as Daffy Duck and the Dinosaur on the television set B'Elanna Torres gave to him as a gift. (VOY: "Memorial", "Workforce, Part II")
Numerous businesses on Freecloud used semi-interactive holographic mascots to advertise their products and services; many of these mascots were cartoon characters. (PIC: "Stardust City Rag")
List of cartoons
Edit
List of cartoon characters
Edit
External link
Edit
Community content is available under
CC-BY-NC
unless otherwise noted.