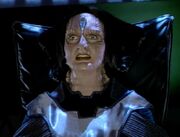 Chief Archon was a Cardassian title, roughly equivalent to that of a Human or Klingon judge. The Chief Archon presides over the Supreme Tribunal.
Makbar was the Chief Archon on Cardassia Prime in 2370. She presided over the trial of Miles O'Brien, who was charged with smuggling weapons for the Maquis. (DS9: "Tribunal")
External link
Edit
Community content is available under
CC-BY-NC
unless otherwise noted.