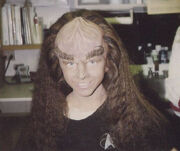 Christopher "Chris" Ogden (born 21 December 1983; age 37) is an actor who served as the stand-in and photo double for Brian Bonsall on the Star Trek: The Next Generation seventh season episode "Firstborn". He received no credit for his work and was identified by the name tag of two of his costumes from this episode which were sold off on the It's A Wrap! sale and auction on eBay. [1] [2]
Ogden was born in Prescott, Arizona. Among his acting resume are the films Understanding Olivia (1996), Uncle Sam (1997, with Mark Chadwick, Chris Durand, Denney Pierce, Tim Trella, and Spiro Razatos), Pumpkin Man (1998, with Denise Crosby), SLC Punk (1998, with Jennifer Lien and Christopher McDonald), and Bob's Video (2000).
He also guest starred in the television series Home Improvement (1994), Bailey Kippers POV, Chicago Hope (1997, with Ellen Bry), and 7th Heaven (1998, with Stephen Collins, Catherine Hicks, Christopher Michael, and Robert L. Zachar), starred in Movie Surfers (1998) and voiced a character in the English synchro of Stratos 4 (2004).
More recently, Ogden appeared in the short film Con: The Corruption of Shawn Helm (2006) and lent his voice to the video game Medal of Honor: Airborne (2007, with Skip Stellrecht) on which he also worked as lead engineer.
External link