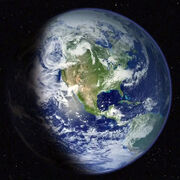 In the Federation standard system of planetary classification, a class M, or Minshara class planet, moon, or planetoid was considered to be suitable for humanoid life. By the mid-24th century, thousands of class M planets had been charted by the Federation. These worlds were the first choice for colonization. Since the late 23rd century, the Federation has been terraforming lifeless worlds into class M worlds. Environmental conditions on Federation starships mimicked the class M environment. (TOS: "The Cage"; TNG: "Justice", "Home Soil", "Final Mission"; VOY: "Caretaker")
During the mid-22nd century, Vulcan science used the term Minshara-class for such planets. Vulcans were not able to determine if a planet was Minshara-class through orbital scans, instead sending down probes to collect the necessary data. (ENT: "Strange New World") In 2151, Starfleet officers were not familiar with the term and Enterprise chose to adopt it. However, by 2154, Starfleet had adopted the term class M. A century later, that term was in general use in Starfleet, even though the term "Earth-type" was also occasionally used.
By the 23rd century, it was theorized that there was a mathematical probability of three million Earth-type planets in the Milky Way Galaxy alone. (TOS: "Balance of Terror")
A planet could fall within the range of the M-class classification. This range was from 1 to 4. The Koinonian homeworld was an example of an M-class type 4 planet. (TNG: "The Bonding", "Clues")
Occasionally, the term was used to characterize an atmosphere rather than a planet. (TNG: "Relics")
The standard environment aboard Federation starships was class M. (TNG: "New Ground")
List of class M planets and moons
Edit
Appendices
Edit
Background information
Edit
Apocrypha
Edit
The novel Strangers from the Sky indicates that the term "class M" was used by Humans prior to First Contact with Vulcans, or indeed before Humanity reached any extra-solar planets.
See also
Edit
External link
Edit
Community content is available under
CC-BY-NC
unless otherwise noted.