Star Trek Timeline [INTERACTIVE]
Play Sound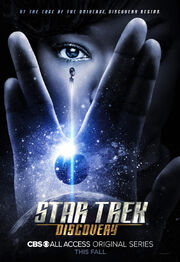 This page contains information specifically pertaining to the first season of Star Trek: Discovery, whose episode premieres were consecutively streamed on CBS All Access for the USA and broadcast on Space/Z for Canada from 24 September 2017 through 11 February 2018, with the rest of the world following suit with one day delay through streaming service Netflix.
Episodes
Summary
Background information
On 20 September 2016, CBS president Les Moonves boasted in a Variety interview that he had convinced streaming service Netflix to pay for all production costs of Discovery, sight unseen, in return for the worldwide exclusive streaming rights, North-America excluded. [1]
Principal photography for the season began on 24 January 2017, [2] and wrapped on 11 October 2017. [3]
Unlike previous Star Trek series, CBS All Access promoted the first nine episodes as "Chapter One", which concluded with "

Into the Forest I Go

" and was billed as the "Fall Finale". The remaining episodes of the season, which resumed with "

Despite Yourself

", are collectively referred to as "Chapter Two".
Discovery is the first-ever Star Trek series without an episode title being shown at the beginning of act one.

The title of "

Descent

" was shown during its teaser instead of act one; however, Discovery does not show title cards at all.

On 29 August 2018 it was reported by Variety that each first season episode had a production cost-price attached to it of US$8 – 8.5 million, [4] the US$8 million figure also reported by the Los Angeles Times on 23 September. [5] This was already on 5 September implicitly conceded by CBS Television Studios itself, when the Variety figures were ad verbatim quoted on the CBS-owned ComicBook.com website, additionally stating that the show was therefore "one of the most expensive in television history". [6]
The Los Angeles Times article also reported that Netflix paid US$6 million per episode for the exclusive worldwide streaming rights, dispelling internet rumors that have surfaced a short time later on social media, claiming that a by CBS overcharged Netflix had in effect paid for the series first season production in its entirety, [7] a claim that was also reiterated in a May 2018 editorial of financial magazine Forbes, [8] and contradicting the claim Moonves had made back in September 2016. Still, the 75% lion share of the first season production costs was covered by the license fee paid for by Netflix. While there were differences, this was not an entirely new phenomenon for Star Trek; when broadcaster NBC picked up Star Trek: The Original Series in February 1966 for airing, they agreed to pay a license fee that consisted of two-thirds of the budgeted (and not a cent beyond) per episode production costs, followed – contrary to Netflix's lump sum payment for a license covering a pre-negotiated time period – by half of the original fee for each subsequent rerun by the broadcaster. (These Are the Voyages: TOS Season One, 1st ed, pp. 38-39)
The same Variety article has divulged the Klingon starship sets coming in at a cost of US$3 million.
Characters which 'cross over' from other incarnations of Star Trek: Sarek ("

The Vulcan Hello

"), Harry Mudd ("

Choose Your Pain

"), Amanda Grayson ("

Lethe

"), and the human version of Stella Mudd ("

Magic to Make the Sanest Man Go Mad

").
Reception
The critical review site Rotten Tomatoes has given the first season of Discovery a score of eighty-three percent, with an average rating of 7.07 out of ten. However, it has also recorded an audience score of fifty-two percent, with an average rating of three out of five, indicative of a rift developing between critics and viewers/fans. [9] Rotten Tomatoes' audience findings were corroborated by the customer reviews on Amazon.com showing a very similar audience rating, but also an approximate and rather sharp sixty-forty like/dislike divide within the viewership/fanbase itself. [10]
Additionally, the critical review site Metacritic has further corroborated Rotten Tomatoes' critical findings by quoting a slightly higher seventy-two percent critics rating score for the first season – against Tomatoes' seventy-point-o-seven percent average rating – but also reported a more substantially lower viewership rating of four-point-six out of ten, along the same lines as reported by Amazon, but now with the like/dislike divide showing a rough fifty-fifty split. [11]
The sharp like/dislike divide provided an indication that the once more-or-less homogeneous Star Trek fanbase had become split, a development that had started with the advent of the alternate reality Star Trek films in 2009, with the discourse over Discovery waged with such vehemence on social media, that it baffled outside observers. [12] In an effort to explain the phenomenon after-the-fact in regard to Discovery, some critics likened this split in "Trekdom" to the divided response to the 2017 Star Wars film The Last Jedi, with a fandom previously assumed to have been dominated by white males, supposedly resisting and/or resenting the perceived centering of women and people of color. [13] [14] [15] [16] [17] In the process these critics solely focused on Star Trek: The Original Series and Star Trek: The Next Generation, thereby conveniently bypassing the fact that the primary cast of Star Trek: Deep Space Nine was headed by an Afro-American male, whereas that of Star Trek: Voyager was headed by a female captain, with both series having been fairly well received by fandom in their day – particularly by people of color in the former case, and by women in the latter case – , the then relatively small, in comparison to Discovery, dissenting part of "Trekdom" notwithstanding, for reasons entirely unrelated to racial/gender bias. [18] [19] In the UK, Voyager even became the most rewatched Star Trek series on Netflix by the time Discovery premiered. [20]
Former VAM producer (and Original Series fan) Robert Meyer Burnett, coining himself a "canonista", sided with those fans, critical of the series for what they themselves perceived as canon/(Roddenberry) philosophy/(visual) continuity violations. [21] [22] Despite their assurances and emphatic assertions to the contrary shortly before the series debuted, [23] Burnett flat-out accused the Discovery producers in a podcast, put online on 3 March 2019, of not caring about Star Trek canon, and has cited Star Trek: The Motion Picture as a prime counterpoint example of reverence towards canon. Burnett was in particular enraged over a 2 November 2018 retweet from CBS Consumer Products head John Van Citters in which he had enigmatically postulated in response to the persistent fan accusations of canon violations, "WHAT IF...the multiverse is real and ALL Star Trek stories are canon??" [24]
In the same podcast, Burnett also expressed his reservations about the "bad science" employed in the series, likening it to "Alice in Wonderland" and coining the series a "maddening cartoonish, dumbed down" version of Star Trek, even though he did concede that it was well made where visual quality was concerned. In this, Meyer echoed the stance taken by astrophysicist and science communicator Neil deGrasse Tyson – one of the first real world scientists speaking out against the dodgy science employed in Discovery, already in a 25 November 2017 blog entry on his StarTalk podcast website – , particularly where the "absurdity" of spore drive was concerned, pitting it against the scientific theoretical plausibility of warp drive as employed in Roddenberry/Berman-era Star Trek (scientific plausibility had been a prerogative for Roddenberry when he conceived his creation). [25] Tyson was later quoted ad verbatim from his 2017 book Astrophysics for People in a Hurry when Spock entered the quote "The universe is under no obligation to make sense to me" in his personal log. (DIS: "Such Sweet Sorrow, Part 2") It has yet to be confirmed whether or not the Discovery writers included Tyson's quote in retaliation of his outspoken stance against the series. Incidentally, like all Star Trek series preceding it, Discovery does employ a science consultant, Anthony Maranville. Ironically, longserving Berman-era science consultant André Bormanis is as such employed by rival franchise The Orville.
Awards
Announced and launched with much fanfare, industry award nomination announcements have followed suit in the wake of the series' first season, such as for the 2018 GLAAD Media Award on 19 January 2018, [26] five Saturn Awards on 27 June 2018, [27] and two of the prestigious Emmy Awards on 12 July 2018. [28]
CBS Broadcasting made substantial efforts in the form of an elaborate mailer, online videos, social media, outdoor campaign and multiple events, to gain traction for their Emmy Award nomination chances, [29] [30] to no avail as it turned out as; much to their disappointment, only two nominations in minor technical categories were secured, neither of which won. Despite the efforts made, the series was not considered for any of the hoped-for major, or artistic, Emmy Awards; the ones in the various acting categories in particular none of the Star Trek television shows had ever won or had even been nominated for, when discounting three "Best Supporting Actor" nominations that Leonard Nimoy had received between 1967 and 1969. Adding insult to injury for Discovery was that the heavily Star Trek-inspired fourth-season episode "USS Callister", of the British Channel 4 cautionary tale anthology series Black Mirror, was alone nominated for six out of eight fourth-season Emmy Awards, most of them in the major categories, of which it won no less than four, including the most prestigious one of them all, for "Outstanding Television Movie". [31] [32] However, Star Trek did win a consolation Emmy Award that year, the honorary "Governors Award", but that was for the entire television franchise, of which Discovery was at that point in time only a small part as "the new kid on the block". That award, though, was not presented at the highly publicized glamorous major Emmy Award ceremony, where Black Mirror received its, but at the as-usual virtually unnoticed "Creative Arts Emmys Show", the weekend prior to the "real" ceremony. [33]
Meanwhile, the Saturn Awards had started to distinguish between productions for (classic) television and those for streaming services, which applied for Discovery. This was exemplified by the circumstance that Seth MacFarlane's Star Trek: The Next Generation-inspired science fiction series The Orville – which was rapidly becoming a franchise competitor – had won a "Best Series" award for its first season, though in its case in the original "Best Science Fiction Television Series" category.
In total, the first season of Discovery was nominated for twenty-three industry awards, of which it won three.
2017-2018 Star Trek: Discovery Season 1 awards and honors
Award
Category
Nominee(s)
Result
CDG Awards
Outstanding Sci-Fi/Fantasy Television Series
Gersha Phillips
Nominated
Dragon Awards
Best Science Fiction or Fantasy TV Series
Bryan Fuller, and Alex Kurtzman
Emmy Awards
Outstanding Prosthetic Makeup for a Series, Limited Series, Movie or Special ("

Will You Take My Hand?

")
Glenn Hetrick (special makeup effects department head), James MacKinnon (special makeup effects department head), Hugo Villasenor (special makeup effects artist),

Rocky Faulkner

(special makeup effects artist),

Chris Bridges

(additional makeup effects artist),

Shane Zander

(additional makeup effects artist), Neville Page (prosthetic designer), and

Michael O'Brien

(prosthetic designer)
Outstanding Sound Editing for a One Hour Comedy or Drama Series ("

What's Past Is Prologue

")

Jon Mete

(supervising sound editor),

Tim Farrell

(sound designer),

Christopher Assells

(sound editor), Matt Taylor (adr editor),

Trevor Sperry

(foley editor), Ashley Harvey (dialogue editor),

Angelo Palazzo

(sound effects editor),

Peter D. Lago

(sound effects editor),

Christopher Scarabosio

(sound effects editor),

Matt Decker

(music editor),

James Bailey

(foley artist),

Alex Ullrich

(foley artist), and

Matt Salib

(foley artist)
Empire Awards
Best Actor in a TV Series
Jason Isaacs
Won
GLAAD Media Awards
Outstanding Drama Series
CBS Television Studios/All Access
Nominated
Hugo Awards
Best Dramatic Presentation - Short Form ("

Magic to Make the Sanest Man Go Mad

"
Aron Eli Coleite (writer), Jesse Alexander (writer), and David Barrett (director)
ICG Publicists Award [34]
Maxwell Weinberg Award (Television)

Kristen Hall

[35]
IGN Award (2017)
Best TV Action Series
CBS Television Studios/All Access
Best New TV Series
Joey Award
Best Actress in a Principal Role in a Television Series 7-12 years
Arista Arhin
OFTA Television Awards
Best Makeup/Hairstyling in a Series
CBS Television Studios/All Access
Best Sound in a Series
Best Visual Effects in a Series
Peabody Awards
Entertainment, Children's & Youth
Saturn Awards
Best Actress on Television
Sonequa Martin-Green
Won
Best New Media Television Series
CBS Television Studios/All Access
Best Actor on Television
Jason Isaacs
Nominated
Best Supporting Actor on Television
Doug Jones
Best Guest Performance in a Television Series
Michelle Yeoh
VES Awards
Outstanding Visual Effects in a Photoreal Episode ("

The Vulcan Hello

")
Jason Michael Zimmerman,

Aleksandra Kochoska

, Ante Dekovic, and

Mahmoud Rahnama

Outstanding Compositing in a Photoreal Episode

Phil Prates

,

Rex Alerta

,

John Dinh

, and

Karen Cheng

Young Artist Awards
Best Performance in a TV Series - Recurring Young Actress
Arista Arhin
Credits
Starring
And
Special guest star
Michelle Yeoh as Philippa Georgiou/Philippa Georgiou (mirror) ("The Vulcan Hello", "Battle at the Binary Stars", "The Butcher's Knife Cares Not for the Lamb's Cry", "The Wolf Inside–"Will You Take My Hand?")
Crew
Casting by

Margery Simkin, CSA
Orly Sitowitz, CSA
Music and Theme by
Costume Designer
Visual Effects Supervisor
Edited by

Jon Dudkowski

, A.C.E. ("The Vulcan Hello", "Context Is for Kings", "Lethe", "Into the Forest I Go", "Will You Take My Hand?")

Scott Gamzon

, A.C.E. ("Battle at the Binary Stars", "Choose Your Pain", "The Wolf Inside", "The War Without, The War Within")

Andrew Coutts

("The Butcher's Knife Cares Not for the Lamb's Cry", "Magic to Make the Sanest Man Go Mad", "Despite Yourself", "What's Past Is Prologue")

Steve Haugen

("Si Vis Pacem, Para Bellum", "Vaulting Ambition")

Andreas Karrer

("Vaulting Ambition")
Production Designer

Mark Worthington ("The Vulcan Hello")
Todd Cherniawsky ("Battle at the Binary Stars"–"Choose Your Pain")

Mark Steel

("Lethe")
Tamara Deverell ("Magic to Make the Sanest Man Go Mad"–"Will You Take My Hand?")
Director of Photography

Guillermo Navarro

, A.S.C. ("The Vulcan Hello")
Colin Hoult, C.S.C. ("Battle at the Binary Stars", "The Butcher's Knife Cares Not for the Lamb's Cry", "Lethe", "Si Vis Pacem, Para Bellum", "Despite Yourself", "Vaulting Ambition", "The War Without, The War Within")

Darran Tiernan

, I.S.C. ("Context Is for Kings")
Glen Keenan, C.S.C. ("Choose Your Pain", "Magic to Make the Sanest Man Go Mad", "Into the Forest I Go", "The Wolf Inside", "What's Past Is Prologue", "Will You Take My Hand?")
Producers

Geoffrey Hemwall

("The Vulcan Hello"–"Battle at the Binary Stars")

Jill Danton

("The Vulcan Hello")

Thom J. Pretak

("Battle at the Binary Stars"–"The Wolf Inside")

Ted Miller

("The Wolf Inside"–"Will You Take My Hand?")
Consulting Producers

Nicholas Meyer ("The Vulcan Hello"–"What's Past Is Prologue")
Craig Sweeny ("The Vulcan Hello"–"What's Past Is Prologue")
Co-Executive Producers
Executive Producers
Based Upon Star Trek Created by
Created by
---
Associate Producer
Executive Story Editors
Staff Writers

Sean Cochran ("Battle at the Binary Stars"–"Will You Take My Hand?")
Kemp Powers ("The Vulcan Hello"–"Choose Your Pain")
Production Managers

David Till ("The Vulcan Hello"–"What's Past Is Prologue")

David Vaughan

("Despite Yourself"–"Will You Take My Hand?")
First Assistant Directors

Beau Ferris

("The Vulcan Hello")

Libby Hodgson

("The Vulcan Hello", "Context Is for Kings", "Lethe", "Into the Forest I Go", "Vaulting Ambition", "Will You Take My Hand?")

Tim Singh

("Battle at the Binary Stars", "The Butcher's Knife Cares Not for the Lamb's Cry", "Si Vis Pacem, Para Bellum", "The Wolf Inside", "The War Without, The War Within")

Woody Sidarous

("Choose Your Pain", "Magic to Make the Sanest Man Go Mad", "Despite Yourself", "What's Past Is Prologue")
Second Assistant Directors

Rita Colucci

("The Vulcan Hello", "Context Is for Kings", "Lethe", "Into the Forest I Go", "Vaulting Ambition", "Will You Take My Hand?")

Kira McCord

("Battle at the Binary Stars", "The Butcher's Knife Cares Not for the Lamb's Cry", "Si Vis Pacem, Para Bellum", "The Wolf Inside", "The War Without, The War Within")

Jason Washington

("Choose Your Pain", "Magic to Make the Sanest Man Go Mad")

Ben Marrello

("Magic to Make the Sanest Man Go Mad", "Despite Yourself", "What's Past Is Prologue")
Canada Casting by

Lisa Parasyn

, CSA

Jon Comerford

, CSA
Original Star Trek Theme by
Set Decorator
Property Masters

Mario Moreira ("The Vulcan Hello", "Context Is for Kings"–"Will You Take My Hand?")

Jim Murray

("The Vulcan Hello"–"Context Is for Kings")
Supervising Art Director

Mark Steel

("Context Is for King"–"Choose Your Pain")

Joshu De Cartier

("The War Without, The War Within"–"Will You Take My Hand?")
Art Directors

Greg Chown

("The Vulcan Hello"–"The Butcher's Knife Cares Not for the Lamb's Cry")

Matt Middleton

Mark Steel

("The Vulcan Hello"–"Battle at the Binary Stars")

Jody Lynn Clement

("Choose Your Pain"–"Will You Take My Hand?")
Motion Graphics
First Assistant Graphics
First Assistant Art Directors

Natasha Peschlow

("The Vulcan Hello"–"Magic to Make the Sanest Man Go Mad")

Joshu De Cartier

("Context Is for Kings"–"Choose Your Pain")

Chris Bretecher

("Context Is for Kings"–"Will You Take My Hand?")

Alex Brock

("Lethe"–"Will You Take My Hand?")

Shirin Rashid

("Context Is for Kings"–"Choose Your Pain", "Vaulting Ambition"–"Will You Take My Hand?")

Hayley Isaacs

("Context Is for Kings"–"Will You Take My Hand?")

Alexandra Juzkiw

("Context Is for Kings"–"Choose Your Pain")

Guinevere Cheung

("Context Is for Kings")

John Kim

("Context Is for Kings"–"The War Without, The War Within")

Matt Morgan

("Context Is for Kings"–"Will You Take My Hand?")

Dan Norton

("Context Is for Kings"–"Will You Take My Hand?")

Emilie Poulin

("Context Is for Kings"–"Will You Take My Hand?")

Jane Stoiacico

("Context Is for Kings"–"Will You Take My Hand?")

Itsuko Kurono

("Context Is for Kings")

Michael Stanek

("Context Is for Kings"–"Magic to Make the Sanest Man Go Mad")

Jeremy Gillespie

("Context Is for Kings"–"Will You Take My Hand?")

Martha Sparrow

("Into the Forest I Go")

Chris Penna

("The Wolf Inside"–"Will You Take My Hand?")
Assistant Production Manager

Kosta Orfanidis

("The Vulcan Hello"–"Battle at the Binary Stars")

Michael Stoyanov

("Context Is for Kings"–"Will You Take My Hand?")
Third Assistant Directors

Ross Vivian ("Context Is for Kings"–"The Wolf Inside")
Brooke Fifield ("Context Is for Kings"–"Will You Take My Hand?")

Jessica Kirec

("Vaulting Ambition", "The War Without, The War Within"–"Will You Take My Hand?")
Kieffer Moxness ("Vaulting Ambition"–"Will You Take My Hand?")

David Lester

("What's Past Is Prologue")

Jordan Roy

("What's Past Is Prologue")
Script Supervisor

Marta Borowski

("The Vulcan Hello", "The Butcher's Knife Cares Not for the Lamb's Cry", "Lethe", "Si Vis Pacem, Para Bellum", "Despite Yourself", "Vaulting Ambition", "The War Without, The War Within")

Lisa Burling

("Battle at the Binary Stars"–"Context Is for Kings", "Choose Your Pain", "Magic to Make the Sanest Man Go Mad", "Into the Forest I Go", "The Wolf Inside", "What's Past Is Prologue")

Samantha Armstrong

("Will You Take My Hand?")
A Camera Operator

Tony Guerin
B Camera Operator

Sean Sealey

("The Vulcan Hello"–"Si Vis Pacem, Para Bellum")

Brad Crosbie

("Into the Forest I Go"–"Despite Yourself")

Gilles Corbeil

("The Wolf Inside"–"Vaulting Ambition")

Yoann Malnati

("What's Past Is Prologue"–"Will You Take My Hand?")
Sound Mixer

Ao Loo

("The Vulcan Hello"–"Magic to Make the Sanest Man Go Mad", "The Wolf Inside"–"Will You Take My Hand?")

Shawn Kirkby

("Si Vis Pacem, Para Bellum"–"Despite Yourself")
Boom Operator

Sean Armstrong
Casting Associate

Emily Cook
Canadian Casting Assistants

Sara Dang

Lisa Demeo

Emily Johnston
Location Managers

John Musikka

("The Butcher's Knife Cares Not for the Lamb's Cry"–"Into the Forest I Go")

Melissa Warry-Smith

("Despite Yourself"–"Will You Take My Hand?")
Studio Manager

Robert Jones
Location Production Assistants

Chris Vargas

("The Vulcan Hello"–"Battle at the Binary Stars")

Kevin Allen

("Context Is for Kings"–"The Wolf Inside")

Fermin Balado

("Context Is for Kings"–"What's Past Is Prologue")

Gordon Byford

("Vaulting Ambition"–"Will You Take My Hand?")

Richard St. Onge

("The War Without, The War Within"–"Will You Take My Hand?")
Costume Supervisor

Karen Lee
Assistant Costume Designers

Kimberly Catton

("The Vulcan Hello")

Megan Oppenheimer

("The Vulcan Hello")

Damion Saliani

("The Vulcan Hello"–"Si Vis Pacem, Para Bellum")
Bernadette Croft ("Battle at the Binary Stars"–"The Butcher's Knife Cares Not for the Lamb's Cry")

Avery Plewes

("Choose Your Pain"–"Lethe")

John Dunnett

("Lethe"–"What's Past Is Prologue")

Erin Daprato

("Magic to Make the Sanest Man Go Mad"–"Will You Take My Hand?")

Deanna Sciortino

("Magic to Make the Sanest Man Go Mad"–"Will You Take My Hand?")
Lead Creature Designer
Department Head Make-Up

Colin Penman
Department Head Hair

Ryan Reed
Make-Up Effects Department Heads
Additional Prosthetic Make-Up

Paul Jones

("Context Is for Kings"–"Will You Take My Hand?")
Prosthetic Makeup Special Effects and Specialty Armor Designed and Created by
Production Accountant

Debbie Van Dusen
First Assistant Accountants

Dawn Howat

Vess Stoeva

Susan Al'Thor

("Into the Forest I Go"–"Will You Take My Hand?")

Darleen Abbott

("Into the Forest I Go"–"The War Without, The War Within")
First Assistant Construction Accountant

Susan Al'Thor

("Context Is for Kings"–"Si Vis Pacem, Para Bellum")
Second Assistant Accountants

Rebecca Pearson

Shane Pollard

Vanna Roopchand

("The Vulcan Hello"–"What's Past Is Prologue")
Payroll Accountants

Mark Bilas

Melanie Foley
Lighting Design by

Franco Tata
First Company Grip

Robert Daprato
1st Assistant A Camera

Barrett Axford

("The Vulcan Hello"–"Si Vis Pacem, Para Bellum")

Andrew Stretch

("Into the Forest I Go"–"Will You Take My Hand?")
1st Assistant B Camera

Brian White
1st Assistant C Camera

Craig Jewell

("What's Past Is Prologue", "Will You Take My Hand?")
2nd Assistant A Camera

Christina Louie

("The Vulcan Hello"–"Si Vis Pacem, Para Bellum")

Stephen Gould

("Into the Forest I Go"–"Will You Take My Hand?")
2nd Assistant B Camera

Craig Jewell

("The Vulcan Hello"–"Vaulting Ambition", "The War Without, The War Within")
Digital Imaging Technician

Rob Stronghill
Production Coordinator

Janet Gayford ("The Vulcan Hello"–"Context Is for Kings")

Alison Waxman

("The Butcher's Knife Cares Not for the Lamb's Cry"–"Will You Take My Hand?")
Script Coordinator

Melissa Goldstein
First Assistant Production Coordinators

Allison Lahav

("Context Is for Kings"–"Will You Take My Hand?")

Nicole Lane

("The Vulcan Hello"–"Magic to Make the Sanest Man Go Mad")

Taylor Danton

("Si Vis Pacem, Para Bellum"–"Will You Take My Hand?")
Second Assistant Production Coordinator

Derrick O'Toole

("The Vulcan Hello"–"Context Is for Kings")

Laura Miles

("The Butcher's Knife Cares Not for the Lamb's Cry"–"Will You Take My Hand?")
Office Production Assistants

Tom Fitzpatrick

Laura Miles

("The Vulcan Hello"–"Context Is for Kings")

Michaela Peker

("The Vulcan Hello"–"Battle at the Binary Stars")

Chris Stiebel

("Context Is for Kings"–"Will You Take My Hand?")

Cornelia Audrey

("The Butcher's Knife Cares Not for the Lamb's Cry"–"What's Past Is Prologue")

Kevin Hazlehurst

("The War Without, The War Within"–"Will You Take My Hand?")
Additional Production Design by

Todd Cherniawsky ("The Vulcan Hello")
Second Assistant Art Director

Hyebin Yoon

("The Vulcan Hello"–"Battle at the Binary Stars")
Playback Supervisor

Mark Lewandowski

("The Vulcan Hello")
Storyboard Artists

Rob McCallum

Amro Attia

("Si Vis Pacem, Para Bellum")
Concept Artists

Goran Delic

Bartol Rendulic

("The Vulcan Hello"–"Choose Your Pain")
John Eaves ("Lethe"–"Will You Take My Hand?")
Digital Asset Manager

James Jarvis

("Battle at the Binary Stars"–"Will You Take My Hand?")
Art Department Coordinator

Katie Brock
Stunt Coordinator

Rick Forsayeth

("The Vulcan Hello"–"Battle at the Binary Stars")

Christopher McGuire

("Context Is for Kings"–"Si Vis Pacem, Para Bellum", "What's Past Is Prologue"–"Will You Take My Hand?")

Neil Davison

("Into the Forest I Go"–"Vaulting Ambition")
Fight Coordinator

Hubert Boorder

("The Butcher's Knife Cares Not for the Lamb's Cry"–"Will You Take My Hand?")
Special Effects Coordinator

Darcy Callaghan
Special Effects Key

Sophie Vertigan

("The Vulcan Hello"–"Magic to Make the Sanest Man Go Mad", "Into the Forest I Go"–"Will You Take My Hand?")

Hudson Kenny

("Si Vis Pacem, Para Bellum")
Lead Dressers

Kevin Haeberlin

("The Vulcan Hello"–"Choose Your Pain")

Greg Langham

Greg Carson

("Lethe")

Byron Patchett

("Lethe")
Contact Lens Supervisor

Mandy Ketcheson
Key Scenic

Jay Kirk ("Battle at the Binary Stars"–"Will You Take My Hand?")
Head Painters

Peter Aquilina

("Battle at the Binary Stars"–"Choose Your Pain", "Magic to Make the Sanest Man Go Mad"–"Si Vis Pacem, Para Bellum")

Soux Ellis

("Battle at the Binary Stars"–"Will You Take My Hand?")

Dave Rosa

("Lethe", "Into the Forest I Go"–"The Wolf Inside")

Tim Campbell

("Vaulting Ambition"–"Will You Take My Hand?")
On Set Painter

Brad Francis

("Battle at the Binary Stars"–"Despite Yourself", "The War Without, The War Within"–"Will You Take My Hand?")

Katarina Tarrant

("The Wolf Inside"–"What's Past Is Prologue")
Construction Coordinator

Ross Fraser

("The Vulcan Hello"–"Vaulting Ambition")

Kevin McCullagh

("What's Past Is Prologue"–"Will You Take My Hand?")
Head Carpenter

Travis Israel Staley

("The Vulcan Hello"–"The Wolf Inside")

Tyson Snels

("Vaulting Ambition")

Paul Jefferson

("What's Past Is Prologue"–"Will You Take My Hand?")
On Set Carpenter

Tyson Snels

("The Butcher's Knife Cares Not for the Lamb's Cry"–"Despite Yourself")

Andrew Casement

("The Wolf Inside"–"Will You Take My Hand?")
Transportation Coordinator

Jazz Helie
Transportation Captain

Michael Corazza
Transportation Co-Captain

Grant Volkers
VFX Supervisor
VFX Producer

Aleksandra Kochoska
VFX Lead Artist

Charles Collyer
Senior VFX Coordinator
VFX Coordinators

Ayana Reid

Julie Rothfarb

Lauren Kramer

("Into the Forest I Go"–"Will You Take My Hand?")
VFX Plate Supervisor

Alexander Wood

("Choose Your Pain"–"Will You Take My Hand?")
Associate VFX Supervisor

Mahmoud Rahnama

("Into the Forest I Go"–"Will You Take My Hand?")
VFX Previs Supervisor

Stephen J. Pavelski

("Vaulting Ambition"–"Will You Take My Hand?")
VFX Art Director LA

William Budge

("Lethe")
VFX Production Manager

Helen Jen

("The Vulcan Hello"–"Battle at the Binary Stars")
Additional Editing by

Cecily Rhett

("The Butcher's Knife Cares Not for the Lamb's Cry")
Assistant Editors

Matthew Kovach

("The Vulcan Hello", "Context Is for Kings", "Lethe", "Into the Forest I Go", "Will You Take My Hand?")

Jeffrey D. Brown

("Battle at the Binary Stars")

John Mullin

("Battle at the Binary Stars", "Choose Your Pain", "The Wolf Inside", "The War Without, The War Within")

Dennis Alaniz

("The Butcher's Knife Cares Not for the Lamb's Cry", "Magic to Make the Sanest Man Go Mad", "Despite Yourself", "What's Past Is Prologue")

Disha Patel-Webb

("The Butcher's Knife Cares Not for the Lamb's Cry")

Andreas Karrer

("Si Vis Pacem, Para Bellum")

Matthew Barton

("Si Vis Pacem, Para Bellum")

Tim Brinker

("Despite Yourself", "What's Past Is Prologue")
VFX Editors

Jonathan Angus

("The Vulcan Hello"–"Battle at the Binary Stars")

Glenn Cote
VFX Assistant Editors

Greg Minihan

Jason Sikora

("Into the Forest I Go"–"Will You Take My Hand?")
Post Production Supervisor

Bradley Ramirez

("The Butcher's Knife Cares Not for the Lamb's Cry"–"Will You Take My Hand?")
Post Production Coordinator

Ruben Michael Molina
Post Production Assistant

Ryan Miles
Researcher
Assistants to the Writers

Tyler Dinucci

("The Vulcan Hello"–"What's Past Is Prologue")

Brandon Schultz
Dialect Coach
Additional Dialect Coach

Jeffrey Simlett
Klingon Translator
Craft Services

Star Grazing Inc.

("Context Is for Kings"–"Will You Take My Hand?")
Servers

Darlene Ibbitson

("Context Is for Kings"–"Will You Take My Hand?")

Monica Madden

("Context Is for Kings"–"Will You Take My Hand?")
On Set Caterers

Gourmet Catering
Assistants to A. Kurtzman

Julian Gross

("The Vulcan Hello"–"Choose Your Pain")
Assistant to G. Berg and A. Harberts

Chris Danby
Assistant to H. Kadin

Kathryn Alsman
Assistant to A. Goldsman

Chloe Gebacz
Assistant to C. Sweeny

Kaycee Felton-Lui
Assistant to D. Semel

Chelsea Dowling

("The Vulcan Hello")
Executive Assistant Toronto
L.A. Unit
Unit Production Manager

Joe Lotito

("The Vulcan Hello")
First Assistant Director

Susan M. Elmore

("The Vulcan Hello")
Second Assistant Director

Marcia Woske

("The Vulcan Hello")
LA Stunt Coordinator

Joel Kramer ("The Vulcan Hello")
LA Art Director

William Budge

("The Vulcan Hello")
LA Production Coordinator

Andrew McCulloch

("The Vulcan Hello")
LA Construction Coordinator

Eddie Esparza

("The Vulcan Hello")
LA Lead Crane Tech

Philip Hallford

("The Vulcan Hello")
LA Chief Lighting Technician

David Lee

("The Vulcan Hello")
LA Hair Department Head

Darrell Redleaf-Fielder

("The Vulcan Hello")
LA Make Up Department Head

Karen Iverson ("The Vulcan Hello")
Jordan Unit
Jordan Producers

Elan Dassani

("The Vulcan Hello")

Rajeev Dassani

("The Vulcan Hello")

Kosta Orfanidis

("The Vulcan Hello")
Jordan Unit Producer

Issam M. Husseini

("The Vulcan Hello")
Jordan Production Coordinator

Tala Olabi

("The Vulcan Hello")
Jordan Script Supervisor

Haya Kattan

("The Vulcan Hello")
Jordan Chief Lighting Technician

Hosni Al Baqa

("The Vulcan Hello")
Jordan Art Director

Sami Keilani

("The Vulcan Hello")
Sound Services by

Warner Bros. Post Production Creative Services
Sound Supervisor

Jon Mete
Sound Designer

Tim Farrell
Re-Recording Mixers

Alexander Gruzdev

(credited as

Alex Gruzdev

in "The Vulcan Hello"–"Battle at the Binary Stars")

Brad Sherman
Mix Tech

Brad Bell

("Into the Forest I Go"–"What's Past Is Prologue", "Will You Take My Hand?")
Dialogue Editor

Ashley Harvey ("Lethe"–"Si Vis Pacem, Para Bellum", "Vaulting Ambition")
Dialogue and ADR Editor

Kim Wilson

("Context Is for Kings")
Ashley Harvey ("The Butcher's Knife Cares Not for the Lamb's Cry"–"Choose Your Pain", "Into the Forest I Go"–"The Wolf Inside", "What's Past Is Prologue")
ADR and Dialogue Editor

Ashley Harvey ("The War Without, The War Within"–"Will You Take My Hand?")
ADR Editor

Ashley Harvey ("Context Is for Kings")
Matt Taylor ("Lethe"–"Si Vis Pacem, Para Bellum")
Sound Effects Editors

Angelo Palazzo

("Context Is for Kings"–"Despite Yourself")

Peter D. Lago

, M.P.S.E. ("Despite Yourself", "What's Past Is Prologue", "Will You Take My Hand?")

Chris Assells

("The War Without, The War Within")

Ken Young

("Will You Take My Hand?")
SFX and Foley Editor

Peter D. Lago

, M.P.S.E. ("Lethe"–"Into the Forest I Go")
Foley Editor

Peter D. Lago

, M.P.S.E. ("The Butcher's Knife Cares Not for the Lamb's Cry"–"Choose Your Pain")
Matt Taylor ("Will You Take My Hand?")
ADR And Foley Editor

Matt Taylor ("The Wolf Inside", "The War Without, The War Within")
Foley Artists

Jim Bailey

("Context Is for Kings"–"Will You Take My Hand?")

Sanaa Kelley

("Context Is for Kings"–"The Wolf Inside")

Alex Ullrich

("Vaulting Ambition")

Ginger Geary

("What's Past Is Prologue")

Hilda Hodges

("The War Without, The War Within")

Gretchen Thomas

("The War Without, The War Within"–"Will You Take My Hand?")
Foley Mixer

Trevor Sperry

("Context Is for Kings"–"Will You Take My Hand?")
Sound Assistant Editor

Deron Street

("Context Is for Kings"–"Lethe", "What's Past Is Prologue")

Damon Cohoon

("Magic to Make the Sanest Man Go Mad"–"The Wolf Inside", "The War Without, The War Within"–"Will You Take My Hand?")

Kim Morrell

("Vaulting Ambition")
Post Production Sound Services Provided by

Skywalker Sound

, A

Lucasfilm Ltd.

Company,
Marin County, California ("The Vulcan Hello"–"Battle at the Binary Stars")
Sound Designer

Christopher Scarabosio

("The Vulcan Hello"–"Battle at the Binary Stars")
Music Editor

Matt Decker
Score Engineer and Mixer

Michael Perfitt

("Battle at the Binary Stars"–"Will You Take My Hand?")
Scoring Assistant

Perrine Virgile

("Battle at the Binary Stars"–"Will You Take My Hand?")
Orchestrator

Amie Doherty

("Battle at the Binary Stars"–"Will You Take My Hand?")
MIDI Tech

Traci Turnbull ("Battle at the Binary Stars"–"Will You Take My Hand?")
Score Wrangler

Matea Prljevic

("Battle at the Binary Stars"–"Will You Take My Hand?")
Dailies Services by

Bling Digital

("The Vulcan Hello"–"Si Vis Pacem, Para Bellum")
Post Production Services by

Chainsaw

("The Vulcan Hello"–"Choose Your Pain")
Chainsaw Supervising Producer

Byron Smith

("The Vulcan Hello"–"Choose Your Pain")
Chainsaw Online Editor

Chad Cole

("The Vulcan Hello"–"Choose Your Pain")
Chainsaw Chief Engineer

Jeff Sengpiehl

("Context Is for Kings"–"Choose Your Pain")
Color Timing by

Company 3 ("The Vulcan Hello"–"Context Is for Kings")
Company 3 Final Colorist

Stefan Sonnenfeld ("The Vulcan Hello"–"Context Is for Kings")
Camera, Lenses and Post Production Services by

SIM

("Lethe"–"Will You Take My Hand?")
SIM Supervising Producer

Byron Smith

("Lethe"–"Will You Take My Hand?")
SIM Online Editor

Chad Cole

("Lethe"–"Will You Take My Hand?")
SIM Chief Engineer

Jeff Sengpiehl

("Lethe")
Final Colorist

Todd Bochner

("The Butcher's Knife Cares Not for the Lamb's Cry"–"Will You Take My Hand?")
Editing Systems

Hula Post
Camera and Lenses by

Sim Digital

("The Vulcan Hello"–"Choose Your Pain")
Grip and Lighting Equipment by

PS Production Services

("Lethe"–"Despite Yourself")

Sim Lighting and Grip

("The Wolf Inside"–"Will You Take My Hand?")
Main Title Design by
Visual Effects by

Crafty Apes

("The Vulcan Hello", "Context Is for Kings"–"Will You Take My Hand?")

Spin VFX

("The Vulcan Hello"–"Despite Yourself", "Vaulting Ambition"–"Will You Take My Hand?")

Ghost VFX

("Choose Your Pain"–"Lethe", "Si Vis Pacem, Para Bellum", "The Wolf Inside"–"Vaulting Ambition", "The War Without, The War Within", credited as

Ghost

in "The Wolf Inside"–"Vaulting Ambition") [36]

Buf

("Choose Your Pain", "Si Vis Pacem, Para Bellum")

Intelligent Creatures

("Context Is for Kings")

Monsters, Aliens, Robots, Zombies

("Context Is for Kings", "Choose Your Pain")

FX3X

("Despite Yourself"–"What's Past Is Prologue", "Will You Take My Hand?")

Redlab

("Vaulting Ambition"–"What's Past Is Prologue", "Will You Take My Hand?")
Produced with the Participation of the

Canadian Production Services Tax Credit
Living Dead Guy
CBS All Access Originals
Uncredited
Marina Abramyan

– Art Department Coordinator: L.A. Unit ("The Vulcan Hello")

Sinan Marc Akdemir

– Junior 3D Generalist: Pixomondo

Dave Axford

– Sculpture and Mould shop Artist

Henry Banger Benvenuti

– Scenic Painter

Derek Barnes

– Stunt Safety ("Si Vis Pacem, Para Bellum", "Into the Forest I Go", "The Wolf Inside", "Vaulting Ambition", "What's Past Is Prologue", "Will You Take My Hand?")

Pietro Berto

– Character Artist

Daniel Biagi

– Assistant to Producers

Matt Boardman

– Render Coordinator/Graphic Artist: CBS Television Studios

Blake Bolger

– Costume Fabricator: Alchemy Studios

Chris Bridges

– Special Makeup Effects Artist

Andrea Brown

– Makeup Artist

Steven Browning

– Lead Modeler

Chris Burgoyne

– Makeup Artist
Chris Byrne – Second Unit Director ("The Vulcan Hello")

Roberto Campanella

– Movement Coordinator/Creator

Graham Chivers

– Special Effects Makeup Artist

Sophie Cloutier

– Playback Operator

Aaron Colman-Hayes

– 3D Artist and Scan Technician

Heather Constable

– Background Set Supervisor

Michael R. Currie

– Render Assistant: CBS Television Studios

Natalie Dale

– Utility Stand-in

Anton Demerjian

– Second Assistant Camera Operator: Jordan Unit ("The Vulcan Hello")
Pierre Drolet – 3D Modeler ("The Vulcan Hello"; "Battle at the Binary Stars"): CBS Television Studios (subcontractor)

Joel Durham

– Lead Texture Artist

Rocky Faulkner

– Key Special Effects Makeup Artist

Adelaide Filippe

– Concept Designer:

FBFX ltd.

Jordan Gagne

– Composer: Additional Music

Matthew Gore

– Senior Visual Effects Producer ("The Vulcan Hello")

Douglas E. Graves

– VFX CG artist/digital model builder and texture artist ("The Vulcan Hello")

Nour Halawani

– Additional Sound Recordist: Jordan Unit ("The Vulcan Hello")

Aaron Hamman

– Modeling Supervisor
Kevin Haney – Makeup Artist

Adrian Hardy

– Set Dresser ("Battle at the Binary Stars"–"The Butcher's Knife Cares Not for the Lamb's Cry")

Christoph Hasche

– Digital Compositor:

MovieBrats Studios

("The Butcher's Knife Cares Not for the Lamb's Cry")

Vic Holt

– President

2CGVFX

Phil Hope

– Concept Designer

Tim Kafka

– Lighting Supervisor

Jesse Kawzenuk

– Main Unit Data Wrangler

Alan G. Kelly

– Additional Camera Operator/Steadicam Operator

Andrew Kim

– Senior Concept Illustrator ("The Vulcan Hello"–"Battle at the Binary Stars")

Jessica Kirec

– Set Production Assistant

Mark Krentz

– Associate CG Supervisor:

Spin VFX

/Senior VFX Artist

Eryn Krueger Mekash

– Special Makeup Effects Artist

Kevin Lafferty

– Line Producer/Producer

Ray Lai

– Concept Illustrator/Prop Designer

Pat Lau

– VFX Supervisor/Matte Painter

Dennis Liddiard

– Makeup Artist

Daniel Hyun Lim

– Senior Illustrator/Costume Concept Designer

Julian Lojek

– Lead Compositor: Pixomondo

Peter Mabrucco

– Assistant to V. Natali ("The Vulcan Hello")

Sang Maier

– Props Buyer

Anne Marley

– Travel Coordinator

Sheilagh McGrory

– Prosthetic Shop Assistant

Mike Mekash

– Special Effects Makeup Artist

Samuel Michlap

– Concept Designer: Klingon starships ("The Vulcan Hello")

Divyansh Mittal

– Digital Compositor: Pixomondo
Bart Mixon – Special Effects Makeup Artist ("The Vulcan Hello")

Michele Monaco

– Special Effects Makeup Project Manager

Jose Mora-Perez

– Special Effects Makeup Sculptor: Alchemy Studios

Alamgir Muhammad

– Costume department

Sébastien Nebout

– Compositor:

BUF

Oksana Nedavniaya

– Costume Illustrator/Costume Concept Artist

Julie Ng

Michael O'Brien

– Art Director/Head Sculptor: Alchemy Studios

Grant Pearmain

– Sculptor:

FBFX ltd.

William Powlowski

– Senior Visual Effects Supervisor

Kevin Quattro

– VFX/CG Supervisor
Loretta Ramos – Producer
Richard Redlefsen – Prosthetic Makeup Artist ("The Vulcan Hello"–"Battle at the Binary Stars")

Kai Reimer-Watts

– Technician

Alejandro Reyes-Andreu

– Set Dresser

John Rouse

– VFX Integration Supervisor: CBS Television Studios ("The Vulcan Hello")

Matt Salib

– Foley Artist
Scott Schneider – Conceptual Set Designer/Specialist Set Designer

Sheila Mia Seifi

– Dental Prosthetics Head: Alchemy Studios (Klingon teeth)

Den Serras

– Pipeline Technical Artist

Matthew Skrobalak

– Executive in Charge of Casting

Daniel Smallegange

– Property Buyer
Mike Smithson – Special Makeup Effects Artist ("The Vulcan Hello"–"Battle at the Binary Stars")

Bruce Spaulding Fuller

– Special Makeup Effects Artist ("The Vulcan Hello")
Julie St-Louis – Stunt Safety ("The Butcher's Knife Cares Not for the Lamb's Cry", "The Wolf Inside")
Mitch Suskin – Senior Visual Effects Supervisor: CBS Television Studios (June 2016-February 2017; pre-production)

Alan Sutton

– Fire Safety Coordinator

Mack Sztaba

– Concept Artist

Hitesh Thadani

– Compositor: Pixomondo

Jan Thijs

– Still Photographer

Ella Thompson

– Pre-Production Art Assistant
Hugo Villasenor – Key Special Effects Makeup Artist

Dan Walker

– Concept Artist

Matt Whelan

– VFX Supervisor

Clarissa Justine Wiggers

– Makeup Artist

Matthew Williamson

– Animation Lead

Quinn Woods-Robinson

– Render Assistant

Mark Wotton

– Special Effects Costumer: Creature Effects Lab Tech

Shane Zander

– Special Effects Makeup Artist
Unconfirmed
Karthik Adepu – Compositor: Pixomondo
Xavier Allard – Digital Artist:

BUF

("Si Vis Pacem, Para Bellum")
Indiana Allemang – Key Makeup Artist
Wesley Alley – Assistant Chief Lighting Technician: Los Angeles Unit ("The Vulcan Hello")
Wasili Angelopoulos – Costume Prop Maker: Spacesuits ("The Vulcan Hello")
Jonathan Angus – Visual Effects Editor ("The Vulcan Hello")
Berenice Antoine – Digital Artist: BUF ("Si Vis Pacem, Para Bellum")
Michael Armstrong – Dialect Coach for Shazad Latif
Natalia Atlija – Trainee Assistant Art Director
Nick Augustyn – Second Assistant/Trainee Art Director/Set Designer
Shereen Baddour – Second Second Assistant Camera Operator: Jordan Unit ("The Vulcan Hello")
Adam Baker – Animator ("The Butcher's Knife Cares Not for the Lamb's Cry")

J. Cody Baker

– Assistant Colorist ("The Vulcan Hello"–"Battle at the Binary Stars")
Mike Barber – Visual Effects Editor ("Battle at the Binary Stars"–"Context Is for Kings")
Tanya Batanau-Chuiko – Head Cutter ("The Vulcan Hello"–"Context Is for Kings")
Patrick Baxter – Special Makeup Effects Artist
Nicola Bendrey – Special Makeup Effects Artist
Daniel Biagi – Assistant to Producer
Brian Black – Scorpio Head Operator
Christian Bobak – Craft Service
Nicolas Bonnell – Visual Effects Producer: BUF ("Si Vis Pacem, Para Bellum")
Leor Boshi – Set Decoration Coordinator
Nicolas Bouf – Digital Artist: BUF ("Si Vis Pacem, Para Bellum")
Scotia Boyd – Prosthetics Crew ("The Vulcan Hello")
Robert Branam – Video Assist Operator: L.A. Unit ("Battle at the Binary Stars")
Steven Browning – CG Modeller
Krista Burbidge – Makeup Artist
Cavan Campbell &ndash: Rigging Electrician
Scott Cannizzaro – ADR Mixer
Ian Carre-Burritt – Set Lighting Technician: Los Angeles Unit ("Battle at the Binary Stars")
Jean-Andre Carriere – Set Designer ("The Vulcan Hello"–"Battle at the Binary Stars")/Art Director ("Battle at the Binary Stars")
Lauren Carson – Second Assistant C Camera Operator ("Battle at the Binary Stars"–"Choose Your Pain")
Kevin Carter – Contact Lens Painter
Olivier Cauwet – Digital Artist: BUF ("Si Vis Pacem, Para Bellum")
Joel Chambers – Digital Compositor
Kathleen Vernice Chavez – Art Apprentice
Michael Cherrington – Camera Crane Operator ("Battle at the Binary Stars"–"Choose Your Pain")
Alfonso Chin – Visual Effects
Allan Cooke – Special Makeup Effects Artist
Faye Crasto – Special Makeup Effects Artist
Xinyue Cui – Digital Compositor ("The Butcher's Knife Cares Not for the Lamb's Cry"–"Choose Your Pain")
Pierre Debras – Digital Artist: BUF ("Si Vis Pacem, Para Bellum")
Grégoire Delzongle – Digital Artist: BUF ("Si Vis Pacem, Para Bellum")
Paul DeOliveira – Commpositing Supervisor: Spin VFX
Sujoy Dey – Digital Compositor ("Magic to Make the Sanest Man Go Mad")
Alanna Dickie – Contact Lens Technician
John Dickenson – Illustrator ("The Butcher's Knife Cares Not for the Lamb's Cry")
Emerson Doerksen – Sculptor ("The Vulcan Hello")
Christophe Dupuis – Digital Artist: BUF ("Si Vis Pacem, Para Bellum")
Guillaume Dureux – Digital Artist: BUF ("Si Vis Pacem, Para Bellum")
Michael R. Edmund – Second Assistant Art Director/Scale Model Builder
Marion Eloy – Digital Artist: BUF ("Si Vis Pacem, Para Bellum")
Elliott Elsey – ADR Recordist ("Battle at the Binary Stars")
Dave Erlichman – A Camera Dolly Grip
Eric Felland – Set Lighting Technician: Los Angeles Unit ("Battle at the Binary Stars")
Cory Fisher – Special Makeup Effects Artist: Alchemy Studios
Henry Fong – Key Costume Illustrator ("The Butcher's Knife Cares Not for the Lamb's Cry")
Alissa Gee – Prosthetic Effects Technician
J.P. Giamos – VFX Producer: Spin VFX
Blake Goedde – VFX Lead ("The Vulcan Hello"–"Choose Your Pain")
Alexandria Goldman – Textile Artist
Javier Gonzalez – Specialty Costume Manufacturer
Florian Gourdin – Digital Artist: BUF ("Si Vis Pacem, Para Bellum")
Jonathan Graham – Assistant Head Sculptor
Bryan Haines – Digital Compositoor ("The Vulcan Hello")
Meriam Hamila – Digital Artist: BUF ("Si Vis Pacem, Para Bellum")
Tanya Hart – Props Buyer ("The Butcher's Knife Cares Not for the Lamb's Cry"–"Choose Your Pain")
Joanna Tracey Heaton – Daily Scenic ("The Vulcan Hello")
Sean Heissinger – ADR Editor ("Magic to Make the Sanest Man Go Mad")
Kirstin Herbst – Trainee Assistant Art Director/Second Assistant Illustrator
Tashan Hira – Construction Buyer
Alex Hirtenstein – Matte Painter: Concept Artist
Mitch Hounslow – Visual Effects Editor: Spin VFX
Rory James – Assistant Director
Tex Kadonaga – Set Designer ("The Vulcan Hello"–"Context Is for Kings")
Barry Kane – Chief Technical Officer:

Spin VFX

Jesse Kawzenuk – Lead Data Wrangler
J.R. Kenny – Special Effects Technician
May Khalili – Assistant Art Director: Jordan ("The Vulcan Hello")
Hanadi Khurma – Costumer Crepusculans: Jordan Unit ("The Vulcan Hello")
Olga Kirnos – Assistant Makeup Artist
Zane Knisely – Special Makeup Effects Artist ("The Vulcan Hello"–"The Butcher's Knife Cares Not for the Lamb's Cry")
Claire Koonce – Casting Associate
Laura Krause – Previs Modeler: Pixomondo
Abhishek Kukreti – Digital Compositor ("The Vulcan Hello"–"Battle at the Binary Stars")
Romane Landrieux – Digital Artist: BUF ("Si Vis Pacem, Para Bellum")
Johnny Larocque – Special Effects Technician

Derek Ledbetter

– Compositing Supervisor ("The Vulcan Hello")
Wing Lee – Costume Cutter
Yulia Levitas – Compositor: Spin VFX
Drew Longland &ndash: Special Effects Technician
Renaud Louvet – Digital Artist: BUF ("Si Vis Pacem, Para Bellum")
Kristi Lugo – Casting Assistant ("The Vulcan Hello")
Sandrine Lurde – Digital Artist: BUF ("Si Vis Pacem, Para Bellum")
Sang Maier – Property Buyer
Jennifer Maillet – Digital Compositor
Pierre-Yves Marin – Digital Artist: BUF ("Si Vis Pacem, Para Bellum")
Aurélien Marquaille – Digital Artist: BUF ("Si Vis Pacem, Para Bellum")
Arthur Marx – Digital Artist: BUF ("Si Vis Pacem, Para Bellum")
Saurabh Maurya – Lead CG Artist
Colin Mayne – Matte Painter ("The Vulcan Hello")
Matt McClurg – Previsualization Creative Supervisor: Pixomondo
Rachel McIntire – Dailies Technician: Los Angeles Unit ("Battle at the Binary Stars")

Lisa McNeil

– Second Unit Script Supervisor ("The Vulcan Hello")
Kyle Menzies – VFX Supervisor: Spin VFX
Carl Michaloski – Sculptor/Mouldmaker ("The Vulcan Hello")
Robert Murdoch – Camera Trainee
Geoffrey Niquet – Visual Effects Supervisor: BUF ("Si Vis Pacem, Para Bellum")
Cem Olcer – Visual Effects Supervisor: BUF ("Si Vis Pacem, Para Bellum")
Graham Penny – Data Wrangler
Nick Petoyan – Post Production Production Assistant
Regina Petrik – Driver
Tijana Petrovic – Art Apprentice
Félix Pirritano – Digital Artist: BUF ("Si Vis Pacem, Para Bellum")
Thibault Plancq – Digital Artist: BUF ("Si Vis Pacem, Para Bellum")
Michelle Poirier – Assistant Property Master ("The Vulcan Hello")
Corinna Porsia – First Assistant Art Director
Matthew Porteous – Sound Utility/Boom Operator
Thomas Pringle – Concept Artist
Andrew Read – Lighting Console Programmer

Cecily Rhett

– Editor
Antonio Ribeiro – Digital Compositor: Spin VFX

Mike Rotella

– Sculptor:

Creature Effects

Mikaiel Russ – Digital Compositor ("The Vulcan Hello")
Jawed J.S. – Set Dresser ("The Vulcan Hello")/Set Decorator
Balthazar Sahel – Digital Artist: BUF ("Si Vis Pacem, Para Bellum")
Michael Saintsbury – Special Effects Technician/Grip
Jean-Marc Saldini – Additional Focus Puller
Nagita Salsberry – Special Effects Artist ("The Vulcan Hello"–"Battle at the Binary Stars")
Adam Sauder – Board Operator

Robert Schajer

– VFX Producer:

Buf

("Choose Your Pain")
Marc Schatalow – Set Lighting Technician: Los Angeles Unit ("Battle at the Binary Stars")
Jordan Schella – Rigging Electrician
Emily M. Schoener – Casting Associate
Alan Scott – Legacy Effects Supervisor ("The Vulcan Hello")
Vanessa Shah – Scout ("The Vulcan Hello")
Daryl Shail – Visual Effects Producer
Jaclyn Shoub – Set Decoration Buyer
Jesse Siglow – Visual Effects Artist ("The Vulcan Hello")
Maria Simonelli – Assistant Property Master
Diandra Soares – Set Production Assistant
Callie Sorce – ADR Recordist ("Battle at the Binary Stars")
Zeina Soufan – Costumer: Jordan Unit ("The Vulcan Hello")
Kitty Spiropoulos – Production Accountant

Mark Steel

– Production Designer
Justin Steptoe – Digital Imaging Technician: Los Angeles Unit ("Battle at the Binary Stars")
Jeffrey Swarts – Construction Unit Driver
Chloe Swintak – Set Dresser
Michael Tanton – Visual Effects Editor and Project Coordinator
Tom Tennisco – Visual Effects Coordinating Producer

Cale Thomas

– Makeup Artist: Alchemy Studio
Sydney Allison Thomas – Visual Effects Editor
Wayne Thomas – Textile Artist
Sonja Toma – Set Dresser ("The Vulcan Hello")
Joseph Tsai – Sound Editor ("Battle at the Binary Stars"–"The Butcher's Knife Cares Not for the Lamb's Cry")
James Anthony Usas – Second Assistant Art Director/Set Designer
Victor Utku Gocer – Compositor: Spin VFX
David Uystpruyst – Digital Artist: BUF ("Si Vis Pacem, Para Bellum")

Brian Van Dorn

– Special Effects Makeup Artist: Alchemy Studios

Michael Van Fleet

– Visual Effects Senior Systems Engineer
Tyson Van Wagoner – Modeler ("The Vulcan Hello")
Stephane Vogel – Digital Artist: BUF ("Si Vis Pacem, Para Bellum")
Cassidy Watkins – Clearance Coordinator
Arnaud Watteau – Digital Artist: BUF ("Si Vis Pacem, Para Bellum")
LuAndra Whitehurst – Special Makeup Effects Artist ("The Vulcan Hello"–"Battle at the Binary Stars")
Aidan Whitworth – Sculptor
Sheryl Willock &ndash: Costume Buyer
Andrew N. Wong – Office Production Assistant: Los Angeles Unit ("Battle at the Binary Stars")
Jennifer Wood – Set Decoration Buyer
Samir Zaidan – Construction Manager ("Battle at the Binary Stars")
Annabelle Zoellin – Digital Artist: BUF ("Si Vis Pacem, Para Bellum")
Production companies
2CGVFX

– Special Effects Company

Creature Effects

– Special Effects Company

FBFX ltd.

– Special Effects Company

Gentle Giant Studios

– 3D Scanning

Legacy Effects

– Visual Effects Company

LRX Lighting

– Grip and Lighting Equipment

MovieBrats Studios

Paul Jones Effects Studio
See also
External link