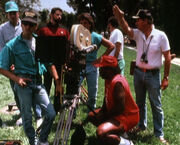 Dan Koko (born 13 September 1953; age 67) is a stuntman, stunt actor, stunt coordinator, and second unit director
He has also doubled for actors such as Patrick Duffy, Rick Overton, and David Naughton. Three years before Koko worked on Star Trek: The Next Generation, he set a high fall world record by falling 326 feet from the Vegas World Hotel in Las Vegas. [1] Between 1972 and 1974 he won thirty-two medals in track meets throughout the United States. (Star Trek: The Next Generation 365, p. 122)
Koko has performed stunts in television series such as The Merv Griffin Show, The Fall Guy, Late Night with David Letterman, The Adventures of Mark & Brian (starring Brian Phelps and Mark Thompson), and Oz (1998, with Mark Margolis).
Among his stunt resume are films such as Special Delivery (1976, with Gerrit Graham, Robert Ito, Phillip Richard Allen, and stunts by Carey Loftin), To Live and Die in L.A. (1985), Night of the Kickfighters (1988), Blind Fury (1989, with Terry O'Quinn and Meg Foster), Lethal Games (1990), Dances with Wolves (1990), Demonic Toys (1992, with Tracy Scoggins, Barry Lynch, Larry Cedar, and stunt coordinated by Cole McKay), Mom and Dad save the World (1992, with Teri Garr and Wallace Shawn), The Bodyguard (1992, with Bill Cobbs, Mike Starr, Bert Remsen, Donald Hotton, Douglas Price, John Tesh, and stunts by Bobby Bass, Henry Kingi, Sr., Henry Kingi, Jr., and Joel Kramer), Ring of Fire II: Blood and Steel (1993), Dead of Night (1996, with Robert Knepper), Demolition University (1997), Scorpio One (1997, with Robin Curtis, Lance LeGault, and George Murdock), Tycus (1998), Safe House (1998, with Patrick Stewart, Joy Kilpatrick, and stunts by Rick Avery, Joni Avery, Johnny Martin, Joe Murphy, John Nowak, and Michael J. Sarna), Intrepid (2000), and Nautilus (2000).
Star Trek appearances
External link
Community content is available under
CC-BY-NC
unless otherwise noted.