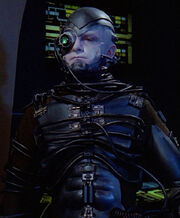 David Fisher is a stuntman and stunt actor who appeared as a Borg drone in the Star Trek: The Next Generation second season episode "Q Who" in 1989. Together with stuntman Tim Trella he was the first actor/stuntman who ever portrayed a Borg in Star Trek. Five years later Fisher portrayed a Maquis member in the Star Trek: Deep Space Nine episode "The Maquis, Part I". He received no credit for his appearances.
Fisher performed stunts in the drama Final Cut (1980), the action thriller Hired to Kill (1990, starring Brian Thompson and stunts by Phil O'Dell), and Ron Howard's mystery thriller The Da Vinci Code (2006) and also appeared in The F.B.I. Files episode Hunter's Target in 2001.
External links
Edit
Community content is available under
CC-BY-NC
unless otherwise noted.