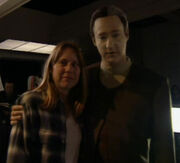 Deborah A. Hall is a costumer and costume supervisor who worked as key costumer on the final season of Star Trek: The Next Generation.
Following a stint in the art department as prop assistant on the 1979 horror film The Evictors, Hall became costumer in the late 1980s when she worked on the romance The Boost (1988), the music drama Great Balls of Fire! (1989), the thriller Internal Affairs (1990), the drama Love Field (1992), and the mystery film The Vanishing (1993, with Camille Argus and Phyllis Thurber-Moffit). Hall also received credit as designer on the animated television series Doug in 1991.
Following her work on Star Trek, Hall was costumer on the television series Brotherly Love (1995) and The John Larroquette Show (1993-1996, with Tom Siegel), the western comedy Almost Heroes (1998, with Christine Heinz, Dennis McCarthy, and David S. Powell), the drama The Deep End of the Ocean (1999, with Amanda Chamberlin and Dennis McCarthy), the comedy Teaching Mrs. Tingle (1999), the mystery film What Lies Beneath (2000, with Dennis McCarthy), the comedy Miss Congeniality (2000, with Amanda Chamberlin), and the comedy The New Guy (2002).
Hall first worked as costume supervisor on the 1997 television series Fired Up, starring Sharon Lawrence and Jonathan Banks. Further credits as costume supervisor include the horror comedy Eight Legged Freaks (2002), the comedy The Hot Chick (2002), the romance Little Black Book (2004), the comedy Christmas with the Kranks (2004, with Amanda Chamberlin and Dennis McCarthy), the horror film Cursed (2005), the action drama The Marine (2006), the television comedy Ernesto (2008), the comedy Mad Money (2008), the television series The Oaks (2008, with Amanda Chamberlin) and Emily's Reasons Why Not (2006-2008), the remake Race to Witch Mountain (2009, with Christopher Gilman), the drama Mother and Child (2009), the crime thriller The Mechanic (2011), and the television series The Finder (2012).
Star Trek credits Edit
External links
Edit
Community content is available under
CC-BY-NC
unless otherwise noted.