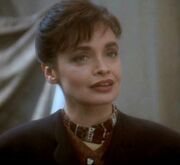 Deborah Van Valkenburgh (born 29 August 1952; age 68) played Preston in the Star Trek: Deep Space Nine third season episode "Past Tense, Part II".
Van Valkenburgh is probably best known for her role as Mercy in the classic movie The Warriors (1979, with John Snyder, Tommy J. Huff, Lynne Thigpen, and Michael Moutsatsos). In 2005, she voiced the character in the computer game based on the film. She also played the daughter of Ted Knight's character Henry Rush for five years on the American sitcom Too Close For Comfort. Since her DS9 appearance, she's played Chicago high school teacher Ms. Gonzalez in a third season episode of Once And Again (with Steven Weber).
Other TV series she's appeared in include MacGyver (1990, with Betty McGuire), Quantum Leap (1993, with Scott Bakula), Chicago Hope (1998, with Michael Bofshever, Bob Clendenin, Joanna Miles, Allan Miller, Ed O'Ross, Richard Riehle and Margot Rose), ER (2004, with Mädchen Amick, Scott Grimes, Michelle Bonilla and Lisa Moncure), Cold Case (2005, with Richard Cox and Lori Lively), and Criminal Minds (2006), with Maury Sterling).
Van Valkenburgh has also appeared in a number of films after her role in The Warriors including King of the Mountain (1981, with Richard Cox, Seymour Cassel, Anthony De Longis, Steve M. Davison, and Billy Hank Hooker), Streets of Fire (1984, with Ed Begley, Jr., Jeff Smolek, Spiro Razatos, Bernie Pock, and Vince Deadrick, Jr.), Rampage (1987, with Carlos Palomino, Donald Hotton, Patrick Cronin, David A. Kimball, and Chip Heller), One Man Out (1989, with Stephen McHattie), Mean Guns (1997, with Jerry Rector and James Wellington), Star Trek spoof Free Enterprise (1998, with William Shatner, Thomas Hobson, Lori Lively, Diana Cignoni, Gabrielle G. Stanton, Daren Dochterman and Chase Masterson), Sorcerers (1998, with Marjorie Monaghan and James Wellington), Criminal (2004, with Ellen Geer), The Devil's Rejects (2005, with Sid Haig, Michael Berryman, Tom Towles, Daniel Roebuck, Kane Hodder, and Jordan Orr), Road to Hell (2008, with Courtney Peldon), and The Trials of Cate McCall (2013, James Cromwell, Clancy Brown, Brad Greenquist, Amy Benedict, and David A. Kimball).
Deborah has starred in some made-for-tv movies including A Bunny's Tale (1985, with Kirstie Alley and Stanley Kamel), Chasing Destiny (2001, with Christopher Lloyd), Firestarter 2: Rekindled (2002, with Malcolm McDowell), Mystery Woman: Mystery Weekend (2005, with Julianna McCarthy and Autumn Leigh Brown), Our House (2006, with Ellen Geer and Rick Scarry), Backwoods (2008, with Mark Rolston, Jamison Yang, and Blake Lindsley), The Governor's Wife (2008, with Emily Bergl), Healing Hands (2010, with Robert Curtis Brown).
External links
Community content is available under
CC-BY-NC
unless otherwise noted.