Star Trek Timeline [INTERACTIVE]
Play Sound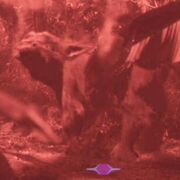 The drayjin was a large mammal native to the rogue planet Dakala. The Eska hunted drayjin for food and for trophies.
According to the Eska, drayjin meat was "one of life's great pleasures." Commander Charles Tucker III described a drayjin by saying, "It looks like a big, nasty pig. Kind of tastes like one, too."
Drayjin were migratory and females could be very aggressive, especially when they were protecting a nest. Wraith, who were native to Dakala, were known to turn into drayjins in order to hide from the Eska hunters. (ENT: "Rogue Planet")
The stage directions from the script of "Rogue Planet" (both the first draft and the final draft) described the drayjin as "a large, boar-like creature". The script also identified drayjin meat as steak.