Wiki Targeted (Entertainment)
Play Sound
E! Inside Star Trek: Voyager is a documentary produced by the E! Entertainment Television channel which is now owned by NBCUniversal. It was hosted by Robert Duncan McNeill and aired on 19 March 1995 on E!.
This 45 minutes documentary gives a behind the scenes look at the production on the first season of Star Trek: Voyager and interviews from the special effects department, the makeup department, the props department, and the costume department. It also includes several clips from Star Trek: The Next Generation and Star Trek: Deep Space Nine, a look at script pronounciation guides, Trekker trivia, and headlines in Klingonese.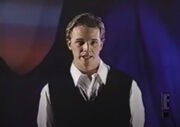 Robert Beltran confesses that he is the one cast member who had the most problems with technobabble, Ethan Phillips names the "ready room"-set as his most favorite, Garrett Wang gives a tour through the engineering and transporter room sets, Robert Picardo through the sickbay set, and Kate Mulgrew through the bridge set. Also mentioned is that Picardo's "The Doctor" was referred to as "Doc Zimmerman" during the production.
The documentary also offers a look at the Star Trek conventions and the cast members talk about their experiences with the fans and an interview about Star Trek fashion with fashion expert Richard Blackwell.
Interviewees
In order of appearance:
Credits
Show Producer/Writer

Raymond C. Slaboda

Segment Producers

Peter Facer

Deborah Kentis

Abby Leatherman

Jeffrey Shore

Associate Producer

Scott Paridon

Editors

Dale Beaty

Dave Collier

Mark Cridland

Alan Henderson

Michael Hall

Pete Skaggs

Eng Camera

Keith Ebow

George Ellis

Harold Henderson

Sheila Higgins

Jesse Lucio

Chris McBrier

Eng Audio

Brett Brooke

Greg Cannizzaro

Oscar Delgado

John Scarpazzi

Tim Selders

Production Coordinator

Debra Morris-Durzi

Rights and Clearances

Amy Barraclough

Production Assistant

Allison Lucas

Clip Courtesy

Talent Executive

Kalen Gorman

Talent Assistant

Elycia Rubin

Design Director

Jill Taffet

Designer

David Sparrgrove

Graphics Production Manager

Karen Rainey

Music

Elyse Schiller

Jim Watson

Makeup/Hair

Jeanette Kordiak

Director of Talent

Bradly Bessey

Supervising Producer

Barbara Pepe

Executive Producer

Betsy Rott

Executive in Charge of Production

Marta Tracy
© 1995 E! Entertainment Television
All Rights Reserved
Gallery