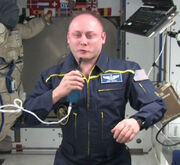 Colonel Edward Michael "Mike" Fincke (born 14 March 1967; age 52) is a NASA astronaut who made an appearance as Lieutenant M. Fincke in the Star Trek: Enterprise fourth season episode "These Are the Voyages...". Fincke received credit as an Engineer in the end credits of the episode. Fincke was featured in the special feature "Greetings from the International Space Station" on the 2009 DVD release of Star Trek: First Contact, giving an interview from aboard the ISS.
Fincke was born in Pittsburgh, Pennsylvania to Edward and Alma Fincke. He graduated from the Sewickley Academy in Sewickley, Pennsylvania in 1985 and attended the Massachusetts Institute of Technology, where he graduated in 1989 with a bachelor of science in Aeronautics and Astronautics and a bachelor of science in Earth, Atmospheric and Planetary Sciences. He then attended a summer exchange program with the Moscow Aviation Institute, where he studied cosmonautics. Fincke also received a master of science in Aeronautics and Astronautics from Stanford University in 1990. He then joined the United States Air Force, where he completed pilot training in 1991 and was stationed at the Air Force Space and Missiles Systems Center in Los Angeles, California.
Fincke made his career as a pilot with over 825 flight hours in more than 30 different aircraft types, until he was recruited by NASA in April 1996. After joining NASA, Fincke served as a back-up crew member for both Expeditions 4 and 6. He served as the Station's Science Officer and Flight Engineer for Expedition 9, for 187 days. He then served as back-up Commander for Expeditions 13 and 16. He returned to the ISS as the Commander of Expedition 18, where, in his off-time, he participated in filming the first SF movie shot in space: "Apogee of Fear". Fincke returned to space one last time as a Mission Specialist on STS-134, his first and only flight on a Space Shuttle, and the last mission of the Shuttle, Endeavour. Fincke received several awards and special honors such as a NASA Distinguished Service Medal, a NASA Spaceflight Medal, and a United States Air Force Test Pilot School Colonel Ray Jones Award.
Fincke and fellow astronaut Terry Virts visited the set of ENT during their vacation and were invited to appear in the final episode. While in space, orbiting Earth, he had the chance to speak with Scott Bakula via space to ground link and was later awarded with a "Starfleet Award" (actually a trophy-size replica of the Starfleet emblem [1](X)) for his work on board the ISS. [2]
Fincke is living with his wife Renita Saika and his three children. He currently belongs to both the American Geological Society and the British Interplanetary Society.
External links
Edit
Community content is available under
CC-BY-NC
unless otherwise noted.