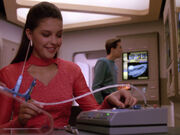 The engineering laboratory was one of many science labs aboard a Galaxy-class starship like the USS Enterprise-D.
The roughly triangular room aboard the Enterprise-D was equipped with several computer terminals and large LCARS displays. The room featured a computer with the neurological behavior program and a star chart of explored Federation space.
In 2368, Wesley Crusher and Robin Lefler went to the engineering laboratory to scan the Ktarian game with the neurological behavior program there. (TNG: "The Game")
Community content is available under
CC-BY-NC
unless otherwise noted.