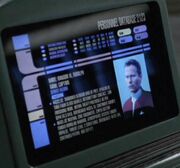 Epsilon IV was the fourth planet orbiting the primary Epsilon Hydrae in the territory of the Klingon Empire, in the Beta Quadrant. (DIS: "The War Without, The War Within", "An Obol for Charon")
In 2367, on stardate 44322.82, Captain Rudolph Ransom shadowed a Klingon Bird-of-Prey near this planet. After discovery, Ransom managed to elude the Klingons in a nearby T-Tauri class nebula for three days until stardate 44325.18 when they gave up the chase and he disengaged. (VOY: "Equinox, Part II")
In a holographic star chart seen in the
Star Trek: Discovery
episode "The War Without, The War Within"", a location in the Beta Quadrant was labeled with the name of this planet's star. The planet was named in parenthesis next to the star, cementing a connection between the two.
External link
Edit
Community content is available under
CC-BY-NC
unless otherwise noted.