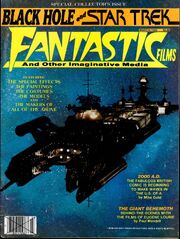 Fantastic Films was a film magazine that was published between April 1978 and October 1985 and which ran for 46 issues under the auspices of Blake Publishing Corporation. The magazine was originally published on a bi-monthly basis before switching to a publication schedule of nine issues each year. Irving Karchmar acted as the editor for the magazine, while Mike Stein was the primary art director.
Harold Michelson was interviewed for issue 14 (February 1980) in a featured titled "The Designing of Star Trek The Motion Picture". Robert Fletcher was interviewed for issue 15 (March 1980) for a feature titled "The Star Trek Costumes", in which he discussed the design of various aliens for Star Trek: The Motion Picture, including Arcturians, Kazarites, Aaamazzarites, Megarites, Rhaandarites, Rigellians, and Shamin.
Other issues featuring Star Trek included issue 5 (December 1978 – "Vulcan Language Translated"), issue 13 (January 1980 – Star Trek: The Motion Picture), issue 30 (August 1982 – Star Trek II: The Wrath of Khan), issue 31 (November 1982 – William Shatner interview), issue 39 (May 1984 – sneak preview of Star Trek III: The Search for Spock), and issue 40 (July 1984 – Star Trek III: The Search for Spock).
External links
Edit
Community content is available under
CC-BY-NC
unless otherwise noted.