A firefly was a type of nocturnal, bioluminiscent insect.
In the 22nd century, a species of firefly lived on planet Archer IV. One night, some of the fireflies were encountered there by a landing party from the NX-class starship Enterprise. The landing party included Crewman Elizabeth Cutler, who lightly waved one away while Ensign Travis Mayweather was telling a ghost story. The fireflies abruptly left the area, as Cutler noted. She and Charles "Trip" Tucker jokingly commented on the possibility that either the story or the ghost in the tale had frightened away the insects, moments before a storm front approached. (ENT: "Strange New World")
"Dozens" of fireflies were scripted to appear in "Strange New World" and were intended to "blink intermittently throughout the scene."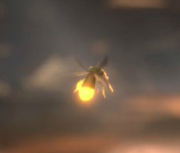 In a version of the story of the girl who made the stars Mike Burnham told to his his daughter in the 2230s, the titular girl used a firefly to fashion a lantern so she could travel at night with some light. (ST: "The Girl Who Made the Stars")
In 2256, Gabriel Lorca described Species GS54 as lightning bugs. (DIS: "Context Is for Kings")
External link
Edit
Community content is available under
CC-BY-NC
unless otherwise noted.