Star Trek Timeline [INTERACTIVE]
Play Sound
When Tuvok begins to suffer from a mental breakdown, triggered by a suppressed memory, a mind-meld with Janeway takes him back to his tour of duty with Captain Sulu aboard the USS Excelsior.
Summary
In the USS Voyager's mess hall, Neelix is trying to tempt a reluctant Lieutenant Tuvok into sampling a new juice blend that Neelix has concocted. Eventually, Tuvok gingerly samples the beverage and, to Neelix's delight, he finds the drink to be "impressive." After heading into the kitchen with the intention of serving seasoned Porakan eggs for Tuvok's breakfast, Neelix begins explaining the method of the food preparation, a Talaxian mealtime tradition, but the Vulcan is unwilling to hear about the effort put into preparing the eggs, and an unexpected fire suddenly ruins them. Neelix quickly extinguishes the blaze, which Tuvok suggests may have been caused by a thermal surge due to Engineering making adjustments to the plasma conduits, in order to accommodate a new energy source. An audio call from Captain Janeway summons the pair to the bridge.
"Captain's log, stardate 50126.4. We have detected a gaseous anomaly that contains sirillium, a highly combustible and versatile energy source. We've altered course to investigate."
Neelix and the bridge officers lengthily and with some enthusiasm discuss how they will store and use the sirillium after they have gathered it. Once the ship arrives at its temporary destination, the anomaly (which Kim describes as a class 17 nebula) is displayed on the viewscreen but, as the crew discuss the anomaly, Tuvok seems disoriented and his hand quivers. Even though an unaware Janeway issues him an order related to the nebula, Tuvok does not respond. The bridge officers subsequently notice his behavior. He confusedly admits that he is feeling dizzy and disoriented, and his request to report to sickbay is granted. En route, Tuvok experiences a flashback of himself as a child; the boy holds the hand of a terrified girl hanging from a cliff but he is unable to hold on to her, so she plummets to her death. In a state of extreme distress, Tuvok stumbles into Voyager's sickbay, where Kes is on duty, and collapses on the floor.
Act One
Tuvok, now conscious, relates his vision of the girl hanging from the cliff. Though the episode seemed real, he does not recall it having actually happened. The Doctor offers several possible explanations, including a hallucination or repressed memory of some sort. The Doctor releases Tuvok, but first gives him a neurocortical monitor to record his brain patterns and to alert sickbay in case the symptoms recur. Tuvok approves of this "wise precaution".
In engineering, Ensign Harry Kim explains that his sensor sweeps haven't turned up anything that would affect Tuvok or Voyager. Tuvok suggests to Lt. B'Elanna Torres that, due to being close to Klingon space, Voyager conduct a tachyon sweep of the nebula to reveal any cloaked ships that could be responsible for the symptoms. But, of course, Voyager is in the Delta Quadrant, nowhere near Klingon space, so his remark puzzles Janeway and the other officers present. As he stares at the sensor display of the nebula, Tuvok experiences another flashback, and once again the little girl slips from his youthful grasp and falls to her death from the cliff.
In sickbay, The Doctor suggests that a mind meld between the patient and a family member to bring Tuvok's repressed memory to the conscious mind may fix the problem. Being the closest thing Tuvok has to family on Voyager, Captain Janeway agrees to a mind meld with Tuvok. However, instead of accessing the memory of the girl and the cliff, Janeway and Tuvok find themselves on the USS Excelsior eighty years in the past. The Excelsior is engaged in battle with a Klingon vessel. Captain Hikaru Sulu suddenly steps out of the dense smoke.
Act Two
As Sulu barks orders to his crew and Commander Janice Rand reads a damage report, Janeway and Tuvok (who is crouched over the body of Lieutenant Dimitri Valtane) are confused why they're suddenly on the Excelsior rather than the precipice with the little girl. Tuvok reports that the ship is in a battle with the Klingons, and that the battle was precipitated by an incident that occurred three days earlier…
Going back in time to the common quarters he shares with Valtane and two other officers on Deck 7, now Ensign Tuvok finishes preparing a blend of Vulcan tea for Captain Sulu, of whom he's noticed that he likes to have a cup of tea in the morning. The others are getting ready to go on duty as part of the gamma shift. Having entered and asked about the tea, Commander Rand jokingly accuses him of trying to get a quick promotion, which Tuvok denies. She then gives him a message from his father serving on the USS Yorktown and leaves to report to the bridge. After she's gone, Janeway remarks to Tuvok "You've never brought me tea."
Later, Tuvok serves the tea to Captain Sulu, who declares it to be outstanding and also jokes about Tuvok trying to get a promotion. When Tuvok denies this, Sulu tells his junior officer that he's got to learn how to appreciate a joke, and says he knows that Vulcans do have a sense of humor. As she follows Tuvok across the bridge to his post, Janeway remarks that Sulu doesn't look anything like his portrait at Starfleet Headquarters; Tuvok explains that 23rd century holographic imagers had a less accurate resolution than the technology that would be developed in the 24th century. Janeway notices that Tuvok's post is a science station. Tuvok confirms that he served on the ship as one of several junior science officers, causing Janeway to ask why his service record doesn't mention his service on the Excelsior. Tuvok isn't keen to talk about it, but confirms this was his first deep-space assignment after graduating Starfleet Academy at the age of 29. Janeway asks if they're about to battle the Klingons, but Tuvok tells her that the Klingon moon Praxis (which had served as a major source of energy for the Klingon home world) is about to explode. Janeway remembers that the destruction of Praxis had a lasting effect on the Alpha Quadrant, including leading to the first-ever Federation-Klingon Peace Treaty.
Just then, the ship starts to shake as the subspace shock wave from Praxis approaches the ship. Captain Sulu orders shields up, but Excelsior still shudders through the wave, sending the crew flying. Helmsman Lieutenant Commander Lojur tries to maneuver the ship, but the helm won't respond; Sulu orders him to use the starboard thrusters to turn the ship into the wave. Once it passes, Sulu starts to investigate while Tuvok tells Janeway that they were warned off by the Klingons and continued their survey mission. However two days later, two Starfleet officers were arrested for the assassination of the Klingon Chancellor. Captain Sulu felt an intense loyalty to both officers having served with them for many years. The two then go forward to the point where Captain Sulu (against orders) begins to plan a rescue of James Kirk and Leonard McCoy.
As currently illustrated in his memory, Tuvok tells Janeway that while the rest of the crew were happy to follow the captain in his defiance of Starfleet's orders, he wasn't. He then argues with Sulu that as Starfleet officers, they are under obligation to follow any and all orders. Sulu finds Tuvok's declaration to be rather bold for someone who has had an entire two months of space duty. Rand, having served with Sulu, Kirk, and McCoy on USS Enterprise as a yeoman, is aghast at Tuvok's behavior and chides him for questioning the captain's decision. She attempts to relieve him of duty while apologizing to the captain, but Sulu motions to her that it's okay. Sulu tells Tuvok that while he's technically right, he also couldn't be more wrong. He explains that when you serve with people for long enough, a strong bond and a sense of family can form. Having served with Kirk and McCoy for so many years and owing his life to them a dozen times over, regardless of Starfleet's orders he's going to help his friends, "let the regulations be damned." Tuvok believes this to be a most illogical line of reasoning; Sulu tells Tuvok he "better believe it," and orders Excelsior to warp speed. Janeway tells Tuvok that he did the right thing, but Tuvok now feels that he may have been wrong to question Captain Sulu's orders.
Sulu decides to take Excelsior through the Azure Nebula to conceal their entry into Klingon space. When it appears on the viewscreen, Janeway notices that it appears almost identical to the nebula encountered on Voyager. Suddenly Tuvok starts to have a panic attack as the memory resurfaces, this time with Janeway seeing the incident with the girl on the cliff, and the meld is broken as The Doctor scrambles to help him.
Act Three
Tuvok lies unconscious in sickbay. The Doctor warns him that if the repressed memory keeps resurfacing, he could experience brain death from synaptic pathway degradation. As Tuvok needs to be left to rest, Janeway decides to conduct her own research.
Later, Ensign Kim brings Janeway a comparison between the Azure Nebula and the one Voyager has just encountered in her ready room. Although both contain sirillium and are visually similar, the two are actually quite different; the Azure Nebula is a class 11 nebula while the one Voyager has encountered is a class 17. Having talked with The Doctor, Kim suggests that Tuvok's memories of the Excelsior were just triggered by how similar the two nebulas look, but this still brings up the question of where the memory of the little girl fits in, as it is so far removed from Tuvok's service with Captain Sulu. Janeway had decided to check Sulu's logs for some clues about the nebula but has come up with nothing, as Sulu omitted the trip through the nebula in his logs, except for a brief, cryptic remark about the Excelsior suffering damage from a gaseous anomaly and requiring repairs. Kim is surprised to hear about this clear breach of protocol, but Janeway reminds him of the differences between starships from Sulu's era and their own, and most importantly, how it was a different breed of Starfleet officers who served on them. The technology wasn't as advanced, the Federation constantly on the verge of war with the Klingons, the Romulans' covert activities, and their ships were only half as fast. Despite all this, and noting that the officers of the time would have been very quickly booted out of the Starfleet of the present, Janeway expresses a desire to have served even once with officers like Kirk and Sulu.
The Doctor revives Tuvok, who completes the story of the interrupted mind meld. The Excelsior was ambushed by Klingons and forced to abort the rescue mission, but this still has no connection to the repressed memory. Tuvok attempts another mind meld with Janeway, but once again they find themselves on the Excelsior over Valtane's body. Now convinced that this isn't a coincidence but something that happened on the Excelsior is causing Tuvok's illness, Janeway and Tuvok go back to when the ship was in the nebula.
Having estimated that their path through the nebula would take five hours, Sulu decided that gamma shift needed to get some rest. However back in their crew quarters, Lieutenant Valtane, Tuvok's bunkmate, wants to talk about the situation. While Valtane admires Sulu, Tuvok doesn't and makes no secret of the fact that he dislikes Humans and their flippancy with emotions. The Vulcan explains that he only joined Starfleet under pressure from his parents, and that he planned to resign his Starfleet commission once the ship's survey mission is over. As Valtane goes to sleep, Janeway asks Tuvok if he really meant what he said. Tuvok says that he did at this point in his life, admitting that his opinions on Humans and Starfleet were biased due to the fact he hadn't voluntarily chosen to join the service. After resigning, he returned to Vulcan and started to study kolinahr to purge his emotions. However, six years into his studies he underwent pon farr and took T'Pel as a mate and began raising children, whereupon he understood his parents' decision to send him to Starfleet Academy, and that there was actually a lot he could learn if he allowed himself to do so. Tuvok therefore rejoined Starfleet in order to expand his knowledge of the galaxy, and to learn from Humans and other species. Suddenly, the ship trembles and Sulu calls for a red alert. As he and the other officers quickly get up to return to their stations, Tuvok explains to Janeway that a Klingon ship had decloaked in the nebula and began firing concussive charges across their bow.
Act Four
On the bridge of the Excelsior, Sulu finds the captain of the battle cruiser is none other than Kang, who congratulates Sulu for his well-deserved captaincy, and in a thinly-veiled threat advises Sulu to "not let it end prematurely". Sulu, of course, lies about his rescue mission, claiming they got lost inside the nebula while surveying it due to a navigational system malfunction. Kang insists on escorting the Excelsior back to Federation space, so Sulu plays along while looking for a way to lose him.
With Kang's forward disruptors trained on them, Sulu asks Tuvok about the nebula's composition. On the mention of sirillium gas, Tuvok confirms that it's highly combustible and when asked on how they can ignite it, suggests modulating a positron beam to a subspace frequency, which would cause a thermochemical reaction. "Like tossing a match into a pool of gasoline," enthuses Sulu, but not wanting to destroy them, asks if Kang's shields would withstand the blast. Tuvok says they would, but their sensors and weapon systems would be disrupted for several seconds. This is enough for Sulu, who has his solution. He instructs Tuvok to prepare the beam and when they exit the nebula first, to fire on Sulu's command.
As they clear the nebula, the "match" is ignited, disabling Kang's ship with the resulting explosion, and the Excelsior quickly resumes its course at maximum warp to Qo'noS. However, three Klingon battle cruisers intercept the Excelsior and begin firing torpedoes at it. Tuvok gets an alert and warns Valtane that his console is about to explode due to a plasma conduit rupture behind it, but Valtane tarries and doesn't leave his station in time; he takes the full force of the blast. Calling in the medical emergency to sickbay, Tuvok kneels next to Voltane, who calls Tuvok's name with his dying breath. Suddenly, the "memory" of the girl on the cliff resurfaces.
In Voyager's sickbay, Tuvok's memory engrams are destabilizing and The Doctor attempts to terminate the mind meld, but is unable to. Tuvok's brain damage is accelerating and he will be brain-dead within twenty minutes if the mind meld continues.
Janeway tells Tuvok that the death of Valtane is connected to the repressed memory, however Tuvok winces as he realizes that something has gone wrong with the mind meld. Sulu is looking around, but when he turns in their direction, he can actually see Janeway on his bridge.
Act Five
Sulu calls for an intruder alert as Tuvok offers to break the mind meld, warning Janeway that if his brain is fatally damaged that she will suffer brain damage as well. Janeway declines, as she feels that they are very close to the truth. Excelsior's security officers arrive and arrest the two, as they realize that Janeway's presence will stop the memory from following its proper course so she will need to appear inconspicuous among the crew of the Excelsior.
Going back in time to the moment Tuvok was preparing Sulu's Vulcan tea, Tuvok performs a nerve pinch on Rand and the two help themselves to her uniform, so that Janeway will more likely escape notice of Sulu and his officers.
Meanwhile, The Doctor fits a cortical stimulator on Tuvok to bring him out of the meld with bursts of thoron radiation. This exposes a virus masquerading as one of Tuvok's memory engrams, and The Doctor increases the amount of radiation to kill the virus.
On the Excelsior bridge, Rand's absence is noticed but before Sulu can investigate further, the Klingons attack and Valtane once again dies after his console explodes. Janeway asks Tuvok to concentrate, to bring them to the precipice with the girl. Meanwhile, the virus in Tuvok's brain migrates to the captain's, and accordingly, Janeway experiences her version of Tuvok's flashback, seeing herself as a child in Tuvok's place. The Doctor fits a stimulator on Janeway and irradiates her brain, causing the virus to move again, and now Tuvok's flashback recurs. As the virus begins to die, The Doctor once again increases the amount of radiation to eighty kilodynes. The flashback recurs now with a young Valtane hanging on to the girl, and then again and again with other children – presumably the other hosts the virus has infected in its lifetime.
It turns out that the virus feeds on neural peptides and bypasses the immune system of its host by disguising itself as a memory engram – the false memory of the girl falling from the cliff, so traumatic that the mind would repress it, thus ensuring that it would not be detected living in the brain of the host. Tuvok concludes that Valtane, as he lay dying, infected him with the virus, the same way the virus infected the captain as Tuvok's mind began to degrade. Kes wonders whether the girl ever really existed, and in response The Doctor surmises that the memory has been passed on so many times, that there is no way of knowing the true history behind the memory of the fall or if the girl even ever existed.
Leaving sickbay, Janeway asks if Excelsior managed to rescue Kirk and McCoy. Tuvok tells her that the ship was forced to abandon the rescue mission. However, like many times previously in their careers, Kirk and McCoy provided their own means of escape, and both the Excelsior and Captain Sulu and the starship Enterprise, under Captain Kirk himself, ended up playing a pivotal role in the following events at Khitomer. Janeway notes that Tuvok sounds almost nostalgic about those days. Tuvok reminds her he doesn't feel nostalgia, however as he remembers those events and meeting Kirk, McCoy, and Spock, he is glad that he was a part of them. Janeway remarks that, in a funny way, she feels like she was a part of it as well. Tuvok responds that perhaps, she can be nostalgic for both of them.
Memorable quotes
"I am not Human."
"No kidding."
- Tuvok and The Doctor, discussing his initial episode

"Structure. Logic. Function. Control. The structure cannot stand without a foundation. Logic is the foundation of function. Function is the essence of control. I am in control. I am in control."

- Tuvok, while meditating with a Keethera.

"Mr. Tuvok, if you're going to remain on my ship, you're going to have learn how to appreciate a joke. And don't tell me Vulcans don't have a sense of humor; because I know better."
- Sulu, to Tuvok

"Ensign, do you know this woman?"
- Sulu, to Tuvok regarding Janeway

"You'll find that more happens on the bridge of a starship than just carrying out orders and observing regulations. There is a sense of loyalty to the men and women you serve with. A sense of family. Those two men on trial… I served with them for a long time. I owe them my life a dozen times over. And right now they're in trouble and I'm going to help them; let the regulations be damned."
"Sir, that is a most illogical line of reasoning."
"You better believe it. Helm, engage!"
- Sulu and Tuvok

"Mr. Neelix, I would prefer not to hear the life history of my breakfast."
- Tuvok

"Mr. Sulu, I see they have finally given you the captaincy you deserve."
"Thank you, Kang."
"Do not let it end prematurely."
- Kang and Sulu

"Nice to see you again, Kang."
"Grr…"
- Sulu and Kang

"As a Starfleet officer, it is my duty to formally protest."
"Tuvok!"
- Tuvok and Janice Rand, after Tuvok speaks out against Captain Sulu's rescue mission

"I don't know what happened to you, but there can be any number of explanations – hallucination, telepathic communication from another race, repressed memory, momentary contact with a parallel reality… take your pick. The universe is such a strange place."
- The Doctor, to Tuvok

"All right, Gamma Shift. Time to defend the Federation against gaseous anomalies."
- Janice Rand

"Seal that conduit!"
- Hikaru Sulu

"Who knows what goes on in a Vulcan's mind."
- Harry Kim

"I've observed that Captain Sulu drinks a cup of tea each morning. I thought he might enjoy a Vulcan blend."
"Oh, I see. Trying to make lieutenant in your first month? I wish I'd have thought of that when I was your age. Took me three years just to make ensign."
"I assure you I have no ulterior motive."
"Whatever you say, ensign. See you on the bridge."
"You've never brought me tea."
- Tuvok, Rand, and Janeway

"It would seem that Captain Sulu decided not to enter that journey into his official log. The day's entry makes some cryptic remark about the ship being damaged in a gaseous anomaly and needing repairs, but… nothing else."
"You mean, he falsified his logs?"
"It was a very different time, Mister Kim. Captain Sulu, Captain Kirk, Doctor McCoy. They all belonged to a different breed of Starfleet officers. Imagine the era they lived in: the Alpha Quadrant still largely unexplored… Humanity on the verge of war with the Klingons, Romulans hiding behind every nebula. Even the technology we take for granted was still in its early stages: no plasma weapons, no multi-phasic shields… Their ships were half as fast."
"No replicators. No holodecks. You know, ever since I took Starfleet history at the Academy, I've always wondered what it would be like to live in those days."
"Space must have seemed a whole lot bigger back then. It's not surprising they had to bend the rules a little. They were a little slower to invoke the Prime Directive, and a little quicker to pull their phasers. Of course, the whole bunch of them would be booted out of Starfleet today. But I have to admit: I would have loved to ride shotgun at least once with a group of officers like that."
- Kathryn Janeway and Harry Kim

"Whew… Vulcans! You guys need to relax."
- Valtane

"Who the hell are you?"
- Sulu to Janeway

"We could have just asked her."
"Asking female officers for their clothing could lead to misunderstanding."

- Janeway and Tuvok, after subduing Commander Rand

"Memory is a tricky thing."
- The Doctor

"I'm curious: did the Excelsior ever save Kirk and McCoy?"
"Not directly. We were forced to retreat back to Federation space – as usual, Captain Kirk provided his own means of escape… But we did play an important role at the subsequent battle at Khitomer."
"Mr. Tuvok, if I didn't know you better, I'd say you miss those days on the Excelsior."
- Janeway and Tuvok

"But there are times when I think back to those days of meeting Kirk, Spock and the others, and I am pleased that I was part of it."
"In a funny way, I feel like I was a part of it, too."
"Then perhaps you can be nostalgic for both of us."
- Tuvok and Janeway

"Tuvok! Please, Tuvok! Don't let me fall!"
- Girl on precipice
Background information
Introductory details
Story and script
With the date of Star Trek's 30th anniversary located early in Voyager's third season, the studio executives at Paramount Pictures requested a Voyager episode that would tie into and serve as an homage to the original Star Trek series, thereby fitting the occasion. (Star Trek Monthly issue 15) "We already had on hand the story premise of a memory problem for Tuvok that Janeway saves him from," writer and supervising producer Brannon Braga recalled, "and when the request came down from the studio for a 30th anniversary show, that seemed like a natural to get us back into that era without yet another time travel plot." (Star Trek: Communicator issue 108) Braga also stated, "We thought, [the event was] a perfect opportunity to use the sci-fi gimmick, mind melding, and go to save Tuvok from a psychic trauma. And back [in] time, that was what we were going to do [originally]. We were going to see Janeway's first commission. It was going to be more about Janeway and that relationship. We just used that story as a departure and it worked very nicely. But the gag was always the same, to do a time travel story without doing time travel, by doing a meld." It was after deciding on this plot device that the writers chose to go back to the Excelsior, posting Tuvok aboard that ship. The memory virus was another part of the original story idea. Laughing, Braga noted, "It [was] always in there. It's always the idea that repressed memories could possibly be the result of alien inhibition." (Cinefantastique, Vol. 29, No. 6/7, p. 87)
In an uncredited capacity,

Juliann Medina

had some input into this episode's story. (Beyond the Final Frontier, p. 296, et al.)
The episode's first draft script was issued on 15 March 1996. The teleplay's final draft was submitted on 26 of that month.
Brannon Braga originally wrote a scene in which Nyota Uhura, via viewscreen, provided some necessary plot points from the bridge of the USS Enterprise-A. Actress Nichelle Nichols declined her invitation to appear in the episode, however, due to the limitedness of her part. (Star Trek Monthly issue 18) Sulu actor George Takei referred to Uhura's part of the installment as "a nice little scene" and clarified, "She would have communicated with me, as Uhura to Tuvok, over the viewscreen. I pleaded with her on the phone to do it because it would have been wonderful to have her back as well. She felt the part did not do her justice, so she passed on doing it." (The Official Star Trek: Voyager Magazine issue 9) Brannon Braga remarked, "I would have liked to have had Uhura, but we had to write […] her out. We couldn't make a deal with her." (Cinefantastique, Vol. 29, No. 6/7, p. 88) Partly due to the scene's deletion, the episode ended up being approximately five minutes too short, so two additional scenes were written to fill up the rest of the episode's duration: an extension of Tuvok's breakfast with Neelix, and the Keethera scene between Tuvok and Kes. (Star Trek: Communicator issue 108) The removal of the Uhura scene was done after 26 March, as evidenced by the cast list in the episode's final draft script, which includes Uhura among the episode's characters.
The episode was originally to have started with the log entry that, in the episode's final version, immediately follows the breakfast scene.
According to George Takei, Tuvok actor Tim Russ made some changes to the script, immediately eliciting the writers to correct some discrepancies. (The Official Star Trek: Voyager Magazine issue 9) Takei explained, "He made script changes that made Tuvok's behavior consistent with Vulcan culture where the writers had been derelict. For example, the script suggested that Tuvok had an affair with a non-Vulcan before his pon farr. He made sure that was corrected." (Star Trek Monthly issue 22) Additionally, Russ inadvertently drove Brannon Braga to include more about Tuvok's backstory in the episode than had originally been scripted, being particularly instrumental in the writing of what Tuvok says to Janeway while in his bunk aboard the Excelsior. "Initially that whole speech wasn't in there, a page and a half of dialogue," Russ revealed. "She asked me, 'What made you come back to Starfleet?' and [Braga] had written some line which really wasn't consistent with Vulcan character. I said, 'Brannon, the line itself doesn't work.' So I said, 'Give him a real reason why he came back to Starfleet.' I expected a paragraph, and I ended up getting a page and a half of dialogue. Things like that do make a difference." (Cinefantastique, Vol. 29, No. 6/7, p. 100)
Cast and characters
Cast members were generally impressed by the script. George Takei described the episode's bridging of the generations as "a very imaginative" and "clever" concept, and further enthused, "I thought […] they did an absolutely wonderful job of bridging the generations, of making Captain Sulu, Tuvok and Janeway all organic parts of the same episode." (Flashback to "Flashback", VOY Season 3 DVD special features; Cinefantastique, Vol. 29, No. 6/7, p. 89; The Official Star Trek: Voyager Magazine issue 9) Likewise, Tuvok actor Tim Russ commented, "I thought it was a blast when I first heard about it, really a great idea. How do you tie in to the old series when you're in the Delta Quadrant? So, it was just a kick to find out." (Star Trek: Communicator issue 108) He also remarked, "I thought it was a piece of genius, story-wise […] [It] is a coup d'etat, story-wise, because nobody would see it coming." (Flashback to "Flashback", VOY Season 3 DVD special features) Russ also liked how the episode's depiction of the Excelsior differed from Star Trek VI, saying, "I really appreciated the clever aspect of the storyline being placed inside a part of the ship from a certain angle that we never saw in the original film. Being able to play that out and being tied to that story so directly was great." (Star Trek: Voyager Companion (p. ?)) Russ elaborated, "It was a brilliant story to tie into the bridge of the USS Excelsior in that film, having not seen that part of the ship and having me on it […] It was fabulous." (Star Trek Monthly issue 25, p. 12) Janice Rand actress Grace Lee Whitney offered, "It was just a great episode." [1]
George Takei originally learned of his forthcoming appearance in this episode via a phone call in January 1996, from a male fan who was also a friend of the actor. The friendly fan congratulated Takei for the fact he was about to make a guest appearance on Star Trek: Voyager, news that the fan had learned on the Internet but which Takei was not yet aware of. He dismissed the information as an untrue rumor but, after he ended his call with the curious fan, Takei called his agent, who also knew nothing about the upcoming episode. About a fortnight afterwards, Takei was guest-starring on the Nickelodeon TV series Space Cases, on location in Montreal, when (one day, after shooting) his agent called him back with confirmation of the claim. Takei's agent continued by detailing the offer to him. (Flashback to "Flashback", VOY Season 3 DVD special features; Star Trek: Communicator issue 108; The Official Star Trek: Voyager Magazine issue 9)
Writing on the episode began only after George Takei accepted the invitation to appear. Brannon Braga recalled, "When George Takei was contacted and agreed to do it the writing took off." (Star Trek: Communicator issue 108)
George Takei initially hoped that his guest spot on the series would allow him to work with the entire cast of Star Trek: Voyager, particularly with Kim actor Garrett Wang. "When my agent confirmed for me that I was doing a guest shot on Voyager," Takei remembered, "I was looking forward to working with the entire cast, because I've been watching the series and the only one I knew was Garrett Wang […] My only disappointment was that it was working with just Kate [Mulgrew] and Tim." (Flashback to "Flashback", VOY Season 3 DVD special features)
However, another regret for George Takei was that, due to Star Trek VI having been produced five years earlier (i.e., in 1991), the actors from that movie had changed so much that the original shots of them from the film could not be utilized and, generally, recreated scenes instead had to be filmed anew. (Flashback to "Flashback", VOY Season 3 DVD special features)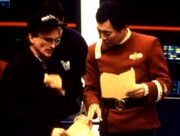 Sets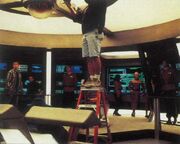 Wardrobe
Shortly after he started to become involved with this episode, George Takei found that his captain's costume from Star Trek VI no longer fit him. "It was funny, but they dragged out a costume that, they told me, was the same one I wore as Captain Sulu in the movie," Takei recalled. "I tried to put it on and I was very shocked at the cheap material that they had used. The fabric had somehow shrunk. The pants didn't fit!" (The Official Star Trek: Voyager Magazine issue 9)
Remarking on how his own 23rd century uniform felt, Tim Russ stated, "Like a rug: thick and heavy, all wool. The shirt underneath is Lycra, but they're generally much harder to get in and out of." (Star Trek: Communicator issue 108)
Grace Lee Whitney had her costume fitting for the episode on Wednesday, 27 March, 1996. (Star Trek: Communicator issue 108)
Production
Effects
The visual effects shots that had originally been created for Star Trek VI and were reused in this episode were exterior shots of the Excelsior and the shock wave from the explosion of Praxis. The exterior views that are not taken from Star Trek VI, however, show a slightly different ship; the Excelsior's warp nacelles have the typical blue glow in the new footage but not in the original.
The model used for Kang's battle cruiser was the last reuse of the K't'inga-class model, which had been used in Star Trek VI to represent Kronos One.
The shot of the Excelsior emerging from the nebula and causing an explosion that disables the pursuing Klingon ship was created by filming the motion-control studio models, detonations that were shot with a Photo-Sonics camera – pointing straight up and running at 360 frames per second, rather than the typical 24 – and an element to show clouds billowing apart. Of the explosions, visual effects producer Dan Curry explained, "If you have a small explosion happen in real time, it may occur like pfft! and it's over. But if you take a special camera that runs film at very high speed, […] it stretches time. So, an explosion that in real life may take a split-second can be stretched out into several seconds, so it looks vast. And by shooting it straight up, it gives the illusion that it's happening in space without gravity, because all the parts of the explosion fall equally around the lens, so there's no apparent arc from gravity, so that we will accept that it happens in space." Of the cloud-like element, Dan Curry said, "What that was was a four-inch deep, four-by-four-foot vat, lined with black velvet and filled up with vapors of liquid nitrogen, which stay in the vat because they're heavier than air because they're so cold. Then, [visual effects supervisor] Ron Moore took a piece of cardboard, or sometimes he used a Dust-Off can, and just [put] a little puff of air down, which would push the liquid nitrogen apart, and then it would billow back in. And because it's so cold and the way the vapors move, it moves very slowly so it looks huge, even though it's a very tiny thing." (Flashback to "Flashback", VOY Season 3 DVD special features)
Reception
Continuity
In this episode, Tuvok states that two days after the explosion of Praxis, two Federation officers were arrested for the assassination of Gorkon. However, in Star Trek VI, Spock says that a Federation starship monitored an explosion on Praxis two months ago. He makes that statement before Enterprise is sent to rendezvous with Kronos One, so at least two months elapse between the explosion and Gorkon's death.
Prior to this episode, a Captain Sulu is mentioned by Chakotay in the Season 2 episode "

Tattoo

" and, in the later second season episode "

Alliances

", Tuvok references Spock's initially controversial recommendation for an alliance between the Federation and the Klingon Empire, as depicted in Star Trek VI. In the latter episode, Tuvok mentions that he himself "spoke out against such a coalition," placing him at the time when the film is set, as this episode continues to do.
Tim Russ thought the way in which this story places Tuvok on the bridge of the Excelsior was foolproof, in regard to continuity. "Nobody could question it," he said. "The timeline was consistent so nobody could say, 'Hey, he couldn't possibly, blah-blah,' or, 'No, we didn't see that, blah-de-blah' – they couldn't say it; it worked perfectly. So, I thought that was the coolest thing, because they make sure the fans don't catch anything. That's always a neat trick." (Flashback to "Flashback", VOY Season 3 DVD special features)
Tim Russ also liked how this episode provided much continuity for Tuvok that the actor could later draw on. Russ commented, "The whole story becoming a back-story for Tuvok… I thought was great. It tightens the relationship between he and the captain, and it exposes to the people of the audience what this character is all about, where he comes from. Because before that, we didn't have a history for him. And after that, we had a history for him. Now he's got a back-story, now he becomes a little bit more complete, as a person. Now, if he does something three episodes down the line, ah well, that's because so-and-so was established way-back-when. And that's always beneficial when you're playing the character as you have something to grab onto. So, 'I can use this, because we learned this.' We know where he came from, we understand what happened and now, you can use that as a motivational factor down the line. So it's always good to have that." (Flashback to "Flashback", VOY Season 3 DVD special features) Russ also enthused, "It was a great back story for Tuvok, about why he joined Starfleet, when he got married, why and how, and why he left and then came back to Starfleet. All that information is valuable, just to create more layers of history for this character." (Star Trek Monthly issue 25, p. 12)
Momentarily confused of when he is, Tuvok suggests a tachyon sweep for cloaked Klingon ships, at the time being adversaries of the Federation. Voyager's crew didn't know that by sheer coincidence, the Federation and the Klingon Empire were currently engaged in another war, soon to be ended by a cease fire.
At the end of the third season, Tim Russ cited this episode as one of four or five installments (in the first three seasons) in which Tuvok's "defenses have been breached" and "his control has been taken away or lost", other such episodes being "

Cathexis

" and "

Meld

". (Cinefantastique, Vol. 29, No. 6/7, p. 100) Following the production of Voyager's fourth season, Russ similarly observed that – in common with "Meld" – this installment "really pushed the envelope with how outside forces affect Tuvok's character and what happens." (Star Trek Monthly issue 41, p. 28)
At one point before or during production, Brannon Braga cryptically told Grace Lee Whitney that her character of Janice Rand might later be brought back to the series. The actress fondly recalled, "Brannon Braga was very cute with his remark: We're not killing you off, Grace, so we can bring you back!" (Star Trek: Communicator issue 108) This Voyager episode is, however, the only one in which Rand appears.
Neither Sulu nor Janice Rand appear in "Trials and Tribble-ations". In fact, George Takei is the only regular cast member from Star Trek: The Original Series who does not feature in that episode of DS9. This is due to Takei having not appeared in the original "

The Trouble with Tribbles

" (during which the DS9 episode is set), and Whitney had left the series the previous season. Thus, their appearances in Flashback allowed all the main Original Series cast members to appear in a 30th anniversary episode.
Tuvok mentions having thought about talking to "one of the other Vulcans on the ship", establishing that the Voyager crew comprises at least three Vulcans. One of these Vulcans, Vorik, later appeared in "

Fair Trade

".
Apocrypha
The novelization of Flashback (written by Diane Carey) includes several additional elements, the most prominent subplot being Kes succumbing to Tuvok's hallucinations as his own telepathic barriers begin to collapse, causing Tuvok to unintentionally assault Kes and cause her to take on the role of the girl in his hallucination. This continues to such an extent that Kes attempts to attack Tom Paris and B'Elanna Torres as they conduct a survey of the nebula in a shuttle, motivated by Tuvok's 'transferred' memory of the attack on Excelsior, until the repressed memory is treated and the virus is removed.
At one point, Sulu tells Tuvok that he knows Vulcans have a sense of humor. He could be referring to a brief exchange that took place on the bridge in

TOS

: "

The Corbomite Maneuver

"; a young officer, Lieutenant Dave Bailey, defends raising his voice in excitement as the natural result of having "a Human thing called an adrenaline gland". In response, Spock dryly observes that such an organ could prove inconvenient, and wonders whether the lieutenant should consider having it removed. Sulu then advised Bailey that an attempt to "cross brains" with Spock, a Vulcan, was doomed to failure: "he'll cut you to pieces every time".
Video and DVD releases
Links and references
Starring
Also Starring
Guest Stars
And
Uncredited co-stars
Stunt doubles
References
47; 23rd century; 2264; 2289; 2293; 2349; ability; acid; accusation; adrenaline; all hands; Alpha Quadrant; antibody; argon; Azure Nebula; battle cruiser, Klingon; battle stations; bearing; beats per minute; Beta Quadrant; blood factor; Bolian; brain damage; brain death (brain dead); brig; bunk mate; Bussard collector; captaincy; career; cartilage; class 17 nebula (unnamed}; class 11 nebula; coma; conduit; cooking; cortical stimulator; cordrazine; crew quarters; crustacean; cryostatic chamber; cup; "curry favor"; damage; damage report; day; deflector shield; degree; department head; dill weed; dizziness; dozen; emotional response; encephalographic profile; Enterprise-A, USS; enthraxic citrus peel; Excelsior, USS; Excelsior-class; Excelsior class decks; Federation; Federation space; fluorine; freedom; garnish; gaseous anomaly; gasoline; Golwat; hallucination; heart; heart rate; helium; hippocampus; holodeck; Human; hydrogen; ice cream scoop; Intrepid class decks; intruder alert; junior science officer; Kang; Kang's battle cruiser (2293); Keethera; Khitomer; kilodyne; Kirk, James T.; Klingon battle cruisers; Klingon Empire; Klingon space; Kolinahr; K't'inga-class; lobotomy; logic; loyalty; mark; McCoy, Leonard; memory virus; milligram; Milky Way Galaxy; mind meld; minute; Mister Vulcan; multiphasic shields; murder; Neelix' mother; neural pattern; neural structure; neurocortical monitor; neuroelectricity; nostalgia; orange juice; oxygen; panic attack; papalla seed extract; panic attack; pantry; parallel reality; parboiling; parietal bone; parts per million; peptide; percent; plasma conduit; pon farr; Porakan eggs; Porakas IV; Porakas IV sector; positron beam; Praxis; precipice; Prime Directive; pyllora; Qo'noS; red alert; rengazo; replicator; repressed memory; replicator; rescue mission; Romulans; sense of humor; shotgun; sirillium; space duty; Spock; Starfleet Academy; Starfleet Headquarters; Starfleet Regulations; storage bay; subspace frequency; subspace shock wave; survey mission; synaptic pathway; T'lokan schism; T'Meni; T'Pel; tachyon sweep; Talax; tea; telepathy; thermal array; theta-xenon; thoron radiation; tissue; tongue; traumatic memory; trial; turbolift; Tuvok's father; vital signs; Vulcan (planet); Vulcan (species); Vulcan nerve pinch; vulture; Wyoming, USS; year; Yorktown, USS
External links