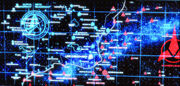 Gamma Eridon was a location in Klingon space, in the Beta Quadrant. In the 24th century, it was near to the Klingon-Romulan border.
In 2256, its location was labeled on the star chart "Alpha/Beta Quadrant Overview" in the ready room aboard the USS Discovery. (DIS: "Magic to Make the Sanest Man Go Mad", "The War Without, The War Within")
A year later, its location was labeled on the star chart showing the trajectory of Lieutenant Spock's shuttle. (DIS: "An Obol for Charon")
In 2368, Jean-Luc Picard's blockade fleet retreated to this location to regroup, following the disabling of their tachyon detection grid, seeking to establish a new grid. However, this proved unnecessary as the USS Sutherland detected the Romulan forces by another method. (TNG: "Redemption II")
In 2371, the location of Gamma Eridon was labeled in the star chart Data and Picard were studying in Stellar cartography aboard the USS Enterprise-D. (Star Trek Generations, display graphic)
External link
Community content is available under
CC-BY-NC
unless otherwise noted.