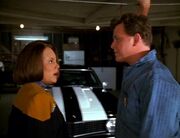 A garage was an enclosed place used for parking automobiles. In the case of residential garages, they were typically part of the building, although they could be separate structures altogether. They were accessible via the home owner's drive, and usually contained tools for working on such vehicles as well.
Other garages were used as shops for mechanics, or grease monkeys, to repair such vehicles. One such shop, called Chamey's Automotive Repair, was located on Sigma Iotia II. (TOS: "A Piece of the Action")
Paris Program Alpha-1 was a holoprogram that Tom Paris often used that had a garage that he used to work on his 1969 Chevrolet Camaro. (VOY: "Vis à Vis")
External link
Edit
Community content is available under
CC-BY-NC
unless otherwise noted.