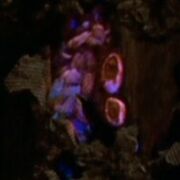 The genitals or sexual organs were the reproductive organs in most humanoid species. In the Human species, the males and females had different sexual organs. (TNG: "The Outcast")
The fact that different humanoid species can interbreed implies that most humanoids had distinct male and female sexual organs. A notable exception were the J'naii.
In males, the testes were very sensitive to pressure. A sharp blow to the organ could render males of at least three known species helpless: Human, Klingon and Orion. (Star Trek III: The Search for Spock; ENT: "Bound")
In at least one species, the genitals were located in the right knee. While different from many other species, this did not affect the sensitivity of the organ. (Star Trek VI: The Undiscovered Country)
During his visit aboard the USS Enterprise-D in 2366, DaiMon Goss implied the size of his "sex organ" with a revealing gesture to Ensign Bailey while attempting to engage her in Ten Forward. (TNG: "The Price")
When Chief Miles O'Brien made an unsuccessful attempt to retrieve his time lost daughter Molly from Golana, he said "Bollocks," which was a colorful metaphor used to describe the testicles. (DS9: "Time's Orphan")
Jadzia Dax had her ovaries operated on in an attempt to be able to conceive with Worf. (DS9: "Tears of the Prophets")
See also
External link
Community content is available under
CC-BY-NC
unless otherwise noted.