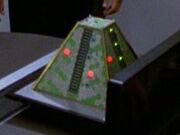 A gravimetric sensor was a scanning array used for locating wormholes.
For the 1st Annual Voyager Science Fair aboard the USS Voyager in 2376, Icheb created a high-resolution gravimetric sensor array to scan for the neutrino flux associated with wormholes. He hoped the technology would allow Voyager to find a faster way home. (VOY: "Child's Play")
Community content is available under
CC-BY-NC
unless otherwise noted.