Star Trek Timeline [INTERACTIVE]
Play Sound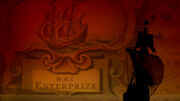 The HMS Enterprize, a British galleon, was a notable Human naval ship to bear the name "Enterprise". (Star Trek: Enterprise opening credits)
A counterpart of HMS Enterprize has also existed in the mirror universe. (ENT: "In a Mirror, Darkly", "In a Mirror, Darkly, Part II" opening credits)
Appendices
Background information
No information on this vessel was given beyond its appearance in the opening credits of Star Trek: Enterprise. That she was British is assumed by her bearing the prefix "HMS". That she was a galleon was evidenced by her depiction.
The identifying image of HMS Enterprize was in the revised mirror universe opening credits of the season four "In a Mirror, Darkly" two-part episode, immediately followed by a clipping of a sailing vessel firing its guns, not featured in the credits of the main series. According to Star Trek historian David Tilotta this scenery was actually intended to show Enterprize in action. [1] The clipping, originating from the 1945 RKO Pictures swashbuckling film The Spanish Main – set in the age of galleons and depicting the studio model of the "hero" ship, Barracuda, in action against a Spanish man-of-war [2] – was actually an old acquaintance of Star Trek, as it had already been featured almost three decades earlier in the Star Trek: The Original Series episode "The City on the Edge of Forever", through the Guardian of Forever, as well as in the prior Enterprise season four episode "Storm Front, Part II" as part of the re-setting time stream.
Historically, the Royal Navy has had two ships named HMS Enterprize (spelled with a 'z', but also with a 's' sometimes): an eight-gun sloop captured from the Spanish in 1743, and a ten-gun tender later captured by the Americans in 1775. The earliest known HMS Enterprise, which was conversely also sometimes spelled with a 'z', had been a 24-gun sixth-rate frigate, captured from the French in 1705, while keeping the original French name L'Entreprise, albeit anglicized. None were galleons.
External links