Hallmark Cards, Inc. was founded in Kansas City, Missouri in 1910 and has been known primarily as an American greeting card and holiday decoratives company.
Since 1991, Hallmark has produced many licensed "Keepsake" Christmas ornaments based on characters, starships, props, artwork, and scenes from Star Trek film and television productions.
The company has frequently used recorded music and clips of actors' voices taken from iconic Star Trek episodes and films. These clips are used for electronic audio features contained within their Christmas ornaments (or within their display stands) and greeting cards.
A number of actors from Star Trek productions have also appeared in print ads and television commercials for Hallmark's products.
These products are currently marketed under Hallmark's "PopMinded" pop culture collectibles brand, and are promoted by the company's Creative Director, Christine Taylor, and Senior Writer Kevin Dilmore, the author (or co-author) of a number of authorized Star Trek short stories, novels, greeting cards, and magazine articles.
Hallmark has also produced other Star Trek-related merchandise including lunchboxes, lenticular greeting cards, buttons, sticker sets, e-cards, party supplies, novelties, plush toys, and jigsaw puzzles. The puzzles were produced through their Springbok subsidiary until 2001, when the brand was sublicensed by Allied Products.
Star Trek Keepsake releases
1995 releases
1996 releases
1997 releases
1998 releases
1999 releases
Additional item
1960's Star Trek Lunch Box – School Days Lunch Boxes collection; scaled metal replica
2000 releases
2001 releases
2002 releases
2003 releases
2004 releases
2005 releases
2006 releases
2007 releases
2008 releases
2009 releases
2010 releases
2011 releases
2012 releases
2013 releases
2014 releases
2015 releases
2016 releases
USS Enterprise Star Trek "Pilot Version" 50th Anniversary Gold Edition – painted gold and featuring an audio clip of William Shatner's monologue over the (second season) TOS theme
USS Enterprise Star Trek "Pilot Version" 50th Anniversary Edition – fully painted and featuring an audio clip of William Shatner's monologue over the (second season) TOS theme; "Event Exclusive" limited edition of 3,450 released at the 2016 San Diego Comic-Con, New York Comic Con, and the Star Trek: Mission New York convention
Ensign Pavel Chekov – with a tricorder; seventh in Star Trek Legends series; "limited quantity" ornament available at Hallmark stores
"

The Man Trap

" – The M-113 creature attacks a seated Kirk – featuring phaser sounds and voice clips of William Shatner as Kirk, Leonard Nimoy as Spock, and DeForest Kelley as McCoy
To Boldly Go – Kirk, Spock and McCoy on the bridge of the USS Enterprise; tabletop decoration featuring lights and voice clips of William Shatner as Kirk, Leonard Nimoy as Spock, and DeForest Kelley as McCoy
Star Trek Maxine Special Event Edition – repaint of 2016 "Crabby Road" Keepsake ornament; "Event Exclusive" released at the 2016 Star Trek: Mission New York and New York Comic Con conventions
Additional items
2017 releases
Additional items
2018 releases
Additional items
2019 releases
Additional items
2020 releases
2021 releases
* "Value" ornaments sold at mass-market retailers; not branded as a "Keepsake".
† Walmart-exclusive "Value" ornament; not branded as a "Keepsake".
‡
"Storytellers" function independently and can also electronically interact in concert with each other, utilizing synchronized dialogue clips (with more than 250 combined phrases from "Mirror, Mirror"), sound effects, music, and light features; excluding the tree topper, a separately-purchased Keepsake Power Cord (that can power up to seven ornaments) is required; the rest of the series (McCoy and Scott) are slated for release in 2022 and all previously released ornaments from the series will be available for the duration.
[1]
Background information
Ornament appearances in Star Trek episodes
To create the battle sequences between the Federation and Klingon fleets in Deep Space Nine's "The Way of the Warrior", the effects department used Playmates toys, Ertl model kits and Hallmark Bird-of-Prey Christmas ornaments in the background in an effort to keep production costs down. When these ships were required to explode, special effects manager Gary Monak filled them with explosives and party glitter. (Star Trek: Deep Space Nine Companion (pp. 263-265))
Set decorator James Mees used colorfully repainted Hallmark USS Voyager and Klingon Bird-of-Prey ornaments for Miral Paris' baby crib mobile in "Prophecy". The mobile's Klingon D7-class battle cruiser was a small plastic AMT model that had been repainted.
An "unfinished" ship-in-a-bottle of the USS Voyager purported to have been built by Joe Carey and seen in "Friendship One" was actually a 1996 Hallmark Keepsake ornament which had been modified for the show by production staff.
While unsuccessfully evading Q, Quinn reduced the starship USS Voyager to the size of a Christmas ornament and tethered it to a Christmas tree in "Death Wish". Perhaps not entirely coincidentally, Hallmark's USS Voyager ornament was released a few months after the episode debuted.
Product promotion involving Star Trek actors
Leonard Nimoy recorded a special holiday message from Spock for use within Hallmark's 1992 Shuttlecraft Galileo ornament. He also appeared as himself in a television commercial for the ornament and gave the Vulcan salute. [2]
In 1993, Hallmark aired a television commercial featuring Patti Yasutake in the role of Nurse Alyssa Ogawa, who was seen questioning the shipboard computer and then replicating a USS Enterprise-D Keepsake ornament. Majel Barrett-Roddenberry provided the voice of the computer. [3]
Hallmark's television commercial for the 1994 Klingon Bird-of-Prey ornament featured Robert O'Reilly in the role of Gowron, commanding the bridge of a Klingon ship. His raucous Klingon language pitch was subtitled in English. [4]
Martha Hackett appeared as a Romulan officer aboard the IRW Khazara in Hallmark's 1995 Romulan Warbird ornament television commercial. [5] Hackett appeared in a similar costume to the one she wore in the role of Sub-Commander T'Rul in "The Search, Part I" and "Part II".
William Shatner and Christopher Lloyd appeared in a 2015 Hallmark Hall of Fame television production called Just in Time for Christmas. To promote the holiday movie, Shatner autographed a Star Trek Keepsake ornament for a contest. [6]
On 21 July 2018, Doug Jones autographed one hundred USS Discovery starship ornaments for fans at Hallmark's PopMinded San Diego Comic-Con convention booth. [7] Jones also signed one hundred Saru and Michael Burnham ornaments for fans at the New York Comic Con on 2 October 2019.
Additional background information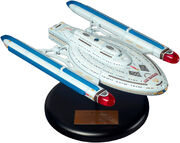 Lynn A. Norton sculpted almost all of Hallmark's Star Trek starship ornaments for over twenty-five years. The Galileo shuttlecraft was sculpted by Dill Rhodus and the 1996 Enterprise ornament was designed by Norton and Rhodus. The Scorpion ornament was sculpted by Norton while the Data and Picard figures within were sculpted by Anita Marra Rogers. Rogers has sculpted a number of Star Trek figure ornaments.
Hallmark's initial concepts for the 1991 USS Enterprise, the first in the series, were quite varied. "People suggested that we trim the saucer with garland, show Santa in the ship or even depict an elf-like Santa with pointy ears, reminiscent of Mr. Spock!", reported Tina Hacker, the company's senior editor at the time, but the "side" (including Norton) "supporting authenticity won out." As a compromise to alleviate concerns that it "didn't say 'Christmas' strongly enough", the company added a year date and "Christmas red and green" running lights to the ship. A year date became a regular feature on most of Hallmark's subsequent Trek ornaments. [8]
"Magic" sound and light features are commonly activated by pressing a button, although many older ornaments stay constantly illuminated when plugged into a powered Christmas light strand. Since 2005, all "Magic" Star Trek ornaments (not including "Storytellers" and large tabletop ornaments) have been battery-powered and generally function for less than thirty seconds after the "on" button is pushed.
Limited quantities of most "Event Exclusive" ornaments are also made available to Hallmark Keepsake Ornament Club members.
See also
External links
Community content is available under
CC-BY-NC
unless otherwise noted.