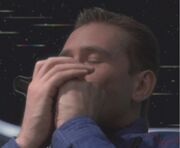 The harmonica was a small metallic hand-held wind musical instrument from the planet Earth.
Commander Trip Tucker owned a harmonica and sometimes played it in his quarters to relax. (ENT: "Precious Cargo") T'Pol remarked that he would have plenty of time to play it when imaging relays were working automatically. (ENT: "Horizon")
Tucker traded his harmonica for a horse in the Skagaran colony. (ENT: "North Star")
The harmonica played by Commander Tucker appears to be a Honer CX-12.

Coincidentally, a harmonica played by astronaut

Wally Schirra

on Gemini 6A (along with some small

bells

rung by his crewmate

Thomas P. Stafford

) is believed to be the first musical instrument played in space.
External link
Edit
Community content is available under
CC-BY-NC
unless otherwise noted.