Star Trek Timeline [INTERACTIVE]
Play Sound
Headgear was any article of clothing worn on a person's head.
Bajoran hats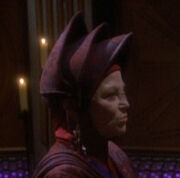 Bajoran vedeks and kais, such as Winn Adami, wore special types of hats. (Star Trek: Deep Space Nine)
Vedek Winn's hat was designed by Robert Blackman. He created it as an "
interesting and curious shape that viewers haven't seen. It's about rhythm and other things.
" Additionally, he admitted that the style resembles the Sydney Opera House, though he remarked, "
I didn't sit down and say, 'Oh, the Sydney Opera House – let's make a hat out of it!'
" However, Blackman did accept that the likeness was intentional and subconscious, as well as it being largely accidental. (
Star Trek: Deep Space Nine Companion
 (p. 69))
Headdress
A headdress was a piece of material worn around the back of a head. It was normally seen being worn by Ferengi, and as part of the Ferengi uniform.
The recreated Ferengi sciences officer aboard Terrasphere 8 was wearing a headdress matching his uniform color. (VOY: "In the Flesh")
A turban was a type of headdress worn by some Humans in the 20th century, as well as in the 2380s. (TOS: "Space Seed"; LD: "Second Contact")

Miscellaneous headgear
Seltin Rakal and some other female inhabitants of Meridian wore pieces of fabric on their heads. (DS9: "Meridian")
Other types of headgear
External link