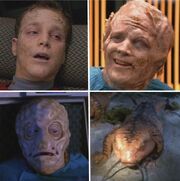 Hyper-evolution is a rapid genetic mutation and transformation which is experienced when a Human reaches Warp 10. Quite different from natural evolution, hyper-evolution includes the development of amphibian characteristics and an abandonment of sexual mores. It can be reversed with a bombardment of antiprotons from an Intrepid class starship's warp core. (VOY: "Threshold").
It is unknown why no other occurences of exceeding Warp 10 have yielded this effect.
Community content is available under
CC-BY-NC
unless otherwise noted.