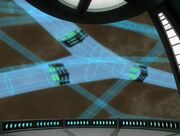 An interspatial manifold was an advanced technology used by races such as the Sphere Builders and the Borg.
The Delphic Expanse spheres each contained an interspatial manifold, used for gravimetrically linking all of the spheres to create the Expanse. In 2154, the Enterprise NX-01 used a deflector pulse to disable the manifold on Sphere 41, setting off a chain reaction which destroyed the entire Sphere network. (ENT: "Countdown")
The Borg used interspatial manifolds to support the structure of a transwarp hub. The manifolds were protected by force fields, which were controlled by the Borg Queen and were essential for the operation of a transwarp hub.
If one of the manifolds was destroyed, the hub could still function. If enough of them could be destroyed simultaneously, a cascade reaction would occur which would then lead to the destruction of the transwarp hub. (VOY: "Endgame")