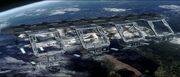 Italy was a country situated on a peninsula in the Mediterranean region of southern Europe on Earth, home of the Italian people. Italy's national flag was three vertical bands of green, white, and red. (TNG: "The Last Outpost", ENT: "First Flight")
Geography
Edit
Hydrography
Edit
Oceans and seas : Mediterranean Sea, ...
Lakes : Lake Como, ...
Italy's largest city, Rome was the birthplace and dominant capital city of the Roman Empire in early Earth history. (TOS: "Bread and Circuses")
During the Renaissance, Italy was home to many of Earth's greatest thinkers and artists, including Galileo Galilei and Leonardo da Vinci.
In 2143, the Ariane 1 assignment patch, which was on display in the 602 Club, bore the flag of ESA member Italy. (ENT: "First Flight")
In 2143, while orbiting Earth in the NX-Alpha, waiting for a glitch in the propulsion system to be cleared up at Starfleet Mission Control, A.G. Robinson noted that he saw Italy pass, several times. (ENT: "First Flight")
Geordi La Forge and Leah Brahms shared a passion for Italian food. Doctor Brahms was well known for her fungilli. (TNG: "Booby Trap")
During the 2370s, Captain Kathryn Janeway often worked in holodeck programs set in Italy, usually working with a representation of Leonardo da Vinci. (VOY: "Concerning Flight")
External link
Edit
Community content is available under
CC-BY-NC
unless otherwise noted.