Star Trek Timeline [INTERACTIVE]
Play Sound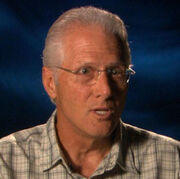 John P. Farrell was a producer and editor on Star Trek: The Next Generation, Star Trek: Deep Space Nine, Star Trek: Voyager, and Star Trek: Enterprise.
In 1994 he received an Emmy Award nomination for Outstanding Individual Achievement in Editing for a Series – Single Camera Production for his work in the Star Trek: The Next Generation episode "All Good Things...", shared with Daryl Baskin and David Ramirez.
His name appeared two times in the series in both the 22nd and 24th centures.
Prior and beside his work on Star Trek, Farrell worked as editor on the television comedy Maid in America (1982), the television drama North Beach and Rawhide (1985, starring William Shatner), the television series Fame (1985-1986), the television drama The Christmas Gift (1986), the television thriller Ladykillers (1988), and the television movie K-9000 (1991, directed by Kim Manners). He also served as associate producer on the comedy series Hooperman (1987-1989).
Star Trek credits
(This list is currently incomplete.)
As Producer
As Editor
Star Trek interviews
External link