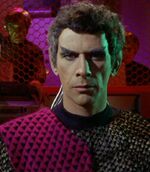 Jack Donner made his first Star Trek appearance in the original series episode, "The Enterprise Incident." He played the Romulan subcommander Tal. Thirty-six years later, he played the Vulcan priest in "Home". He later appeared again in "Kir'Shara."
Other television shows he has guest starred in include "The Man from U.N.C.L.E", "Mission: Impossible", "Kojak", "Frasier", "Charmed", "Buffy the Vampire Slayer", Malcolm in the Middle" and "Roswell."
Community content is available under
CC-BY-NC
unless otherwise noted.